The 15th annual Taiwan LGBT Pride wrapped up this weekend in the island nation's capital city of Taipei, with a parade drawing an estimated 123,000 people — 50 percent more than ever before, at a vibrant pan-Asian event that was already the largest of its kind in the region.
"Some people say it was 150,000, some say it was 200,000," Simon Tai, the event's young executive director, told NBC News. "We're actually very conservative with the crowd estimate, because going forward, we don't want Taiwanese LGBT people to think they've already got what they want. We want it to be clear that we still need a lot of people to support this movement."
"We don't want Taiwanese LGBT people to think they've already got what they want. We want it to be clear that we still need a lot of people to support this movement."
Taiwan LGBT Pride Executive Director Simon Tai
The new promise of marriage equality in Taiwan helped bring out the especially strong attendance at this year's parade. In May, the country's top court ruled that banning same-sex marriage is unconstitutional, giving the nation's legislature two years to either amend its current marriage statutes or allow marriage equality to automatically become law in 2019.
With East Asia's most liberal rights landscape and its largest pride event, Taiwan has become a beacon to LGBTQ people and groups in other countries around the region, an ever-growing number of whom now themselves take part in Taiwan LGBT Pride.
"In the beginning, the focus of our pride was just on Taiwan," Tai said. "But gradually we figured out that the conservative forces around the world influence one another. They learn from each other, and try to attack us together. So it's of course always very good when we can all come together, too."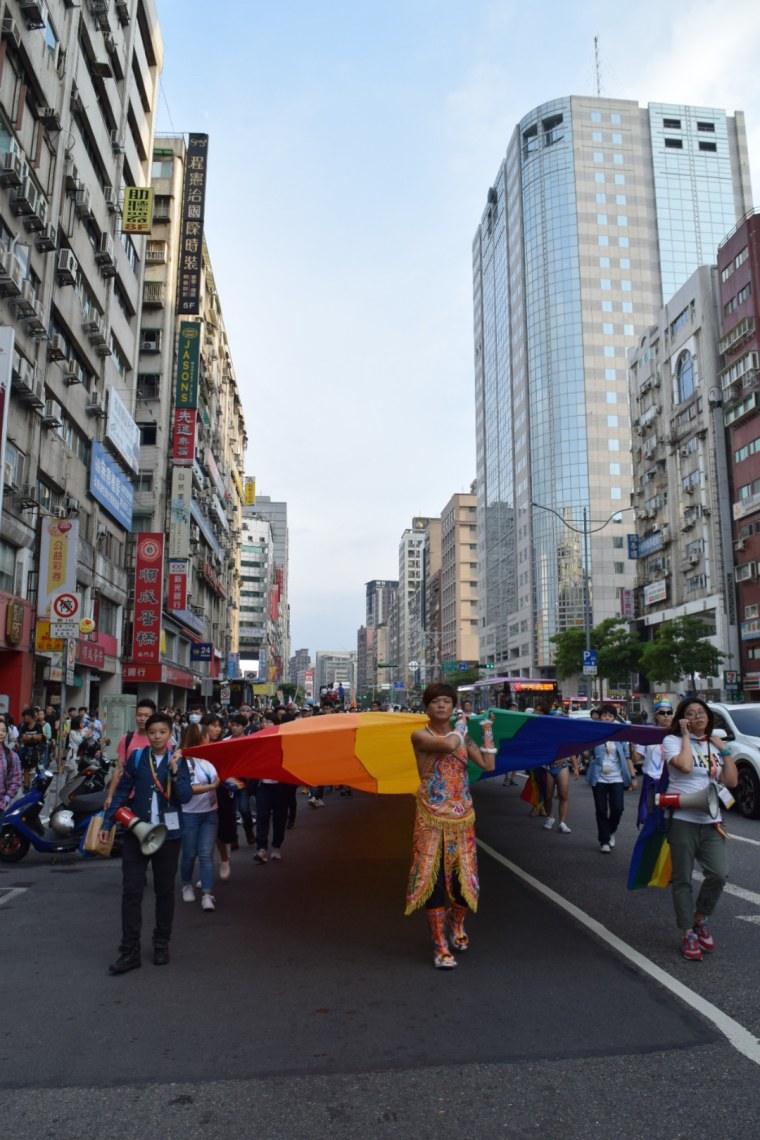 This year, for instance, Tai said a Hong Kong-based LGBTQ rights group took part in Taiwan LGBT Pride for the first time. "They feel that their group's effectiveness is gradually declining," he said. "So they came to Taiwan to try to learn something from us and to see how Taiwan's LGBT-rights activity manages to get stronger and stronger."
"Taiwan is Asia's most progressive society," Hong Kong businessman Patrick Sun said. "Second to that would be Thailand, Hong Kong is even behind that, and then you could go on downward with the other countries."
Sun is the driving force and main collector behind Asia's first-ever major survey of LGBTQ-themed art, which opened in September at Taipei's Museum of Contemporary Art (MOCA) and runs through Nov. 5. Called "Spectrosynthesis: Asian LGBTQ Issues and Art Now," the exhibition showcases 51 works from 22 artists from a broad cross-section of geographies and personal identities.
"Last year, I took my [Taiwanese] curator, Sean, to Hong Kong to see the gay parade there," Sun said. "And everyone speaks Cantonese in Hong Kong, so my curator could not understand what was being said on stage, and he's asking me, 'Patrick, what are you fighting for in Hong Kong? Are you fighting for marriage equality?' And I said, 'No, we're way behind you. We're still fighting for anti-discrimination, and even that is a thing that may happen or may not happen."
This year's Taiwan LGBT Pride brought a number of exciting LGBTQ-focused events to Taipei, including the 4th annual incarnation of the Taiwan Queer International Film Festival, as well as "Love Is Love," an LGBTQ-themed wedding fair hosted by Taipei's W Hotel.
But as anywhere, rights advances in Taiwan have also brought a fairly strong backlash from anti-LGBTQ forces. With the marriage equality cards now apparently stacked against them, anti-gay groups have turned their focus toward the country's education system, trying to force a rollback of LGBTQ inclusion in the country's curriculum. For this reason, 2017's Taiwan LGBT Pride took the theme "Make Love Not War: Sex Education Is the Way to Go."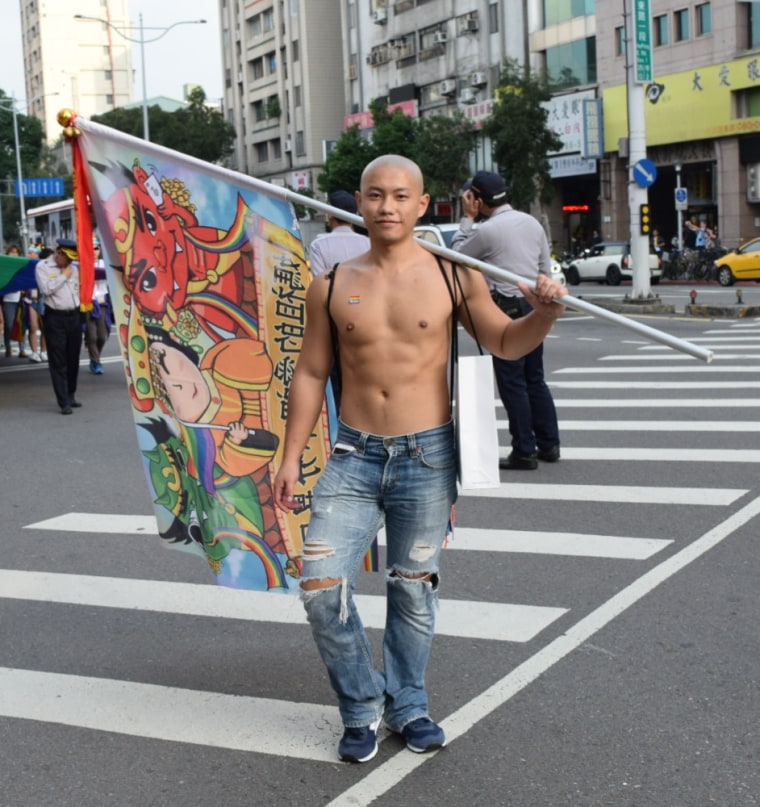 "We want people to know the importance of gender-equality education," Tai said. "Nowadays, teachers and parents in Taiwan, they're afraid to talk about sex. But if you don't talk about sex, how do you talk about gender equality? That's what we mean by 'Sex Education is the Way to Go,' so parents and teachers can be open-minded, and really seriously discuss this topic."
Sun said with sexuality and gender rights, it's "always two steps forward and one step backward."
"Right now for instance, Singapore is going through a backward stage, so my friends there are feeling a bit gloomy. But I am basically an optimistic person. I believe that if you believe in who you are, and that what you do is right, eventually you will get your goal. You will get there," Sun added.
Sun said he takes inspiration in the words of Yu Mei-nu, the Taiwanese legislator who's been instrumental in the fight for marriage equality. "She said, 'I used to fight for women's rights, and now I fight for gay rights," Sun said. "She said, 'If you believe you're on the right side of history, you know that one day, people will wake up and realize that the world has changed. And when that happens, you don't want to be on the wrong side of history.'"