Tran Khac Tung was with colleagues when he first learned of the court ruling made by Taiwan's Constitutional Court in favor of same-sex marriage.
"We received the news [here] in Vietnam when we were having a meeting," Tung told NBC Out. "I remember we were all cheering, clapping our hands together to congratulate Taiwan. Definitely a huge step toward the realization of equal marriage for our community in Taiwan."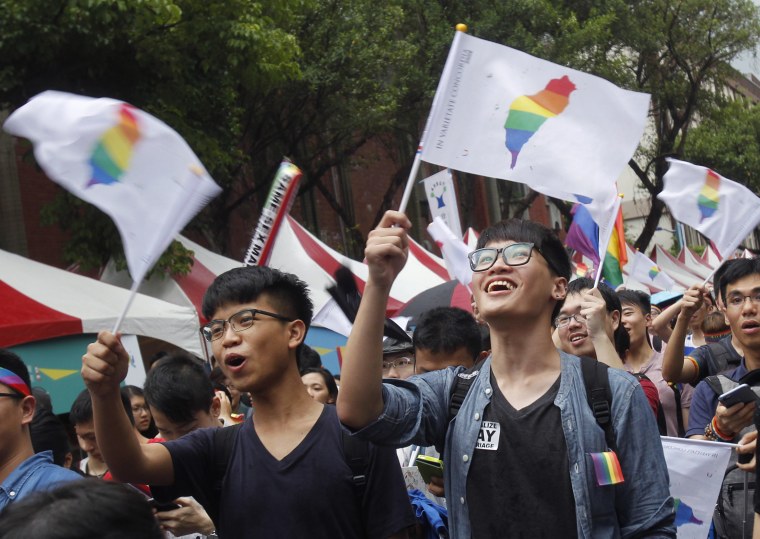 Tung is the director of ICS, one of the largest organizations working for LGBTQ rights in Vietnam. For him and his team, the news from Taiwan was a much-needed boost of morale — coming a day after two gay men in Indonesia were publicly caned for having consensual sex, and on the same day an army captain in South Korea was sentenced for having sex with a fellow male soldier.
"[The ruling in Taiwan] lifted our mood and set a good example for governments in the region," Tung said of the decision.
Indeed, other nations in Asia have been making progress toward achieving marriage equality in recent years, though none have gone as far as Taiwan.
"A few years ago, when we were advocating for same-sex marriage in Vietnam, one of the arguments against it was [that] it is not an Asian value, and there is no other country in Asia doing it ... Well, now this does not stand anymore."
In Japan, same-sex partnerships are recognized by several municipalities and local governments, and in Thailand, a bill for marriage equality was drafted in 2013 before being put on hold due to political unrest in the country the following year.
But with last week's court ruling in Taiwan, its government is poised to become the first in Asia to recognize full marriage equality for the LGBTQ community.
And advocates across the region are hoping the landmark ruling can help in the fight for marriage equality in their own countries — even if they concede that full recognition of same-sex marriage is unlikely to happen any time soon.
"A few years ago, when we were advocating for same-sex marriage in Vietnam, one of the arguments against it was [that] it is not an Asian value, and there is no other country in Asia doing it," ICS's Tung explained. "Well, now this does not stand anymore."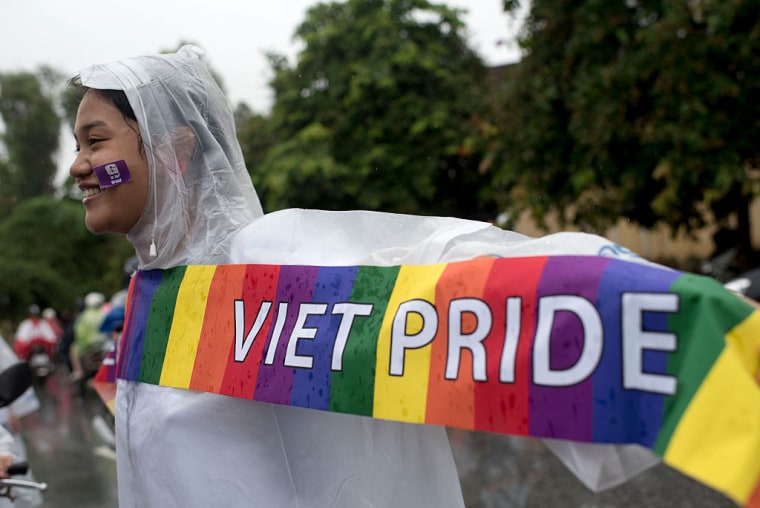 Tung said news of the ruling was covered extensively by government media in Vietnam and spread virally on social media.
Although a ban on same-sex marriage was abolished in Vietnam in 2015, the country has yet to fully recognize same-sex unions.
"Vietnam will review the implementation of the family and marriage law in 2018 or 2019," Tung said. "I now have better hope that [marriage equality will be achieved]."
In mainland China, activists were also heartened by the ruling in Taiwan, although many said it would still be some time before marriage equality could become a reality for them.
Li Maizi, an LGBTQ and women's activist from Beijing, believes the ruling in Taiwan proves marriage equality is acceptable in Chinese culture.
"I think the situation regarding same-gender marriage in China is getting better," Li told NBC Out. "Last year, courts in China heard a case about same-gender marriage, and one of the plaintiffs, Sun Wenlin, started to lobby the [National People's Congress]."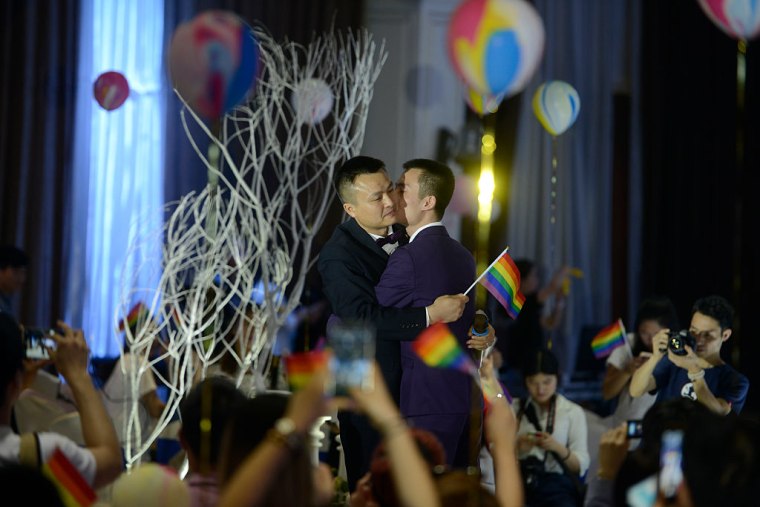 In the lawsuit, brought to a court in the central Chinese city of Changsha, Sun Wenlin and his partner, Hu Mingliang, sued the local civil affairs bureau for refusing to issue the couple a marriage registration certificate. Though a judge in the case ultimately ruled against the two plaintiffs, the suit marked the first time in China that a case regarding same-sex marriage was brought to the courts.
Ah Qiang, the executive director of PFLAG China, believes there are many challenges that still need to be tackled before marriage equality can be fully achieved in the country.
"I very much look forward to the Chinese mainland having same-sex marriage, but I think it will still take a long time," he said.
He cites the lack of LGBTQ visibility and a lack of public support for same-sex marriage as issues that still need to be addressed, as well as more participation in the LGBTQ movement by established political leaders.
"The Chinese mainland [LGBTQ] movement is grassroots," he told NBC Out.
Related: Vietnam's LGBTQ Movement Is in Full Bloom
A similar sentiment was shared by activists in Cambodia, who said broader support for the LGBTQ community was needed before there could be a focus on achieving marriage equality in the country.
"Gay rights has not been a major issue in Cambodia," said Sorel Thongvan, founder and editor in chief of Q Cambodia — the country's first LGBTQ publication. "The majority of LGBTQ organizations have so far been pushing more visibility and social acceptance rather than actual same-sex marriage."
Thongvan explained that language defining marriage between a man and a woman was removed from Cambodia's constitution in 2011, leaving the law a bit open to interpretation as to whether same-sex couples can marry. But there are no explicit legal recognitions or protections of same-sex unions in the country.
Srun Srorn, the founder of CamASEAN, says his organization has been in dialogue with different government officials in Cambodia, many of whom have expressed support of working toward marriage equality in the country. But Srorn stressed time is still needed.
"[The government officials] are happy to work [toward] same-sex marriage … but it will take time to revise the constitutional law and several [other] laws," he said. "In summary, our government seems to not disagree, but they need more time to make [marriage equality] happen."
Say Seaklay, of Cambodian LGBTQ advocacy group Rainbow Community Kampuchea, agrees.
"I think that there is long way to go to advocate changing the law [with regards to marriage equality in Cambodia], including gaining public acceptance," Seaklay said.
But he also believes the success in Taiwan can serve as a model for Cambodia and other countries in the region whenever they're ready to push forward.
"We're thrilled for Taiwan's court decision, advancing LGBT rights," he told NBC Out. "We strongly believe that it will be inspiring for other LGBTQ movements and [help change the] law of other countries in Asia."