The University of Memphis has opened an investigation after two students claimed they were kicked out of an off-campus fraternity party and berated with homophobic slurs for being gay.
"We were just wanting to have a night out for fun," one of the students, sophomore Benjamin Buckley, told WMC News 5, NBC's local Memphis affiliate.
Buckley and Luke Chapman, a senior exchange student from the United Kingdom, said they went to the party Friday with a group of friends. They were then approached by several male students who they say forcibly pushed them out of the house and into the rain while yelling anti-gay slurs.
"When he chucked us out, it was something along the lines of, 'You don't belong here, f----t,'" Chapman said of one of the students who physically removed Buckley and him.
Buckley said one of the men looked at him and said, "I'm going to beat the f----t out of you. I'm going to beat the life out of you."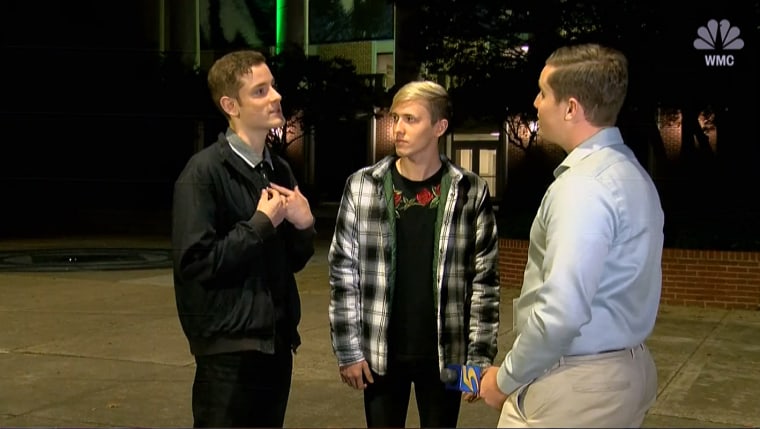 After they were able to find their friends and leave, Chapman went home that night and wrote a Facebook post about the incident. He said he was amazed by the response he received the following morning.
"I had so many messages of support and so many people messaging me offering to help," Chapman said.
Once university officials saw Chapman's post, they opened an investigation into the incident, according to WMC News 5. The university president, David Rudd, also released a statement to faculty and students via email.
"As a reminder, one of our core values is diversity and inclusion," Rudd wrote. "The University of Memphis is a community where everyone is respected, included and given the opportunity to excel. This is a value we embrace with conviction."
Buckley and Chapman said they're pleased that the university is addressing the issue and hope the incident sparks a larger conversation around homophobia on campus. They also said they want the students who kicked them out of the party while yelling homophobic slurs to be held accountable.
"It actually reflects a lot of what's happening in society today," Buckley said of the incident. "We can understand that and grow from that."
While the gay, lesbian, bisexual and transgender community is estimated by Gallup to comprise 4.5 percent of the U.S. population, LGBTQ people make up more than 16 percent of federally reported hate crimes, according to the FBI's 2017 hate crimes report. In 2017, the number of anti-LGBTQ hate crimes increased by 3 percent compared to the year prior.
Jojo Sigala, a representative for the Memphis Progressive Student Alliance and a friend of Buckley's, told NBC News that Buckley and Chapman are not the only ones on campus who have experienced discrimination "just for being themselves." Sigala said the silver lining, however, is that Friday's incident has already ignited dialogue on campus about homophobia and discrimination.
"We're not excited it happened, but excited about the ripples it's making," Sigala said of Friday's incident.
Sigala applauded Buckley and Chapman for "being brave and taking action" by coming forward about the incident.
"My biggest issue is that people are afraid to take action, and this is a call to action," she said. "If we all do this, they can't hurt us. We have power in numbers, power in strength."