LGBTQ comic fans have long been frustrated by the lack of representation in film adaptations of their favorite comics — especially since much of the source material features queer characters. But an announcement over the weekend by Marvel executives came as welcome news to those who have been longing for an LGBTQ superhero.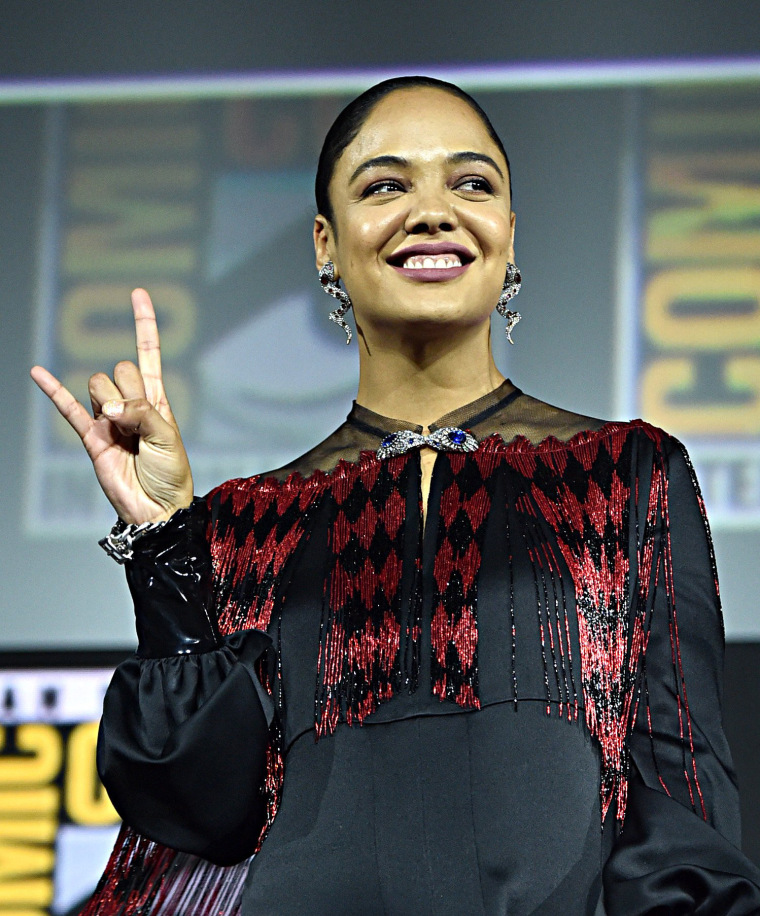 At San Diego Comic-Con on Saturday, actress Tessa Thompson hinted that her character, Valkyrie, will be involved in an LGBTQ storyline in the fourth Thor movie, "Thor: Love and Thunder." When asked what her character will be up to in the film, Thompson told the audience: "I think first of all as king, as new king, she needs to find her queen. That'll be her first order of business. She has some ideas. Keep you posted."
The film, set to be released in November 2021, stars Chris Hemsworth, in a return as the Norse god, and Natalie Portman as a female Thor.
Following Saturday's panel, Marvel Studios President Kevin Feige confirmed that Valkyrie will be involved in an LGBTQ storyline.
"The answer is yes," he told Gizmodo. "How that impacts the story remains to be seen with that level of representation you'll see across our films, not in just 'Thor 4.'"
Valkyrie has appeared in Marvel Comics since 1970. The superheroine, based on the Norse mythological figure Brynhildr, was created by Roy Thomas and John Buscema. First appearing in "The Avengers" #83, Valkyrie became a mainstay of the superhero team known as the Defenders and a close ally and love interest of the superhero Thor. But in more recent comics, Valkyrie has been portrayed as bisexual.
Thompson portrayed Valkyrie in two Marvel films — "Thor: Ragnarok" (2017) and "Avengers: Endgame" (2019) — but the character's sexuality was not made explicit. Ahead of the release of "Thor: Ragnarok," Thompson took to Twitter to confirm that, like in the comics, her version of Valkyrie is bisexual. It was revealed that they did shoot a scene that would have made Valkyrie's sexuality explicit in that film, but it was cut.
In addition to his comments on Valkyrie, Feige also teased other upcoming LGBTQ Marvel characters. In an interview with Collider, he hinted that "The Eternals," which will hit theaters in November 2020 and stars Salma Hayek and Angelina Jolie, will also feature an LGBTQ character.
Earlier this year, it was rumored that "The Eternals" casting team was looking to make the film's lead character LGBTQ. When asked about it, Marvel's production chief, Victoria Alonso, stopped short of confirming but did say "the world is ready" for a gay superhero.
"Our entire success is based on people that are incredibly different," Alonso said at the time. "If we don't put pedal to the metal on the diversity and the inclusivity, we will not have continued success. Our determination is to have that for all of the people out there watching our movies."