AUSTIN, Texas — A proposed Texas "bathroom bill" targeting transgender people neared collapse Friday over a deadlock between Republicans heeding warnings from big businesses and sports leagues — including Google and the NFL — and social conservatives who drive the state's political agenda.
The breakdown comes just three days before the Texas Legislature is set to adjourn until 2019. Republican Lt. Gov. Dan Patrick said he is resolved to force a special session if a North Carolina-style law that could restrict bathroom access for transgender people doesn't prevail — but Republican Gov. Greg Abbott made clear later that he was calling the shots.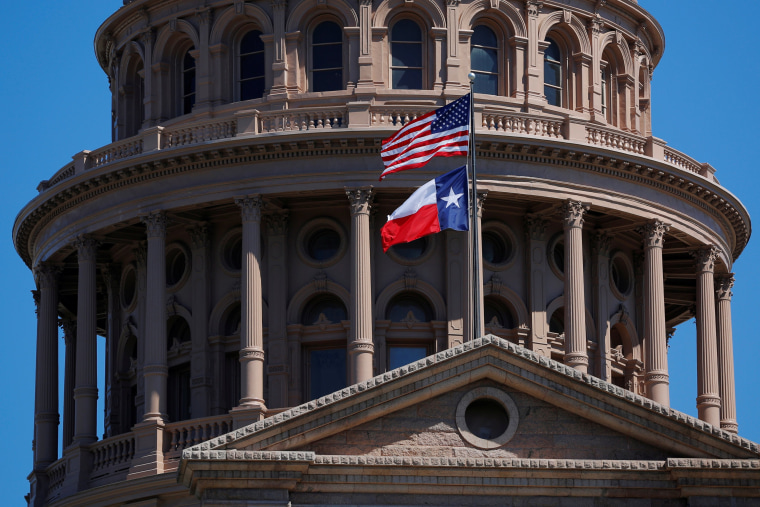 The pursuit of a so-called bathroom bill in Texas has roiled the Legislature for months, igniting opposition from the NBA, major corporations and LGBT rights groups. Although Patrick suggested there was still time before Monday's deadline, the reality is that few options remain.
"The people don't want us to come home with a job unfinished. They want us to stay here and get the job done," Patrick said.
Abbott has gone against his GOP peers nationally in calling for such a bill, but he has stopped short of saying he would drag lawmakers into a special session to get the job done.
"Despite tensions, the session is not yet over. The taxpayers deserve to have the Legislature finish their work on time," Abbott spokesman John Wittman said in a statement. "Only the Governor can determine when or if there is a special session, and if so, what issues are addressed."
Patrick put the blame on Republican House Speaker Joe Straus, a business-friendly moderate who has rebuked calls for the bill targeting transgender people all session. Straus said it was "absurd" how much time lawmakers spent prioritizing the bill and said his chamber would no longer work on it.
"The House has compromised enough on this issue," Straus said.
If successfully passed, Texas would become the first state with a "bathroom bill" outside North Carolina. Socially conservative governors in Arkansas and Kentucky rebuffed proposals as unnecessary and South Dakota's Republican governor vetoed a proposal in March. Many states have balked at such bills after North Carolina was thrust into political and economic upheaval over its law, which was partially repealed in March.
The Texas Senate months ago approved a sweeping proposal requiring transgender people to use public restrooms corresponding to the gender on their birth certificates — similar to a law that sparked national outcry and boycotts worth billions of dollars in lost revenue when North Carolina approved a similar measure last year.
Texas' House let the issue languish for months, then on Sunday approved a more modest version applying only to schools. Under it, transgender students wouldn't be allowed to choose the bathroom they use but could be directed to separate, single-use facilities.
Tension between the leaders of each chamber could ensure that Texas gets neither.
Straus has for months said the bill would hurt the state's economy, and he has been joined by top companies and businesses who say it sends a discriminatory message. Hollywood and music stars have threatened boycotts if Texas passes a law, and the NFL and NBA have hinted that future events could be pulled out of the state — even though Houston hosted the last Super Bowl in February.
Earlier Friday, technology giant IBM became the latest major corporation to urge Texas against following North Carolina.