A Texas judge said she was forced to remove a rainbow pride flag displayed in her courtroom after a local defense lawyer filed a complaint with the State Commission on Judicial Conduct.
Judge Rosie Speedlin Gonzalez, an out lesbian, said the agency, which investigates allegations of judicial misconduct, mandated that she also remove a pen, eyeglasses and a mouse pad with rainbow patterns, along with a serape, a colorful traditional Mexican cloth.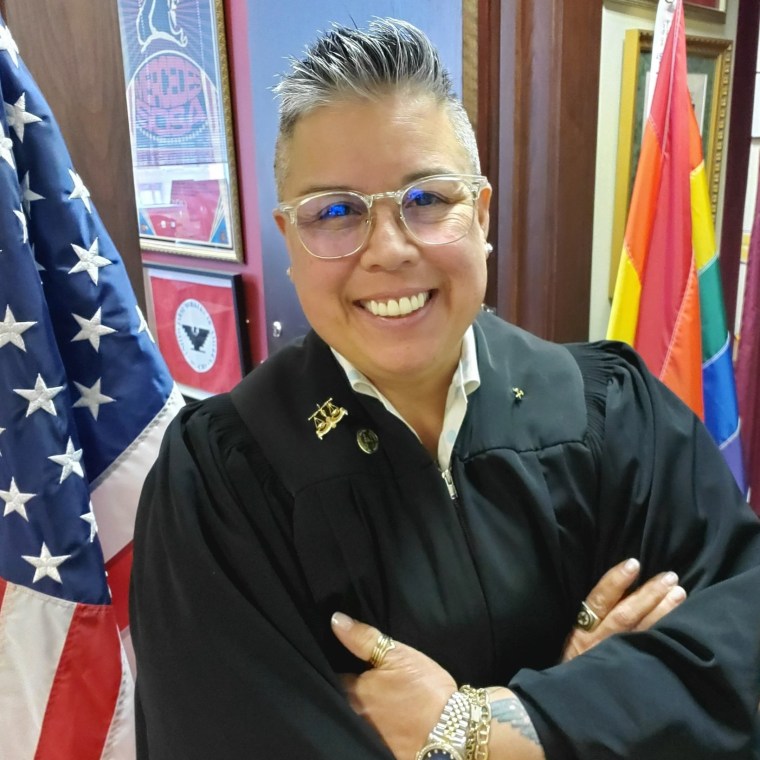 "It felt like they were trying to shame me and bully me into not expressing who I truly am," said Gonzalez, who presides over Bexar County Court 13 in San Antonio. "It felt like a kick in the gut."
The State Commission on Judicial Conduct told NBC News it could neither confirm nor deny anything related to the issue, citing "strict confidentiality rules."
Flavio Hernandez, who confirmed that he filed complaints against Gonzalez with both the Bexar County Court and the state commission in August, said he was "grieved" when "confronted by a rainbow flag prominently displayed" in her courtroom and could not "in good conscience" submit himself or his clients "to the implied authority of this unofficial flag symbolizing the Judge's personal bias."
"Other flags expressing personal bias such as white supremacy (swastikas), or black slavery (confederacy) are also divisive and inappropriate symbols in our courtrooms," Hernandez said in a written statement. "I may not be able to turn the dark tide of legalized immorality infecting our nation like a virus, but in my small way, I voiced my support of traditional American family values."
While the complaint filed with the commission is not available to the public and was not provided to NBC News by any of the parties involved, Hernandez shared a copy of the motion that he said he filed with the court. In it, he called Gonzalez's courtroom conduct "extremely repugnant" and said the judge's rainbow flag violates the Texas Code of Judicial Conduct.
"By prominently displaying the flag of her private bias on the bench of the courtroom," the motion states, Gonzalez "abuses her power and office in causing all citizens under her influence, including our citizens who do not share her views, to submit themselves to the symbol of her preferred sexual orientation."
The rainbow flag has been a universal symbol of LGBTQ pride, equality and inclusion since June 1978, when it made its debut at the San Francisco Gay Freedom Day Parade.
The commission ruled in Hernandez's favor last month, according to Gonzalez, but she sent the agency a letter of appeal Friday. She told NBC News that Hernandez's complaint and the commission's decision in his favor are "homophobia in its most transparent, clear definition."
In an interview, Gonzalez, who is Mexican American, also described the situation as xenophobic, gender-based discrimination and personal. She said that one county judge displays an Irish flag and that another wears a camouflage robe in the courtroom. She said there is even a family court in the county that displays rainbows in its courtroom, albeit not a rainbow flag.
"If you don't tell them to take their rainbows down, then it's not about the rainbow, it's about me," she said, adding that she is concerned that the commission's ruling will affect her ability to make a living going forward.
Download the NBC News app for breaking news and politics
Deanna L. Whitley, the judge's attorney, said the commission did not have evidence that Gonzalez was biased in favor of LGBTQ defendants. "To silence her once she's elected is unconstitutional," Whitley said.
In an unrelated decision issued last month, which is available on its website, the State Commission on Judicial Conduct ruled that Gonzalez should be "publicly admonished and ordered to obtain additional education" for posts she made on her judicial Facebook page congratulating attorneys for verdicts made in her court. The sanction states that Gonzalez violated a part of the judicial conduct code that says judges cannot "lend the prestige of judicial office to advance the private interests of the judge or others."
Gonzalez was one of the record 52 out LGBTQ candidates who ran for office in Texas' 2018 election cycle. She said that when she was sworn in, she received the rainbow flag from the local LGBTQ chapter of the League of United Latin American Citizens, an advocacy organization for the U.S. Hispanic population.
"I carry a lot of pride on my shoulders from the LGBT community to have me up on the bench," she said, adding that the flag now sits outside her chamber doors. "It was important to the community for me to be there and to have that visibility."
Gonzalez said she is bound by oath to keep a Texas flag up behind her bench. She said she feels that in a state in which LGBTQ people are not protected against housing and employment discrimination, the Texas flag does not send a message of safety. She said she wants the pride flag to show LGBTQ community members that they are welcome to have their day in court and seek justice.
"I have no intention of being bullied off my bench," said Gonzalez, who is awaiting the commission's decision on her appeal. "The conservative leadership needs to acknowledge we are a diverse state and things need to change."