When Melissa Ballard's transgender son, Ashur, began transitioning to male at the age of 12, longtime friends slowly disappeared from their lives. None of them said why. They just quit returning her calls.
"It's still sad, because our kids grew up together, and they were all best friends, and we'd all been in church together for years, and we spent many holidays and weekends [with] a couple of these families," Ballard told NBC News.
The Texas mom did receive a message from one family: It contained a link to a conversion therapy camp.
"They told me I might want to look into it," Ballard said. "And I was like, 'No, no, you can keep that; we're on the right path for us.'"
When Ballard's son was in the hospital receiving treatment in 2015, the headmaster of his Christian home school program didn't call to check in on him. She sent a letter asking why.
"And that's when she came back, and she said, 'Oh, we're very supportive, but you're going against God and the bible, and we're not going to support that. That's a decision you're going to have to deal with on your own,'" Ballard recalled.
Ballard scoured the internet for resources in the Dallas-Fort Worth area that could help her family. She found a therapist who offered group sessions for parents with transgender children. She bonded with the moms and dads she met there. They'd grab dinner together after their sessions. Then they started inviting each other over for potlucks.
"After we started doing the potluck dinner thing, I put together a web page where people can find some local information about local therapists [and] doctors, and then contact us of course through there to meet up," Ballard said. She also started a private Facebook group for parents.
"That's where it all combined together and exploded and has grown and grown and grown since then," she said.
"Protecting Our Cubs"
Ballard's group climbed from 24 members to more than 225 parents and 200 transgender youth. Their official name is Dallas Fort Worth Trans Kids and Families, but they call themselves the the "Mamma Bears."
"A mother bear is very protective of her cubs and that's just kind of what people started calling us," Ballard said. "That's what we're doing, we're protecting our cubs and fighting for them."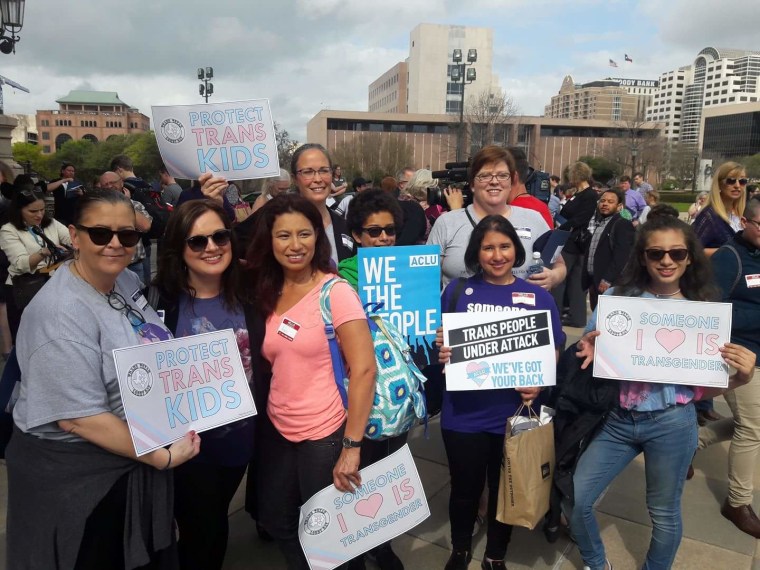 The group known for its potlucks and BBQs has grown increasingly political over a slew of so-called "bathroom bills" introduced across the country, including in their home state, which may become a bellwether for such legislation. On Wednesday, the Texas State Senate approved Senate Bill 3, which, if passed in the House, will restrict trans people's use of public restrooms and other facilities. Those who support such bills insist they are common sense legislation meant to preserve privacy in same-sex spaces.
"Senate Bill 3 protects the privacy of Texans in restrooms and showers while also preserving Title IX advancements in women's athletics," Republican Sen. Lois Kolkhorst, who authored the bill, stated in an email to NBC News.
But Ballard argues the bill serves no purpose other than to discriminate against trans people like her son.
"[Sexual assault] is not happening by trans people," Ballard insisted. "It's happening by sex offenders that don't care about laws that are already in place."
"You're Not Alone"
Parents who seek out the Mamma Bears often tell Ballard they have nowhere to turn. That's why she had "You're not alone" printed on the back of the the group's business cards.
"I redid the card with the new logo and all that, and that stayed on there, because we want people to know they're not alone," she said.
That's exactly how Mamma Bears member Valerie Hefner, 35, felt when her daughter came out as trans. The mother said there are no resources for trans people in Sherman, Texas, where she raises her four children. She learned about Ballard's group when she took her daughter to Children's Health in Dallas, which provides a program for trans youth.
"I'm about an hour out of Dallas and there's nothing here," she explained. "We have no resource centers — nothing. We have no therapists [or] gender therapists."
"Painting Targets" on Trans Kids
Hefner said her 12-year-old daughter, Arrianna, who was assigned male at birth, always loved feminine things. When she was still living as a boy, she would come home from school and wrap one of her mother's head scarves around her waist like a skirt.
"When she came to me at 9 and told me 'I have a girl's soul in my body, and I really am a girl — I should have been born with a girl body,' it wasn't a surprise to me," Hefner recalled.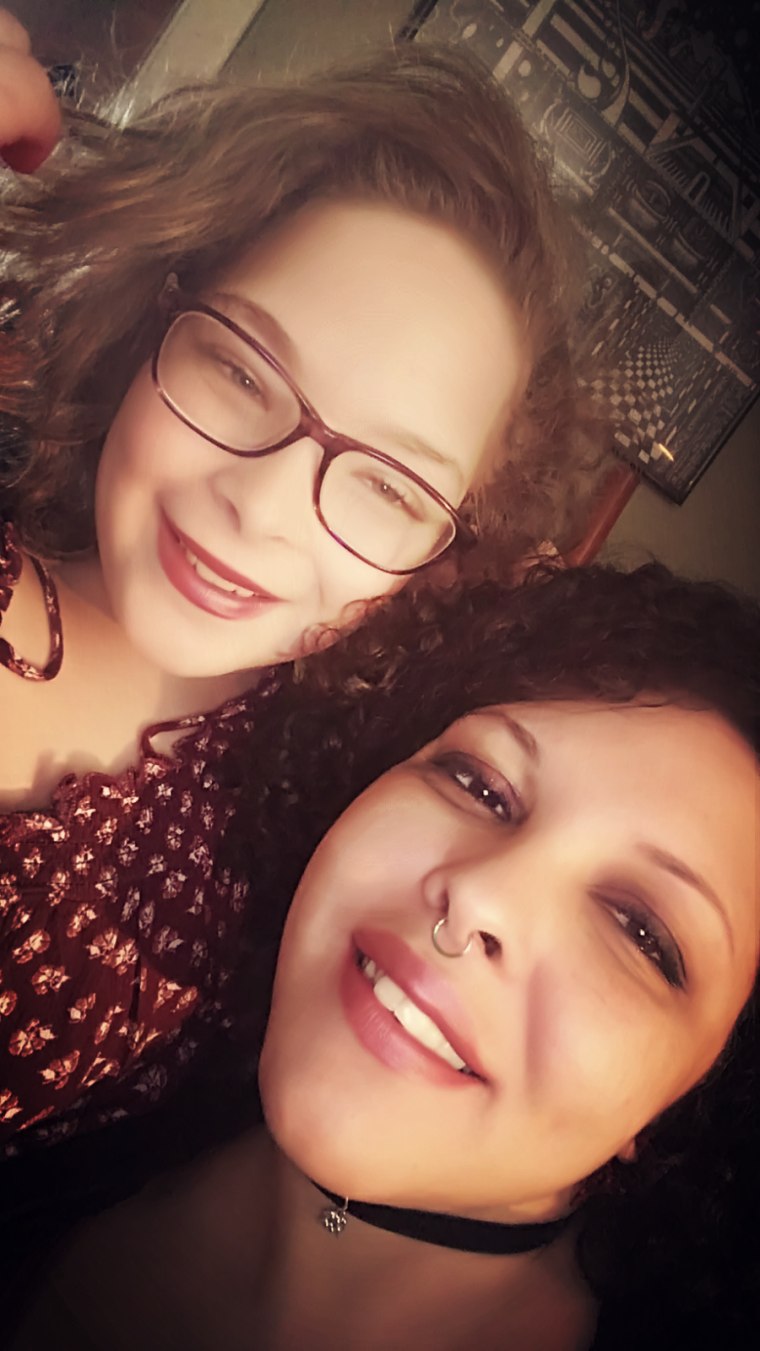 Hefner worried about how people would react to her daughter, who started living openly as a girl in the fifth grade. She met with school officials and requested they recognize her daughter's new name and female pronouns, which they did. But she said Arrianna has not been allowed to use the girl's restroom. Instead, she must use the toilet in the nurse's office.
"It solidifies in the other children's heads that she's different, and this is the worst for me," Hefner said. "It solidifies in her head that she doesn't belong in the girl's restroom, and that's just not right, because she has lots of friends who know her situation. They know who she is, and they don't care. Children do not care. The people who care are grownups."
Hefner insisted "bathroom bills" make her daughter a target.
"That's what is happening here in Texas is they are painting targets on these kids whether they want to call it a privacy bill — I don't care what they call it, or what kind of paper they wrap this into — that is not what it is. It is outright discrimination," she said.
"It's disgusting, and Kolkhorst ought to be ashamed of herself," she said of SB3. "I don't understand how anyone could author something that's so hateful and so bigoted and be proud of it."
"Angry" and "Frustrated"
Mamma Bear member Jo Ivester, an author who is penning a memoir about her transgender son, Jeremy, is also angry. Assigned female at birth, Jeremy was 23 when he came out as trans — old enough to handle his own transition-related care. That didn't stop the mother from traveling to Florida to be at his bedside while he recovered from surgery. Like most moms, she worries about her son. But she mostly worries about the passage of anti-LGBTQ legislation that could make him vulnerable to discrimination.
"Right now, living in Dallas, which has good anti-discrimination laws for the LGBT community — they're declared one of the protected classes — he can't be thrown out of his apartment because someone finds out he's transgender, he can't be fired from his job because someone finds out he's transgender," she explained.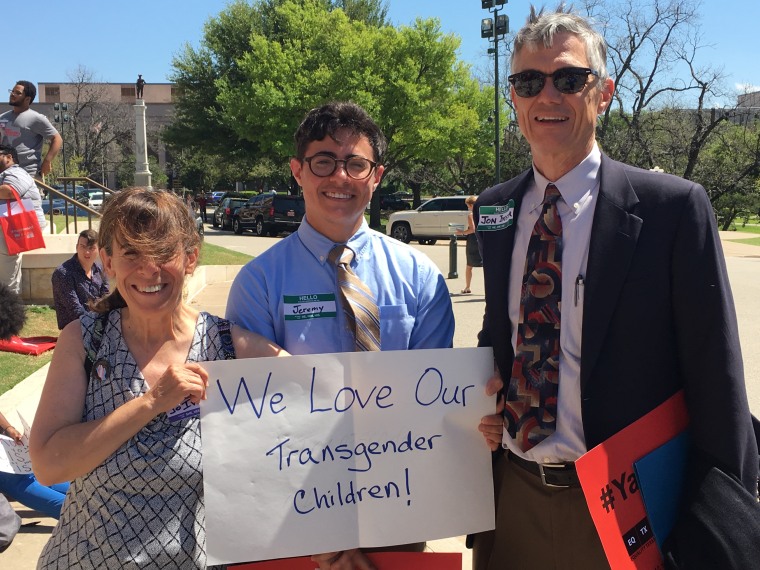 Earlier this year, Ivester and her husband drove four hours to Austin to give testimony against Senate Bill 6, another so-called "bathroom bill" introduced by Kolkhorst that would have pre-empted local nondiscrimination ordinances that allow transgender Texans to use the bathroom that corresponds with their gender identity. The couple waited hours to speak during the hearing, which stretched into the early morning.
"I spoke just before midnight and John spoke just after midnight to basically say, 'Please don't discriminate against our son,'" she said.
SB6 passed in the Senate but failed in the House. Republican Gov. Greg Abbott resurrected the issue in his special session agenda this month, eliciting outrage from pro-LGBTQ Texans.
"It makes me angry; it makes me very frustrated," Ivester said. But the Mamma Bears give her hope.
Related: Transgender Activist Says 'Bathroom Bills' Led to Her Attack'
The author joined the group after meeting a few members at the Cathedral of Hope, a progressive church in Dallas. They exchanged cards, and she was added to the Facebook group.
"When I can go and read the postings from other families it reenergizes me, and it makes me feel like, 'Okay, this is why I'm doing this; these are the people I'm trying to help,'" she said.
"They Have No Clue What's Going On"
While Dallas Fort Worth Trans Kids and Families has grown politically, working with advocacy groups like the Human Rights Campaign, Texas Equality and Lambda Legal, it remains a second family for those who have been shunned by friends and loved ones. Ballard regularly organizes social gatherings for members, many who might not have a community otherwise. Last November, she helped organized a Thanksgiving dinner, which she jokingly nicknamed "Transgiving." Forty-five members showed up. She's even become a de facto mom for trans kids whose own mothers have disowned them.
"I have a few kids who call me 'Mamma,' and I check in on them once in a while and make sure they're doing okay and seeing if they need anything," she said. Ballard met with some of their parents in hopes of reuniting them, with some luck, she said.
"Some of it's religious-based and some of it's they think it's not real, that their kid is not really experiencing this, or that it's a phase, as people say," she explained. "They just don't understand that it's really something that's affecting this person so strongly."
People have criticized the Ballards for supporting their son. Most recently, someone accused her husband of "indulging" the 15-year-old, who struggled with severe depression before he transitioned.
"It's like we're giving him too much chocolate," she said with a laugh. "That's probably been one of the ones that sticks with me now, because people, they have no clue what's going on."
Studies show that transgender and gender nonconforming youth face significant hardships compared to their peers. According to the Gay, Lesbian and Straight Education Network (GLSEN), 75 percent feel unsafe at school. Transgender people, regardless of age, are at an increased risk for bullying and violence, homelessness, poverty and suicide, according to the National Transgender Discrimination Survey.
That's exactly what Valerie Hefner is trying to avoid for her young daughter. Growing up in the 1980s, the Texas native was one of the only biracial children in her town. She remembered how one of her teachers would sneer at her across the classroom, like she was "a bug."
"I know when Arri tells me she has a teacher that looks at her a little bit funny, I know that feeling, because I felt that in kindergarten," she said.
Related: Trump Bans Trans People From Serving in Military
Like Ballard, Hefner has also been criticized for supporting her daughter. The comments she reads online from strangers are particularly hurtful. But she said she has to make her daughter's life as easy as possible, no matter what it takes.
"There's the head part where people get in your head, when you're reading comments of person after person after person who has nothing but things to say but [that] your child is sick, and you're allowing your child to be sick, and you're not getting them help or you're abusing your child, when that's all you do is live for your children," she said.
Arrianna will be a teenager soon. A time, Hefner said, when kids start pairing up and dating. When it can be especially painful to be seen as different. It's what the mother dreads as SB3 awaits a vote from the GOP-led House.
"I know that ,and I hate that," said Hefner. "All I can do is try to show her that there are people who love her for who she is."