Gina Ortiz Jones, a former army veteran and the Democratic nominee for Texas' 23rd Congressional District, is gunning for office — and the history books. If elected, Jones will be the first Iraq veteran, the first Filipina-American and the first lesbian to represent Texas in the U.S. House of Representatives.
Jones, who served as an intelligence officer under the defunct military policy "don't ask, don't tell," says her perspective provides an uncommon vantage point.
"Given my own experiences in national security, I don't just think of China, Russia, Iraq, Afghanistan, I have to think about the pipeline of talent into national security," Jones told NBC News. "I'm very much thinking about how to ensure everyone in this country, if they are able and willing to serve, has the opportunity to do that."
The congressional hopeful was raised by her single mother, who migrated to the U.S. in search of a better life in San Antonio, Texas. After graduating high school, Jones attended Boston University through an Air Force ROTC scholarship, which required her to sign a form agreeing not to express her homosexuality.
Jones is one of a record-breaking number of LGBTQ-identifying Texans seeking office this election cycle, according to OutSmart, a Houston-area LGBTQ magazine. Earlier this year, OutSmart estimated there were at least 52 LGBTQ political hopefuls in the state — roughly three times more than in any previous cycle.
"The most vulnerable, the people who have the most to lose, you can't be surprise when they are raising their hand and saying 'Actually, I've got something to say about that. I'm going to run,'" Jones said.
Former Dallas sheriff Lupe Valdez, another Texas-based candidate, already shattered a ceiling last month when she became the first Latina and openly gay nominee for governor in the state.
"Tonight is a victory for all of us who are fighting for a stronger and fairer Texas," Valdez, a Democrat, said in a released statement.
Valdez, 70, is no stranger to breaking barriers. Despite her family's fear that her running for public office would ignite a homophobic backlash in Texas — where it is still legal to discriminate against people based on their sexual orientation and gender identity — Valdez was not deterred. In 2005, she became the only Latina sheriff in the U.S. and one of the country's few out LGBTQ public officials.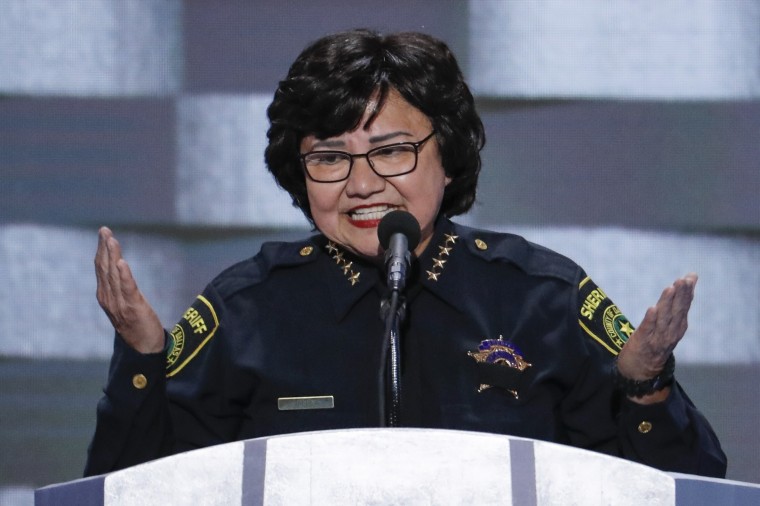 "I'm an army veteran, I was a federal agent, law enforcement, I'm Hispanic, I'm female, I'm LGBT," Valdez, who will face current Governor Greg Abbott in November, said. "I know there's a lot of people in Texas that will identify with one or two or several of those issues."
The fight from nominee to governor is uphill for the candidate. Valdez's campaign confirmed to NBC News she owes more than $12,000 in Texas property taxes after the Houston Chronicle first reported on the issue. She is planning to pay it off in regiments, according to her campaign spokesperson, and blames the high fees on Gov. Abbott's current policies. Recent polling suggests Gov. Abbott will maintain his office.
Valdez said her parents, migrants who traveled across the U.S. for work, never accepted her sexuality, and her campaign is prepared for the fact that her sexual orientation may be controversial for some Texan voters.
"Hopefully within one or two generations, this is not even going to be an issue," Valdez said. "It's just going to be who you are and what you represent."
She said confronting discrimination impacted her and impassioned her to fight for laws that protect minority identities.
"We still have hate crimes," Valdez said. "That's not where we want to be as a state. That is not the Texas brand that we want to show."