In 2020, in the early days of the pandemic, actors and filmmakers Noah Galvin, Ben Platt, Molly Gordon and Nick Lieberman released a satirical short titled "Theater Camp," which poked fun at the dramatic and often melodramatic world of amateur theater. The film, which is a mockumentary about a youth theater camp run by overly invested drama teachers, garnered somewhat of a cult following during a time when the entire world needed a laugh. And it signaled to the longtime friends and romantic partners that they had something even bigger on their hands, spawning the feature-length adaptation of the short that's making its way to movie theaters this month.
"We all come from this world and all have reverence and love and adoration for it and its inhabitants," Galvin told NBC News, explaining why he and his co-creators were the best people to bring the world of amateur acting and its eccentric teachers to the big screen.
"Our hope had always been to use the short as a proof of concept for something that we knew would be larger, funnier and filled with more depth," Galvin added.
In the feature-length adaptation of "Theater Camp," Galvin — who is best known for his roles in "The Good Doctor" and "The Real O'Neals" and for his run as the title character in Broadway's "Dear Evan Hansen" — plays Glenn, the overworked and overlooked technical director for AdirondACTS, an upstate New York summer camp that's seen better days.
The film, which is co-directed by Gordon and Lieberman, begins with the camp's founder and matriarch, Joan (Amy Sedaris), falling into a coma during a strobe-light-heavy middle school production of "Bye Bye Birdie." As a result, the seasoned staff — which includes co-dependent best friends Amos (Platt) and Rebecca-Diane (Gordon), who head up drama and music; costume designer Gigi (Owen Thiele); and Clive (Nathan Lee Graham), the demanding head of dance — are left to their own devices. Or at least they wish they were when Joan's vlogger son, Troy (Jimmy Tatro), somehow ends up overseeing things.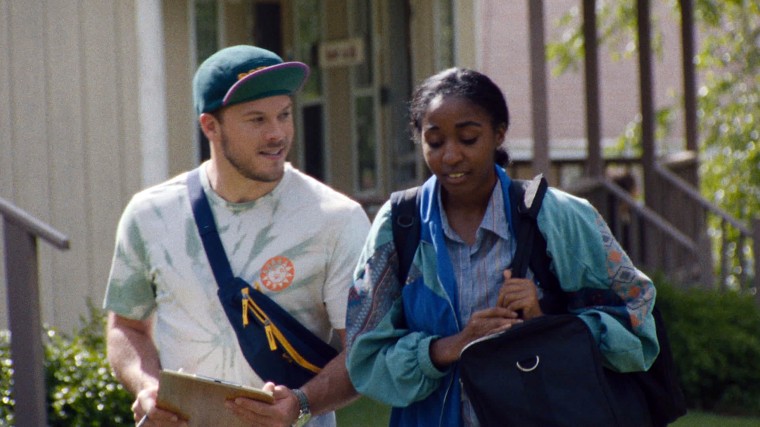 It doesn't take long for Troy, who is very much an outsider at AdirondACTS, to discover that the dilapidated camp is barely staying afloat. Pulling on his experience as a self-described financial whiz, he launches moneymaking schemes like renting out a cabin on Airbnb, loaning out the kids as cater waiters and replacing multiple staff members with the résumé-padding Janet (Ayo Edebiri). But these efforts go largely unappreciated by the oblivious department heads and enthusiastic young actors, who are too busy preparing for the summer's productions, including highly age-inappropriate productions like "Damn Yankees" and "The Crucible" and an Amos and Rebecca-Diane original: "Joan, Still," an ode to the camp's ailing matriarch.
As rehearsals get underway and the existential dread of summer sets in — particularly in the cases of Amos and Rebecca-Diane, whose friendship is threatened as they try to finish the highly anticipated Joan biopic — the fate of AdirondACTS hangs in the balance. And it begins to look like Glenn (Galvin), the technical director, may be the only one who can save the camp from the clutches of the wealthy nearby camp Lakeside.
The film's unlikely hero — a third-generation stage manager who possesses an angelic voice, balletic moves and a deep longing to be on the stage — came out of a kind of "empathy exercise," according to Galvin. After playing the first iteration of the camp's flamboyant dance head Clive in the short, the actor wanted to portray a character that added a different emotional register to the fleshed-out world of the feature. And, for inspiration, he looked to one of his longtime, real-life workplace foes: the exacting stage manager.
"Throughout my career as an actor, I've worked with a lot of stage managers. They're usually the people that have a sign on the call board that says, 'Five minutes early is on time. On time is late. Five minutes late, don't bother coming.' And that is a personality type that I clash with," said Galvin, who describes himself as "not a very punctual person."
He added that playing the camp's technical director opened his eyes to another perspective: "the oft voiceless who are either behind the lightboard or the spotlight, handing out props backstage or calling the show from the stage's left wing."
"It helped me understand them a little bit more — to see that they're just as passionate as a performer, they're just a little less loud," he said.
Like everything about the film, its hero was a collaborative effort by the co-creators, who use an improv-heavy workshopping process that Galvin describes as "recipe-testing." This ability to collectively think on their feet came in handy during the filming process, which was just 19 days and done under a tight budget, at a run-down summer camp they had to renovate. To make it all work, they lived in a house together just a few minutes from the camp, which they used as a kind of command center. 
"It was a lot of sleepless nights and staying up until the wee hours of the morning, trying to creatively problem-solve," Galvin said, giving examples of losing actors because their parents got Covid-19 and location-related production delays. "We had 19 days, little funds, so many kids, a ton of goose poop and an E. coli-infested lake. There was no time to wallow in our feelings. We just had to hike up our pants and move on."
Luckily, bringing the feature to life was a true passion project for the four friends, who also comprise two romantic couples, with Gordon and Lieberman in a long-term romance and Galvin and Platt having recently announced their engagement. The group, who have all relatively recently begun garnering fame, share a vision of creating a community of creatives in the style of Christopher Guest, the filmmaker responsible for cult comedy classics like "The Princess Bride," "This Is Spinal Tap" and "Best in Show." And "Theater Camp" — which also stars Patti Harrison as an evil corporate-type, Caroline Aaron as Joan's right-hand woman and a host of extremely talented young actors — was their first real chance to put that into motion.
"We've come up together in this business and have made beautiful relationships with amazing comedians and actors, who we've taken on to fill out our little community. We wanted to give people the space to just play and feel free," Galvin said.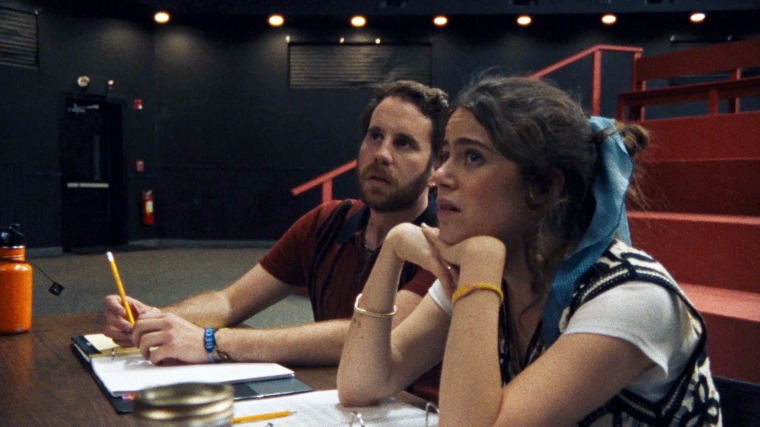 To encourage the cast to "play," the co-creators scheduled in time for the actors to improvise their way through scenes, setting them up with a canned list of jokes and funny situations and then seeing where they went with it. Some of the stars had almost no training in improv, like Thiele, who often steals the show instructing campers on fashion history and the pros of period costuming — coining terms like "clavicle realness" and "peekaboo vaginal sleeve." Others, like Graham, whose Clive character advises a class on the statistical possibility of ending up "in a mental facility or a go-go box in Hell's Kitchen," were maybe more in their element. 
It wasn't just the filmmakers' approach to script development that was inspired by Guest's comedic collective, which has included frequent collaborators like writing partner Eugene Levy and comedic geniuses Catherine O'Hara, Jennifer Coolidge, Parker Posey, Jane Lynch, the late Fred Willard and many more. Guest's brand of comedy permeates "Theater Camp," which has earned comparisons to the filmmaker's acclaimed comedy "Waiting for Guffman." Specifically, the burgeoning collective's first feature hinges on the principle that you don't have to fully understand a thing to find it funny — or utterly endearing.
"Our greatest mantra throughout this process was: Specificity begets universality," Galvin said. "You see that in pretty much all of Christopher Guest's works. Like, with 'Best in Show,' nobody knows anything about the dog show world. But when you inhabit a world filled with people who are so passionate, you can't help but get behind them." 
As Galvin and his co-creators know, not everyone understands the trials and tribulations of spending the summer trying to land the lead role, while overly invested drama teachers give directions like "jiggle like a jackal" and throw in "a little bit of pain, a little bit of stepfather." But, on the other hand, the joys of being surrounded by like-minded people, doing what you love however offbeat or niche it might be, and taking time simply to play are things that just about everyone can relate to.