If the mere title "The Thing About Harry" conjures up images of another classic romantic comedy, you're not off-base.
"Rom-coms run in my blood," Peter Paige, the screenwriter and director of the Freeform flick, told NBC News. "There's a little bit of 'My Best Friend's Wedding' in there. There's definitely some 'Pretty Woman' in there and there's a ton of 'While You Were Sleeping' in there. And the title, of course, is a nod to 'When Harry Met Sally.'"
While "The Thing About Harry" certainly borrows elements from the romance-comedy canon, the movie is chock-full of what may soon be known as its own iconic scenes in the genre. "The Thing About Harry," which premieres on Valentine's Day, follows former high school nemeses — straight-laced Sam (Jake Borelli) and flighty Harry (Nico Terho) — whose friendship slowly blossoms into romance after they are forced together for an hours-long car ride back to their Missouri hometown.
Though one might think that the car ride would be a straight shot to romance (no pun intended), the pair's relationship is anything but uncomplicated. First, it takes a minute or two for Sam, who has been out since high school, to learn that Harry, who he has known to only date girls, is pansexual — meaning he is attracted to people across the gender spectrum. Then there's Sam's commitment issues: Can he really trust Harry? And Harry isn't inclined to wait around while Sam makes up his mind.
The twists and turns are naturally partly based on Paige's own life experiences. The openly gay writer and director, who is known for his work on LGBTQ projects including "Queer as Folk," "Will & Grace" and "The Fosters," said that when he was first approached with the script, he wasn't convinced that it authentically told a story about two queer men in their 20s navigating the big, bad world of dating.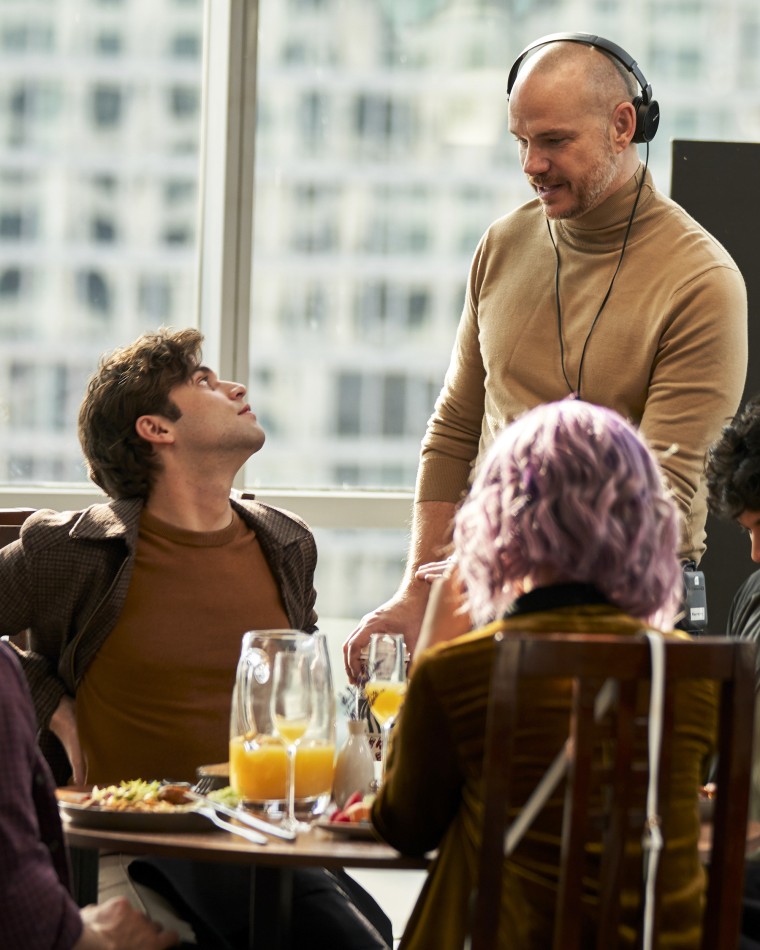 "I spent so much time translating straight rom-coms for my own consumption that I wanted to make a movie that queer boys wouldn't have to translate," Paige said. "When I was in my 20s, I was in big cities dating and getting my heart broken. … The greatest heartbreak of my life was when two of my friends got together and I was in love with one of them."
To be sure, "The Thing About Harry" is replete with moments of heartbreak, disappointment and confusion, but as in other rom-coms, these scenes make the eventual reunion all the more satisfying. And while some might dub the repeated push-and-pulls of the movie as somewhat sadistic, Paige said it was "a fun game" for him as the writer.
"There's something so fun about giving you everything and taking it away one last time," Paige said. "As soon as I had the idea that Harry was pan — which I think is so young and fresh and shows how people of this generation are talking about sexuality today, which is different than my generation — I was like, 'Oh, well that creates a different playing field and provides some real opportunities for twists and turns that we hadn't seen before.'"
In recent years, there's been discussion about how the rom-com genre is dead and suggestion that the movies that have been classified as rom-coms have been erroneously labeled. But Paige believes the opposite is true and that rom-coms are making a "comeback."
"They're being done in this really great way. Maybe they're just considered a little more niche, because they're about somebody other than a pretty white girl," Paige said, citing "Always Be My Maybe" and "To All the Boys I've Ever Loved," which star actresses of color, as examples of recent films that fit this bill.
Perhaps what's most groundbreaking about "The Thing About Harry" is that it joins very few other mainstream romantic-comedies that both center a queer couple and star queer actors (Borelli identifies as gay). While "The Thing About Harry" marks Tehro's first major project, Borelli endeared himself to fans on "Grey's Anatomy." He played Dr. Levi Schmitt on the show, a character who came out as gay in the show's 15th season. Following his character's major development, Borelli himself came out as gay on Instagram shortly thereafter.
"We want to be seen, we want to be loved," Paige said. "I just want people to recognize themselves in those boys, in the universality of their longing and vulnerability and kindness and happiness."