A third of the more than 50 circuit court judges nominated by President Donald Trump since he took office nearly three years ago have a "demonstrated history of anti-LGBTQ bias," according to a new report by LGBTQ civil rights group Lambda Legal, which asserts that the justice system is "now indisputably in a state of crisis."
"The damage that is being done to our federal judiciary may be this administration's most lasting and dangerous legacy," Kevin Jennings, CEO of Lambda Legal, said in a statement shared with NBC News.
Lambda Legal has opposed 19 of the Trump administration's 53 nominees to the country's 12 circuit courts (50 of whom have since been confirmed) because of their anti-LGBTQ record. Among those that Lambda has opposed are Steven Menashi, Lawrence VanDyke and Allison Jones Rushing, all of whom were confirmed this year to lifetime appointments.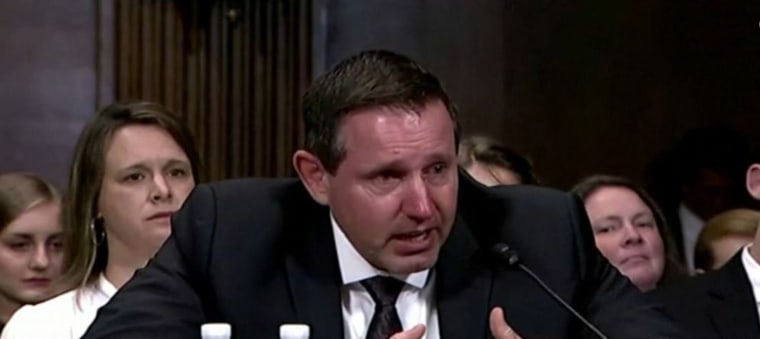 VanDyke, who broke down in tears during his Senate Judiciary Committee hearing in October when pressed on his LGBTQ views, was confirmed this month to the 9th U.S. Circuit Court of Appeals in San Francisco. In a 2004 op-ed VanDyke, 47, stated that there was "ample reason for concern that same-sex marriage will hurt families, and consequentially children and society." As recently as 2012, as Montana solicitor general, he argued against same-sex marriage in two cases and in favor of allowing photographers to deny wedding services to gay couples in another.
Menashi, 40, was confirmed last month to the 2nd U.S. Circuit Court of Appeals in New York. Lambda Legal and 20 other LGBTQ advocacy organizations sent a letter to the Senate Judiciary Committee opposing Menashi's confirmation, stating that he had "clearly and consistently expressed his animosity" toward LGBTQ people and people living with HIV through his personal writings. The letter stated Menashi has "unambiguously asserted his opposition to marriage equality," citing a 2015 article he wrote about the Supreme Court's landmark Obergefell v. Hodges decision in which he warned against the dangers of "nine unelected lawyers in Washington" ruling in favor of same-sex marriage, which "only makes the political fights more bitter."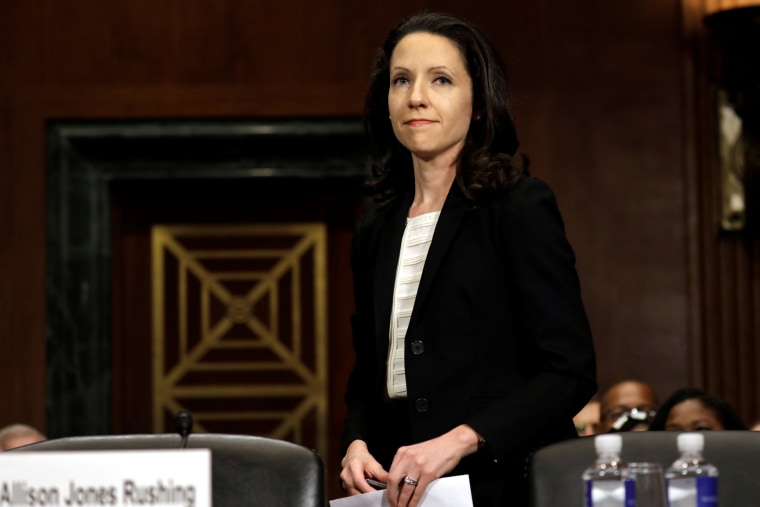 Rushing, 37, was confirmed in March to the 4th U.S. Circuit Court of Appeals in Richmond, Virginia. She made headlines for becoming one of the youngest and least experienced members of the federal judiciary, but also for her decade-long association with Alliance Defending Freedom, a conservative legal nonprofit with a long record of opposing LGBTQ rights. Over the past decade, ADF, which was designated an anti-LGBTQ "hate group" by the Southern Poverty Law Center, has helped lawmakers draft same-sex marriage bans and so-called transgender bathroom bills.
Lambda Legal's report also sounded the alarm on the lack of diversity among the Trump administration's circuit court nominees (none is black and just one is Latino), the confirmation of three nominees deemed "not qualified" by the American Bar Association (VanDyke being one of them), and the rapid pace at which the administration is filling the courts (eight of the country's 12 circuit courts are now made up of over 25 percent Trump-nominated judges).
"This is a fast-moving train wreck that — unless something is done now — could undermine civil rights protections for the next 40 years." Sasha Buchert, a senior attorney at Lambda Legal, said of the pace at which Trump is filling the courts. "An entire generation of LGBTQ people seeking their day in court could be facing judges who have made no secret about their hostility to the rights of LGBT people, women and immigrants."
While Trump has had 50 circuit court nominees confirmed in his first three years, President Barack Obama had only confirmed 55 of his nominees confirmed in his entire eight years in office, according to Lambda Legal. While much attention is paid to the Supreme Court, the 13 U.S. Courts of Appeal, or circuit courts — which are one level below the Supreme Court — "exert tremendous influence in shaping our nation's laws," according to Lambda Legal. The organization notes that while the Supreme Court heard 76 cases in the term that ended in 2019, the circuit courts had nearly 50,000 case filings.
The White House did not immediately respond to NBC News' request for comment.