Since North Carolina's highly controversial House Bill 2 was introduced in March 2016, the issue of transgender people's access to gender-segregated public facilities has been at the forefront of battles over LGBTQ rights.
In 2017, 10 states introduced legislation attempting to restrict trans people's access to bathrooms and other public facilities, though none passed. And so far in 2018, six states have introduced such legislation, according to the ACLU. The issue has also come up in public schools across the U.S.
This week alone, three lawsuits — from Montana to Oregon to Pennsylvania — involving transgender people's access to gender-segregated facilities will have their day in court.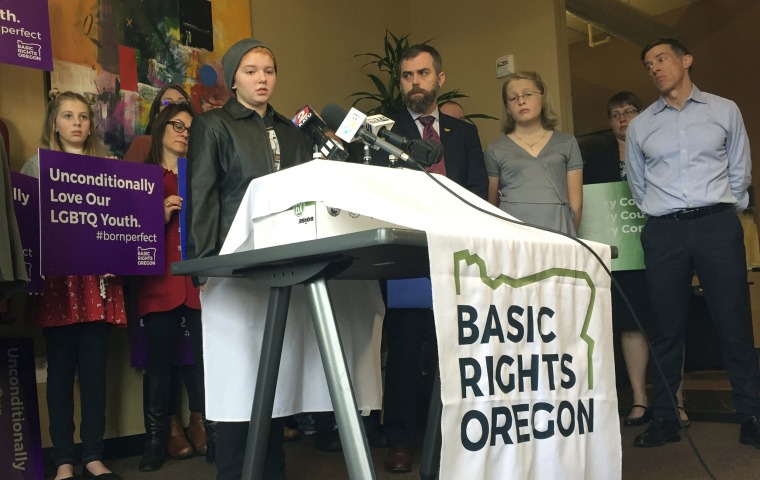 On Monday, a district court judge in Montana heard from both sides in Hobaugh v. Montana. The case concerns I-183, or the Montana Locker Room Privacy Act, a ballot measure put forward by the Montana Family Foundation that would require transgender individuals to use public facilities, including restrooms or locker rooms, corresponding to their "biological sex" and not their gender identity.
The ACLU of Montana is challenging the measure in court before it even appears on the November ballot. According to the lawsuit, which the organization filed on behalf of eight transgender plaintiffs and the city of Missoula, the ballot measure would "harass, humiliate, and harm transgender Montanans."
"It codifies discrimination against transgender people, and mirrors anti-transgender legislation pursued in other states that has uniformly led to public outcry, financial calamity, and constitutional challenges," the complaint states.
The Montana Family Foundation pushed back against the lawsuit in a statement issued by its president, Jeff Laszioffy.
"The Montana Locker Room Privacy Act is about protecting privacy, safety, and dignity for all Montanans," Laszioffy stated. "Males and females use different locker rooms. This isn't some new idea, it's just common sense. The ACLU should permit the people of Montana to vote. That's supposed to be how self-government works."
Gabriel Arkles, senior staff attorney for the ACLU's LGBT and HIV Project, decried the potential effects of Montana's I-183 ballot measure, saying it could have a detrimental impact on trans people's lives.
"When trans people can't use the restroom that matches our gender … we cannot be a part of public life," he said. "It keeps you from going to work school or even just to dinner with your friends."
Montana's measure includes what Arkles called a "bounty provision," meaning that if someone perceives a transgender person to be in the "wrong" restroom, that person could sue state and local government entities.
Last month, a similar initiative was defeated in Alaska. Had Anchorage's Proposition 1 passed, it would have reversed the city's existing transgender anti-discrimination protections and required trans people to use restrooms and other gender-segregated public facilities that corresponded to their sex assigned at birth, not their gender identity.
Bobbie Zenker, a plaintiff in the Montana case, called the ballot measure "very damaging" and an "affront to dignity."
"Laws like I-183," Zenker said, "attempt to force transgender people out of the public."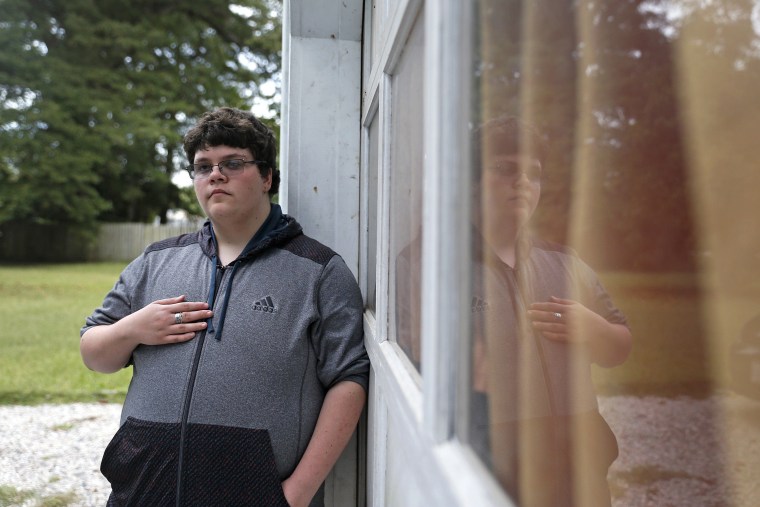 The two other transgender-rights cases being heard in court this week both deal with students' access to gender-segregated facilities at school.
In Oregon, two organizations — Parents for Privacy and Parents' Rights in Education — claim transgender-inclusive policies implemented in Dallas School District No. 2 in Dallas, Oregon, violate the privacy of non-transgender students.
The new rules and policies, their complaint states, "radically changed the meaning of 'sex' in Title IX" of the Education Amendments of 1972, which states, "No person in the United States shall, on the basis of sex, be excluded from participation in, be denied the benefits of, or be subjected to discrimination under any education program or activity receiving Federal financial assistance."
The lawsuit filed in federal court in Portland claimed the school board "unilaterally rejected the Title IX meaning of sex, which for 40 years has meant biologically male and female, two objectively determined, fixed, binary sexes rooted in our human reproductive nature."
Currently, the school district allows transgender students to use restrooms and locker rooms corresponding with their gender identity as part of the district's Student Safety Plan. The complaint alleges the new policy makes it "unavoidable" that "adolescent students, in the midst of disrobing within private intimate spaces, will encounter an adolescent student of the opposite sex in their midst."
The third case, Doe v. Boyertown, will be heard on Thursday in the 3rd Circuit Court of Appeals in Philadelphia. Parents of children in the Boyertown Area School District claim the district's transgender-inclusive restroom policy violates the privacy rights of non-transgender students.
"District Appellees accommodated such students' gender identities in various ways — such as using desired names and pronouns, welcoming changes in dress and grooming, and conforming school records to the chosen gender," the lawsuit states. "But such accommodation crosses a statutory and constitutional line when the District authorizes entry of one sex into the other sex's privacy facilities."
Ria Tabacco Mar, a senior staff attorney at the ACLU's LGBT and HIV Project, said this particular case is the first challenge by cisgender (non-transgender) students to a school's transgender-inclusive accommodations policy that has reached a federal appeals court. Therefore, the case "could set important precedents," Mar explained.
While the Boyertown Area School District voluntarily adopted a transgender-inclusive policy, the plaintiffs in the case claim the policy violates their constitutional rights. Mar, however, argued this reflects a "fundamental misunderstanding of what the constitution protects" and is confident the courts will side with transgender students.
Because the Supreme Court has yet to weigh in on the issue of trans students use of gender-segregated school facilities — it declined to hear the high-profile Gavin Grimm v. Gloucester County School Board case last March — those on both sides of the debate anticipate more litigation in the future.