In the beginning, he drew them simply for his own pleasure. But in the nearly eight decades since Tom of Finland began creating them as a young man, his boldly erotic and hyper-masculine illustrations have grown evermore popular, and proven astoundingly enduring.
Long iconic and even formative for American gay society, Tom's well-endowed and sexually charged imagery is now hitting the global mainstream, and it's resonating with new and surprising audiences — like women, transgender men and even art connoisseurs in China — along the way, even as it finally turns the artist himself into a household name in his native Finland.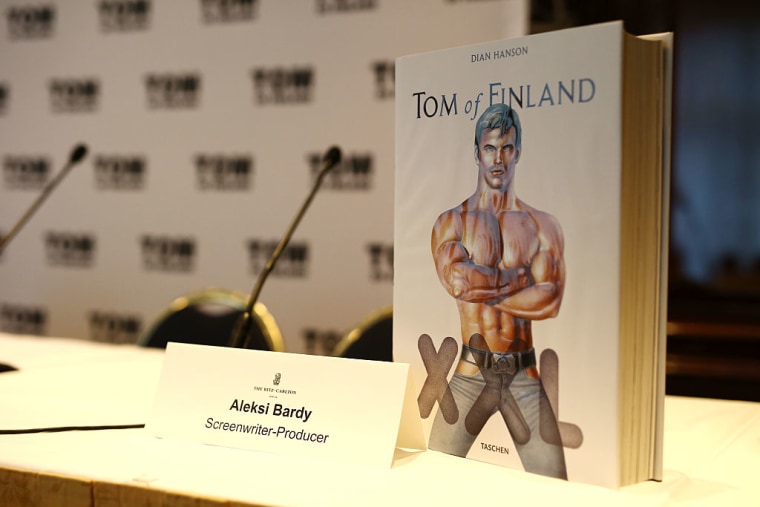 In New York this Sunday (April 23), a new Finnish-made and eponymously-titled Tom of Finland biopic will make its much-anticipated debut at the Tribeca Film Festival. The movie, directed by Dome Karukoski and starring Pekka Strang as Tom, traces the artist's life from young adulthood as Touko Laaksonen to his underground success as an expat erotic artist in America. Squarely geared toward mainstream audiences, the film has already been a major hit in Finland since its release there in February.
"I've been working on embedding Tom into the Finnish culture for 25 years, since he passed away," said Durk Dehner, president and co-founder of the Tom of Finland Foundation, and himself one of Tom's most frequent models. "It was his last wish that I would do whatever I could to let him be known and appreciated in his own country, because he was already being appreciated elsewhere."
That native appreciation has grown immeasurably in recent years, turning Tom into something of a national hero in Finland. Long fairly unknown in his homeland — owing largely to the fact that, as revealed in the film, he kept himself out of the Finnish spotlight out of respect for his sister's wishes — he's now even being included as a key figure in the country's 100th birthday celebrations this year.
"Tom certainly has been in the headlines for quite some time now," said Susanna Luoto, the Tom of Finland Foundation's Finnish spokesperson. Luoto said Tom's local fame hit its stride in 2014 when the Finnish postal service released a set of three official Tom of Finland stamps, then intensified when just a few months later, renowned Finnish textile maker Finlayson released a collection of Tom-inspired sheets, towels and other home products.
"Tom himself has become a Finnish hero, because his story is today read in a different light," Luoto said. "He was a fighter for his own uniqueness, and did exactly as he wanted, but without being militant. That wasn't Tom's style."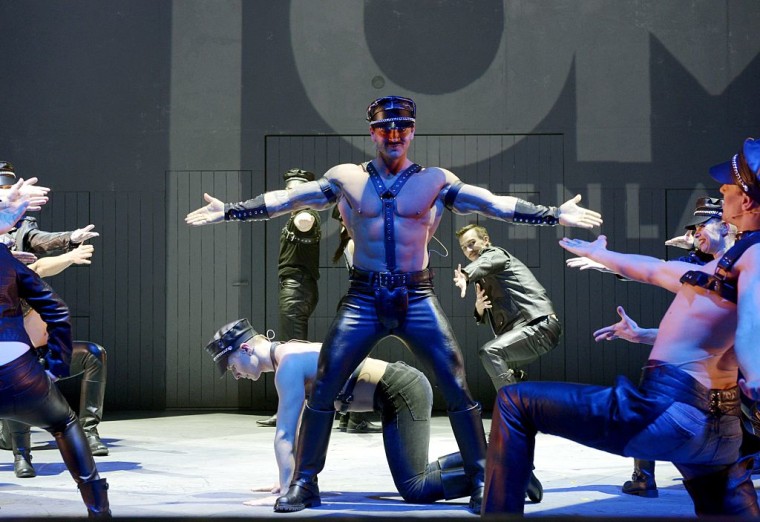 This year has taken Tom's Finnish conquest to even higher heights: In January, a musical about his life debuted in Turku, the country's oldest city, where young Touko attended school (running through May 6, it's fittingly called "Tom of Finland: The Musical"). February then saw the release of the film, as well as Tom's inclusion in a special set of Finnish national emojis — the world's only country-specific set of emojis.
Meanwhile, Tom-devoted exhibitions and events continue to happen around the globe with ever-increasing frequency. Berlin's Salon Dahlmann and Galerie Judin, for example, are currently jointly presenting "Touko Laaksonen: The Man Behind Tom of Finland," on show through May 6.
All exhibitions of Tom's work are sanctioned and assisted by the Tom of Finland Foundation, which serves as the worldwide guardian of his legacy, and also runs the incredible Tom House in the Echo Park neighborhood of Los Angeles — which is itself the star of a beautiful 2016 coffee table book. This craftsman home where Tom himself once lived and worked — and where Dehner and Foundation vice president S. R. Sharp still do — is now a living museum of Tom-ness, where scores of pieces of his original artwork are displayed, and thousands more are carefully archived. Of course a strong sexual charge infuses the Tom House air, but it's also an incredibly relaxed and welcoming place, and a fascinating center of very alive gay history that's always open to all.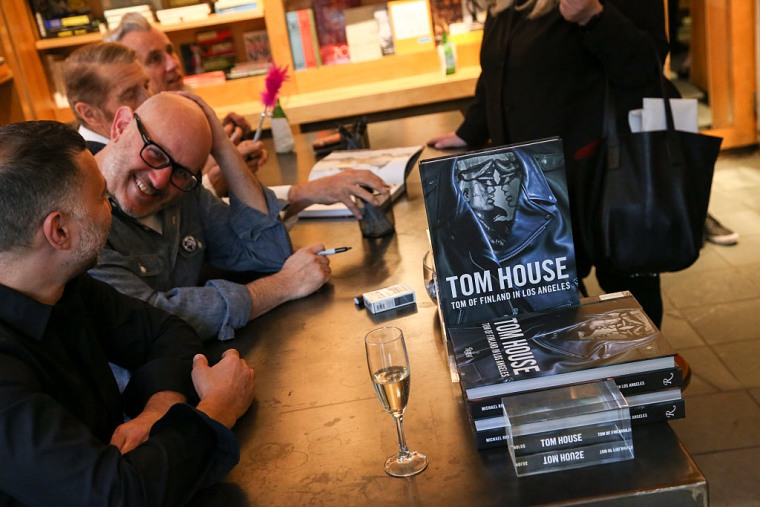 The Foundation also oversees the ever-expanding (but vigilantly curated) array of products that are graced with Tom's images, from the expected (like a full and rather endowed line of sex toys) to the unexpected (like Tom of Finland coffee, and the just-released line of Tom of Finland skateboards). A growing collection of clothing and housewares are on offer too, and all are available on the new (and fairly NSFW) tomoffinlandstore.com.
All of this comes just as global interest in Tom's work continues to expand beyond its gay male roots. "Women have now found Tom, and just adore his work," Dehner told NBC Out. "And that's women in America, and women in Finland. Because what does he represent for them? He represents the ability — the freedom — for women to actually objectify men, and to enjoy looking at male sexuality. It doesn't matter that it's homosexuality, it matters that it's male sexuality. And so they get to enjoy it now as men have enjoyed women for centuries."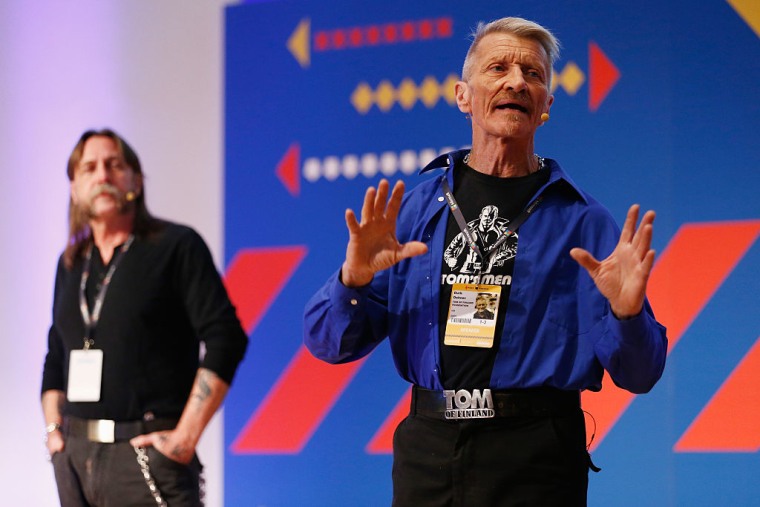 Transgender men, too, are embracing Tom's imagery. "They adore him also, because he symbolizes so many of those very strong iconic archetypes that are embodied in his work," says Dehner. "So they are being empowered by him."
For the 67-year-old Dehner, it's immensely gratifying that Tom's art is now more popular than it's ever been, the culmination of decades of dedication and hard work from both men.
"I'm so pleased, of course, that Tom's work continues — because when an artist dies, oftentimes his work dies, and that has not been the case with Tom," Dehner said. "His legacy continues to be valuable and important. You always think, 'Is this artist going to go out of style?' But what he represents is simply something that doesn't go out of style."