Toronto's Healing House is thought to be the world's first spa staffed exclusively by HIV-positive therapists, or "healers." To mark World AIDS Day, Casey House, a hospital that provides care for patients with HIV, launched the pop-up spa, which will offer free massages and facials by HIV-positive people for two days.
The goal? To fight the discrimination and stigma faced by 37 million people worldwide living with HIV.
"This stigma affects peoples' lives on a daily basis," said Xica Dadiva, a Healing House healer. "If I want anything to change for me, I have to be involved."
"The virus has become highly manageable. It's the stigma that's really the disease."
The project set out with a big goal: to challenge people to push their beliefs and perceptions about HIV-positive individuals. The spa is in a 7,000-square-foot rented space in downtown Toronto. The walls share messages of acceptance in bold text, such as "These hands heal. And they're HIV+" and "Relax your fear."
"What our HIV-positive patients really miss is touch, because people are afraid of transmission," Joanne Simons, the CEO of Casey House, told NBC News. "Its a lack of education and fear. The human connection is missing."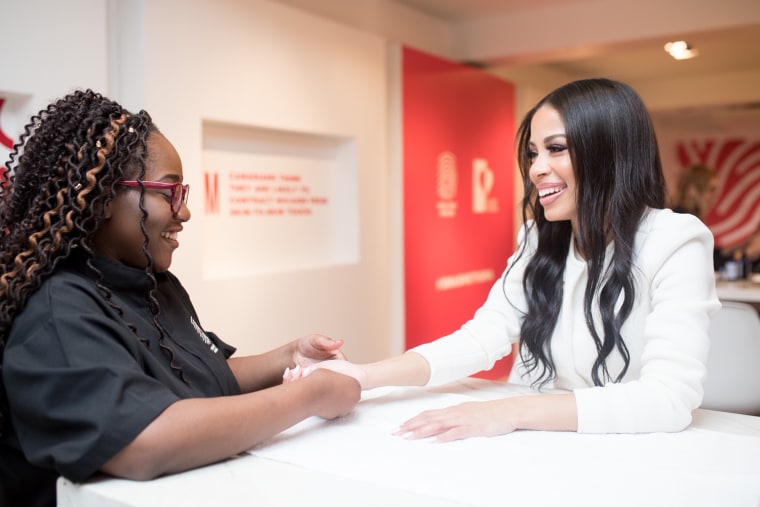 The 18 HIV-positive "healers," as the Healing House calls them, are not therapists by trade. So the Toronto Blue Jays baseball team's massage therapist and local beauty brand Provence Apothecary trained the group. All 164 appointments for mini facials and neck, head and hand massages are free.
"We are pushing the boundaries to create discussion, and this topic makes people uncomfortable," Simons said. "We want people to get the facts, feel the emotion and challenge their thinking."
When the crisis first impacted Americans, people inaccurately believed that HIV could be transmitted through touch and refused to make skin-to-skin contact with HIV-positive people. To this day, that fear persists: Simons said some HIV-positive patients receiving massage therapy at the hospital report it's the only time they are touched by someone.
According to UNAIDS, roughly one in eight people living with HIV is being denied health services because of discrimination. Almost half of North Americans (46 percent) say they would not be comfortable sharing skin-to skin touch with someone who is HIV-positive, according to a Casey House survey leading up to this event.
"The whole idea is to confront people with some of their fears," said Joseph Bonnici, the executive creative director of advertising agency Bensimon Byrne, which co-organized the spa. "So what could freak them out more than an HIV-positive spa? It's 100 percent safe, its impossible to transmit HIV, and people need to know it."
Publicly disclosing their HIV statuses was not a decision many of the healers took lightly.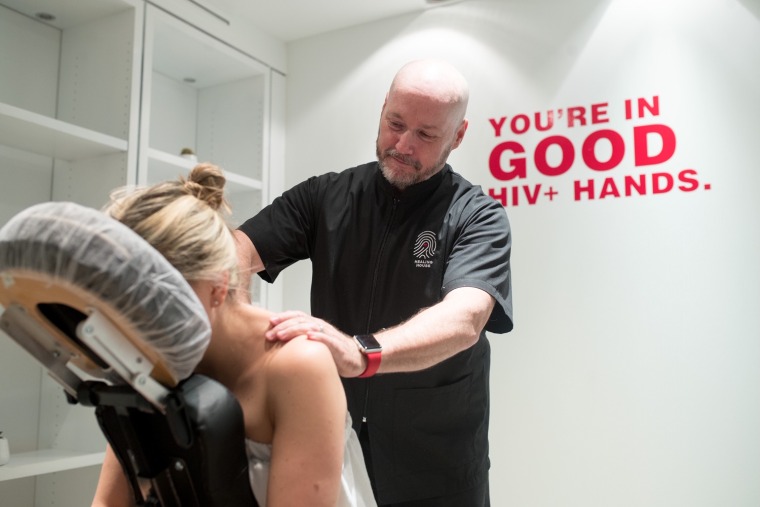 When Randy Davis, a sexual health coordinator at an Ontario LGBTQ center, was first diagnosed, he said the last thing he planned to do was share his status widely. He said he did not come out as gay until 39 because of the fear and hate that fueled the AIDS crisis in the 1980s.
"I didn't think anybody would want to be in a relationship with me let alone touch me," Davis said. "I fell victim to self-stigma."
Davis is one of the 18 HIV-positive therapists at the Healing House. He said he has been privileged to receive treatment not always accessible to all people living with HIV but also has been discriminated against for his positive status.
"Even if I just impacted one person and made them feel there was no need to be frightened, it was a huge success," said Davis, who felt moved by the experience. "The virus has become highly manageable. It's the stigma that's really the disease."
Once the project was announced, people started writing negative reactions online. The spa organizers assembled a team of moderators instructed to use HIV/AIDS facts to combat the hateful comments and posts.
"It's a tremendous act of courage to come to the Healing House spa," said Healing House therapist Ron Rosenes of his fellow healers. "This can have an effect on people who know very little about HIV. Its an incredible opportunity."