/ Source: Associated Press
Anzor was lying on a dirty floor as a man in army boots jumped on his back. His agony worsened when his captors started torturing him with electric shocks.
"It's a feeling like they are breaking every bone of every joint in your body at the same time," he said.
Anzor is a gay man from Chechnya, the predominantly Muslim region in southern Russia where dozens of men suspected of being gay were reportedly detained and tortured, and at least three of them were allegedly killed.
After his ordeal, Anzor fled Chechnya and is now in hiding in Moscow, fearing not only for his own life but for the safety of his relatives. He spoke with The Associated Press on the condition of using only his first name.
Antipathy to homosexuality in Russia is widespread. Gay rights activists' requests to hold rallies are routinely rejected by officials and any rallies that do take place are often attacked by anti-gay thugs. But "this anti-gay purge, sanctioned by top local authorities, is unprecedented," said Tanya Lokshina, the Russia program coordinator for Human Rights Watch.
Another gay man, who spoke on condition of anonymity for fear of reprisals, told the AP that he was also arrested in Chechnya and held with dozens of others.
"We were tortured every day. Beside beatings, we were beaten several times a day with polypropylene tubes. We were tortured with electricity," he said.
"For 20-30 seconds they spin the handle, you feel the electricity, then you fall down, they stop it, and then immediately you come back to consciousness and you are ready again for a new discharge," he said. "And it goes on five, six, seven times."
Related: Russian Police Detain Gay-Rights Activists at May Day March
The abuse was first reported in April by the independent newspaper Novaya Gazeta, which said that about 100 men suspected of being gay were rounded up and tortured, and that at least three were killed.
Western governments and rights groups have urged Russian authorities to investigate.
Chechen officials vehemently deny not only the reported torture of gays, but sometimes their very existence.
"There are no homosexuals in Chechnya. You cannot detain and persecute those who do not exist," Alvi Karimov, a spokesman for Chechen leader Ramzan Kadyrov, told the Interfax news agency.
Homosexuality is a taboo in conservative Chechnya, and the gay community there was used to leading a double life — marrying, having children and hiding their sexuality from even their closest family members. The only time a gay man in Chechnya could be himself is when he met with another gay person, typically through social media, Anzor said.
"The rest of the time we are pretending," he said.
Anzor, who talked to the AP at a safe house provided by LGBTQ activists, fears for the lives of his family members who will become pariahs in the patriarchal Chechen society if his identity is revealed.
"Sometimes families turn away from such people, some families get rid of such people," he said of gays, a word he is visibly uncomfortable using. "I'm scared for my family, my sisters and brothers. I don't want them to suffer for me."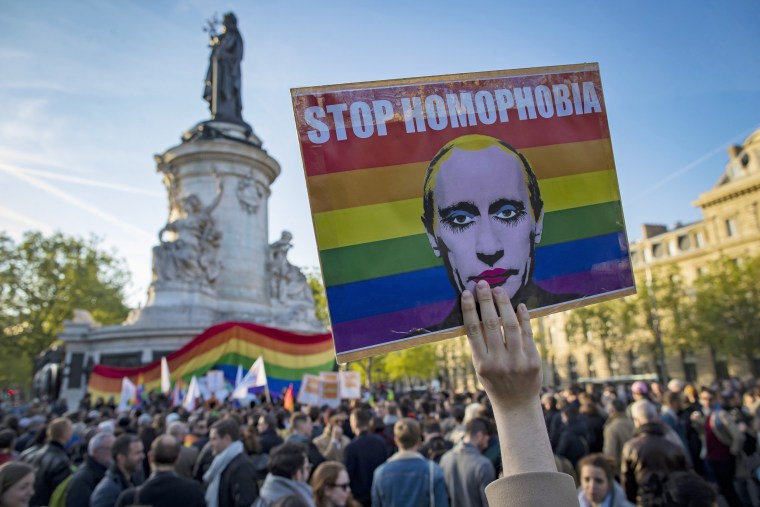 Anzor, in his 40s, said the ordeal began when police stopped the car in which he was riding with friends in the town of Argun. They were taken to a police station after officers found a sedative pill on one friend. Small details that Anzor didn't want to make public led the police to believe that he and one of his friends were gay, he said.
They were brutally beaten in front of the police station chief and taken to a shed. Anzor spent 10 days there.
He said the shed had dozens of men who were beaten and abused by camouflaged men. In the first few days, the beatings were so frequent that he stopped feeling any pain, Anzor said, overcome at the memory. Inmates were made to attach the clamps of electric wires to their toes and fingers — and the captors would then turn on the power.
Then the torture stopped. Several days later Anzor was taken outside and told that he was free to go — without any explanation.
He thought about going to a neighboring region and reporting his bruises and injuries at the hospital there, but got scared.
"I thought if I would go there, they would be people like that there, too," he said, laughing nervously.
The other gay man who spoke to the AP said that his ordeal began when police arrested him in a crowded place, because his number was found in the phone of another gay man arrested earlier.
He said that he believed his captors, dressed in camouflage, were abusing them one by one in a bid to find more gays.
Related: Facebook Groups Raise Over $100,000 to Help Gay Men in Chechnya
"They were beating information out of us," he said.
The man, in his 30s, said that when the abusers lost interest in one person, the torture would stop. He was eventually freed, and like Anzor, fled Chechnya and sought shelter through LGBT activists in Moscow.
Human rights groups have previously documented torture and extrajudicial killings perpetrated by Kadyrov's security forces against opponents and Salafi Muslims. Lokshina said the methods used against gay men echo these abuses — it's "their standard toolbox," she said.
Putin last month met with Kadyrov in the Kremlin and the Chechen leader dismissed the reports.
"The so-called good people write that in our republic — I'm even ashamed to say it — people get arrested and killed," he said. Putin apparently didn't press him further.
"I'm in absolute shock. We have never seen anything like this," said Tatyana Vinnichenko, head of the Russian LGBT Network, which is aiding about 40 gay men who have fled Chechnya in recent weeks.
Vinnichenko's phones ring every few minutes as she coordinates efforts with other activists on hospital treatment, plane tickets and housing arrangements. Two of the men have already left Russia for another country which is visa-free for Russians, and two more have just received visas and should be leaving for Europe soon.
LGBTQ activists have been meeting with foreign diplomats, pleading that granting a visa to gay survivors of torture could be a matter of saving their lives.
Vinnichenko said, with dismay, that the U.S. Embassy in Moscow has been "unwilling to engage in a dialogue on visas for the torture victims."
In Washington, the U.S. State Department told the AP that it was "unable to discuss individual cases" since visa records are confidential but added that it "categorically condemns the persecution of individuals based on their sexual orientation."
After he was released, Anzor stayed in Chechnya to tend to his ailing mother, but eventually felt compelled to leave.
"My friends, people I have socialized with were all rounded up. If they caught me again, I know for sure I would not have made it out of there alive," he said.
He told his family he was going away on business when he left for Moscow in early March and he hasn't been back since. He clings to the hope that he will be able to go home to see his mother once again — and scoffs at the Kremlin meeting between Kadyrov and Putin.
"I think Putin knows about it, he knows it even better than me — he is the president of Russia after all," he says. "I don't know why he allows all of this to happen."