The 11-year-old transgender daughter of an American service member stationed in Germany has been barred from using the girls' bathroom at an elementary school run by the U.S. military.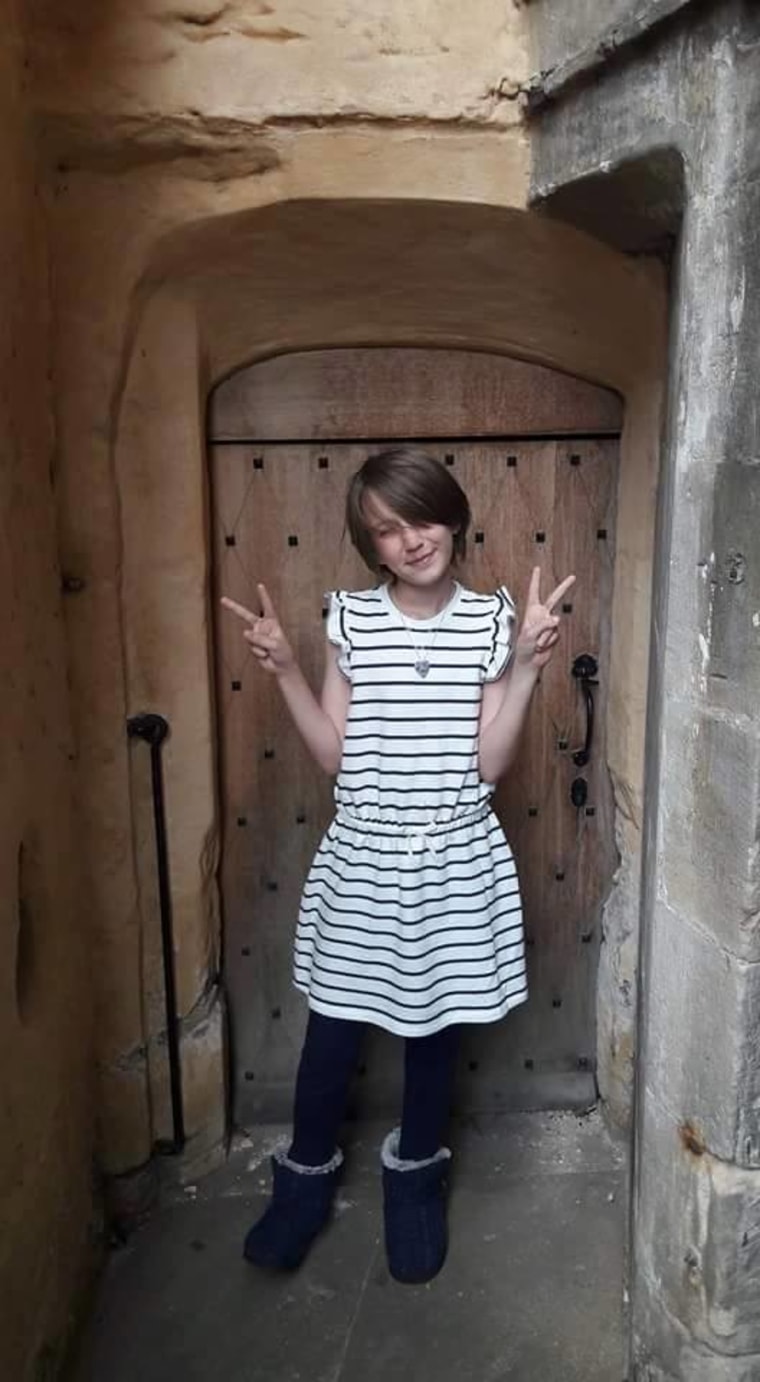 "Blue is the only transgender person on this base required to use a gender-neutral bathroom," her mother, Jess, told NBC OUT. "I'm furious, absolutely furious. My blood is boiling, I'm so mad."
Blue, who is in fifth grade, is also the first transgender student at Ramstein Intermediate School in Germany, although not the first trans child enrolled in Ramstein's four schools. Her mother said a Department of Defense official overruled a decision by the school's principal and barred her daughter from using the girls' bathroom just outside her classroom. This, despite Blue being warmly welcomed and accepted as the girl she is by the vast majority of the approximately 900 other American children learning their ABCs at the Ramstein Air Base, as well as by the school's administration.
"The school sent the first letter to the parents in Blue's class" on September 28, Jess said, informing them of how they would support Blue's transition, even before a meeting with Blue's parents.
She chose her new first name, Blue, partly because she is the only one of four children in her family with blue eyes. Her mother said she came out this summer after watching an episode of "Ru Paul's Drag Race" with her mother. "Within the first five minutes she looked at me with these huge eyes and said, 'You can do that?' It was like a light bulb went off." Up until then, Blue had only expressed a desire to be a girl "when I grow up." But when for the first time, she started expressing a desire to wear dresses and makeup on a family vacation to Disneyland Paris and then to Scotland, Jess said, "Blue just lit up. I'd never seen my kid more happy. She just glowed!"
"For Blue to go to the bathroom, she has to go down three floors, leave the building, cross the courtyard to the other building, just to find a single stall bathroom."
Her mother bought her a girl's wardrobe for her birthday last month, and soon Blue told her mother she didn't want to go back to school dressed as a boy anymore. Jess said she met with both her children's medical providers on base and the school, and was pleasantly surprised to find acceptance.
"We came up with a beautiful plan! We had her nurse there, her teacher, all of her counselors and the principal. Her counselors ordered the book 'I Am Jazz' for the school library. Everyone was excited. They changed all the single stall bathrooms on the ground floor to be gender-neutral."
The school sent out another email that day, saying she would be using the girls' restroom, after the long Columbus Day weekend. The principal offered resources to parents who had questions, and the plan established on Monday, October 3, was to take effect the following week.
But it never happened. By Thursday, everything changed.
Jess said she got a phone call from the school, informing her that, effective immediately, Blue was banned from the girls' room, a decision they said was made by Dr. Elizabeth Dunham, the superintendent in charge of the Bavaria district of the U.S. Department of Defense Education Activity (DoDEA). Jess said Dunham reversed the decision by Ramstein Intermediate's principal, Mary Salerno.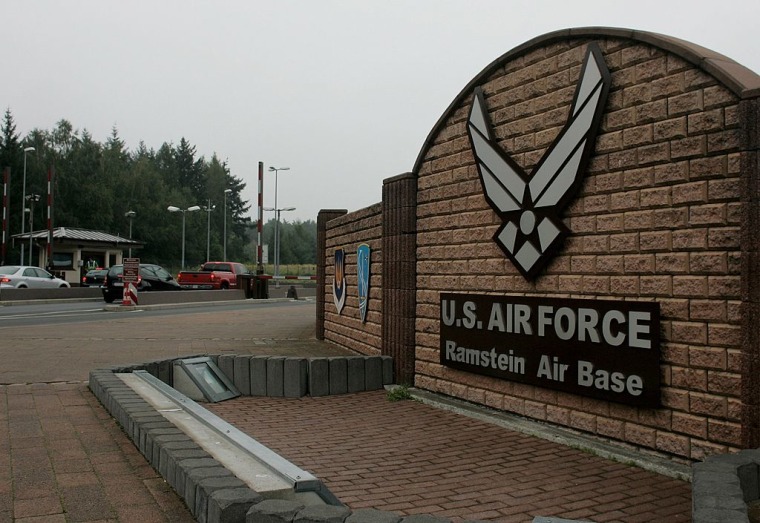 A source told NBC OUT this was just the latest episode in a long-simmering feud between Dunham and Salerno, a power struggle that predates Blue's transition. Neither Dunham nor Salerno responded to requests by NBC OUT for comment.
Since she can no longer use the girls' restroom, Blue now has only two options: to use the boys' bathroom outside the classroom or those gender-neutral, single-use bathrooms three floors below.
"She's terrified of having to use the boys' bathroom," Jess said. Given the choice between ridicule, mockery or worse, and missing several minutes of class just to get to and from the restroom, Blue told her mother she is purposely dehydrating herself and "holding it in" for as long as she can while at school, a decision that presents potential risks to her health, and nearly resulted in a very embarrassing episode Thursday.
"For Blue to go to the bathroom, she has to go down three floors, leave the building, cross the courtyard to the other building, just to find a single stall bathroom. She says today she barely made it; she almost wet herself. She could have cut through the library, but it was full of kids, and she was afraid she would wet herself in front of everyone," Jess said.
"My husband and I were in a meeting with my husband's commander at the time. If she had wet herself and I had gotten a call from the school, I can't imagine what I would do. By the way, my husband's command is in total support of us," she added.
Although Jess asked NBC OUT to identify her and her daughter only by their first names to protect her husband, she wrote in a message to NBC OUT that Blue is eager to share these stories.
"Blue says tell the world!!! She is honored to be able to be a spokesperson ... I am sooo proud of that girl!!!!!!"
What is most perplexing to the family and their many supporters, according to Jess, is that Blue's situation is not unique to Ramstein.
"At the high school, a half mile down the road, the transgender students there get to use the restroom matching their gender identity," Jess told Dr. Dunham in the first of two face to face meetings. She found out following their meetings that the middle school had also allowed transgender students to use appropriate bathrooms in prior years. "She pointed out she didn't really care. She insisted that DoDEA doesn't have a policy yet, even though there was a letter sent to parents by DoDEA about its transgender policy."
Jess said she reminded Dunham of that letter but was rebuffed. Dunham, according to Jess, said the letter stated there won't be discrimination but didn't specifically state the policy on bathroom use.
RELATED: Trans Woman Fired By Michigan Funeral Home Speaks Out
In addition to contacting Dr. Dunham and Principal Salerno, NBC OUT reached out to the Pentagon as well as to DoDEA Director Tom Brady, who is Dunham and Salerno's boss (and is also in charge of 190 other schools in 12 foreign countries, seven states, Guam, and Puerto Rico). DoDEA serves more than 82,000 children of active duty military and DoD civilian families.
Although none of those officials responded before the time of this article's publication, DoDEA's Equal Opportunity office has received Jess's complaint and told her a representative will soon take a report.
What is unclear is why Dunham, as a federal employee, would contradict guidelines issued by the Obama Administration to all of America's schools, to treat transgender students the same as cisgender (not transgender) children. The directive, mailed to school administrators by the Departments of Justice and Education in May, was blocked from being implemented in August by a federal judge at the request of more than a dozen states that are suing the federal government over the guidelines.
The administration based its policy on its interpretation of Title IX of a 1972 law that prohibits discrimination on the basis of sex in federally funded education.
"The law is clear that the school must treat transgender students equally, including permitting them to use the same facilities as other students," said Shannon Minter, legal director of the National Center for Lesbian Rights in San Francisco. "The school's reluctance to do so is puzzling and causing much needless harm and stress to this family."
A spokesperson for the Department of Defense sent the following statement late Thursday to NBC OUT:
"DoDEA is committed to ensuring that students are provided a safe and secure learning environment. Students are the heart of everything we do.
"Students who are transgender currently attend DoDEA schools, just as they attend other school districts across the nation. It is the Department of Defense's position, consistent with the U.S. Attorney General's opinion, that discrimination based on gender identity is a form of sex discrimination.
"In guidelines issued on May 13, 2016, the Departments of Education and Justice advised school districts to allow students who are transgender access to restroom facilities and other accommodations consistent with their gender identity. Although the guidelines have been the subject of litigation, the Department is not precluded from following the guidelines and granting accommodations requested by parents and students. The Department will exercise discretion to do so. Accordingly, the Assistant Secretary of Defense for Manpower and Reserve Affairs will engage and reaffirm the guidance with schools and other facilities that provide services to school aged children."
Shannon Minter of NCLR tells NBC OUT "We applaud the Department for recognizing its responsibility to protect transgender students and ensure that they are supported, accepted and able to participate in classes and other school activities equally and safely."
According to Jess, Dunham canceled a planned talk with parents on transgender children that Blue's therapist offered to hold to address any questions. "She said she didn't think it was appropriate. We asked, do you do this for any other children, Down syndrome, autism? She said, 'Yes, we do, to prevent bullying.' I asked her, 'What's the difference with being transgender?' And she said, 'Well, it's just different.'"
"It's discrimination," Jess added, and she said she told Dunham the same thing at their second meeting earlier this week. According to Jess, Dunham said the school is "not going to accommodate" Blue and cited that federal judge's injunction against Title IX in making her case.
Other courts have been more supportive. This week, a federal magistrate in Illinois, Judge Jeffrey T. Gilbert, recommended against granting students a preliminary injunction blocking trans students from using school facilities. "High school students do not have a fundamental constitutional right not to share restrooms or locker rooms with transgender students whose sex assigned at birth is different than theirs," he ruled.
That possibility is what drove Blue and her mother to speak out.
"Please don't judge people for who you think they are," Blue told NBC OUT in a social media message typed by her mom. "Get to know them, you might make a friend."
Her mother tells us how much Blue wants to help other transgender kids, by taking this stand. "Be who you are inside," Blue said.
Dawn Ennis is an award-winning journalist who was the first to transition in a network TV newsroom. She is now a freelance writer, producer and editor, as well as a widow, a single parent of three children, and the subject of an award-winning documentary, Before Dawn/After Don. Ennis is also on YouTube, on Twitter and blogging at lifeafterdawn.com