As Malcolm Rene Ribot drives along I-90, he briefly looks down to smile at his Catahoula Leopard Dog, Grayson, who has his snout resting on Ribot's thigh. It's partly because of Grayson that Ribot's 2011 Nissan Versa has more than 120,000 miles on the odometer, 50,000 of which were added in the past 16 months.
"My bumper has fallen off once … and the front tires need replacing," he said. But with 44 states under his belt and thousands of friends made, Ribot is determined to keep going at least until he's visited all 50 states, organizing meet-ups for trans masculine individuals along the way.
A few years ago when he was coming to identify as transgender, Ribot was living in Chicago. "I was able to hang out with other guys all the time," he said. "I just remember how important that was for me and how much it helped me."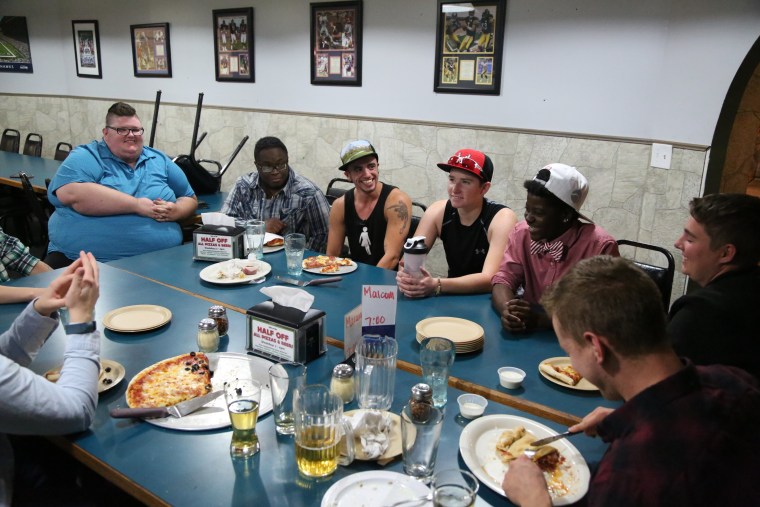 Then last year, Ribot was making plans to relocate to Hawaii. "There was going to be a waiting period between being able to move there and my lease ending because of my dog," he explained. "Hawaii is rabies-free, so they do a series of tests, quarantine, and those kind of things before you can actually move a dog over there." He thought he would visit a few friends over those months, but little did he know what was actually in store.
During that waiting period for Grayson, Ribot's plans to relocate fell through. Seeing as he had already resigned from his job, given up his apartment and had his car packed, Ribot decided to take time out for a much larger adventure. He set off on a road trip, not knowing when he'd return, to convert his social media acquaintances with trans guys into in-person friendships.
"I feel like everything happens for a reason, so it was kind of my sign," Ribot said with a twinkle in his eye.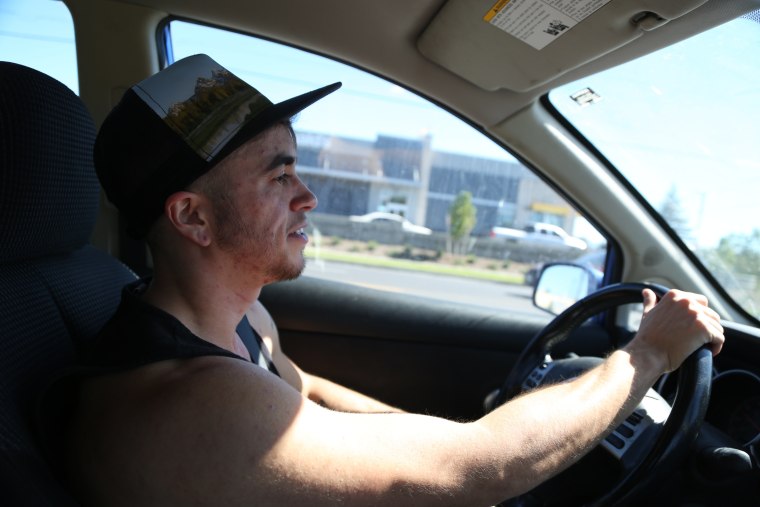 Relying on his personal savings, Ribot drove east with Grayson, stopping to meet trans masculine people like himself with the purpose of sharing experiences and building community. "It wasn't until about a week in, I got to Massachusetts, and that's when I realized what this was all really about," Ribot said. "What started as just for fun, I realized there was an actual mission behind it," he proclaimed.
The "ah-ha" moment came when Ribot visited two individuals separately on consecutive days. Neither of them knew another trans person, and they were feeling very alone in their experience, yet they lived only 30 minutes apart from each other. Ribot shared their contact information so they could meet up without him and carried on with his journey, posting photos on social media as he went from state to state.
"Guys were saying, 'With each new post … I'm seeing how much less alone I am … and that there's so many guys around and that we're all over the place,'" Ribot told NBC OUT. So instead of meeting people one-on-one, Ribot started organizing group meetups across the country to ensure that the friendships he was making extended to other people within the community.
Much of the planning is pretty spontaneous. Ribot typically pinpoints a location and messages people he knows in the area a few days in advance to meet there at a certain time. When the meetup begins, Ribot asks everyone to introduce themselves by their name and pronouns then a lively conversation ensues.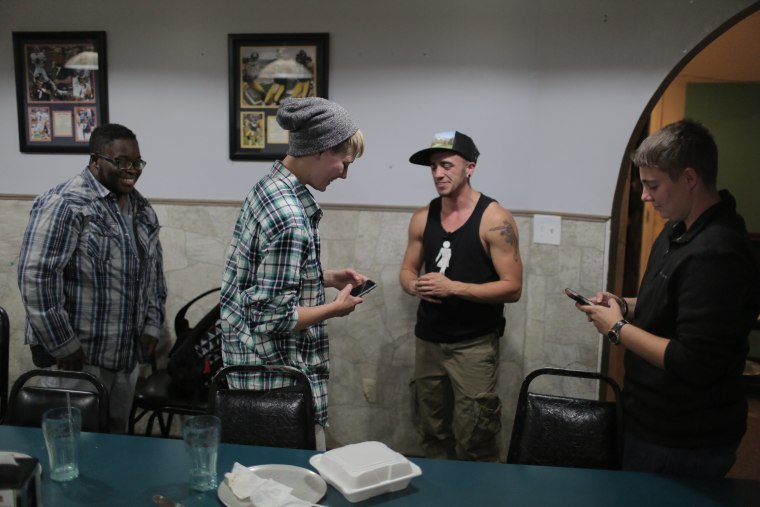 Most of the guys have never met another trans individual before, so this is the first time they've been able to share experiences with others who can meaningfully relate. A wide range of topics come up, from socially transitioning, to accessing medical care, to common dating experiences. But one of the greatest concerns raised is safety.
"Particularly with the whole bathroom issue," Ribot said. And one would wonder about Ribot's own safety, given he's driving hundreds of miles at a time through many states, which are not all especially trans friendly. For the most part, Ribot said he's been fine. Although with an equality sticker on the back of his car, he said he's felt nervous in the South and afraid that there might be hate directed at him or his vehicle.
"Luckily I did not face anything like that," he said. Although an incident in Virginia left him astonished and contemplative of the potential danger that exists.
"I was with a group of guys I'd met that night, and we went to CVS to use the restroom," he recalled. He described the restrooms as two single-person rooms, one room each labelled for men and women with a locking door.
"It was me and probably four or five other guys … and I went into the restroom first, and they were just standing there waiting outside, all of us trans," he said. "I was using the restroom, and then I came out, and as I was coming out, a guy came out of the women's room, and what I heard him say was, 'Does anybody else want to be trans today?'... I was completely dumbfounded that that actually came out of his mouth."
Although he guessed the man was making a joke, Ribot could only assume that he had no idea he just said this to a group of trans people. "After he left and my initial shock wore off, I wondered what could have safely been said to help him see the irony of his audience and help him to understand what it means to be transgender."
Ribot wondered if he should have told this man that he's trans, but he said, "Unfortunately, there has been hostility and violence towards our community, so it's hard to say how confronting him would have gone."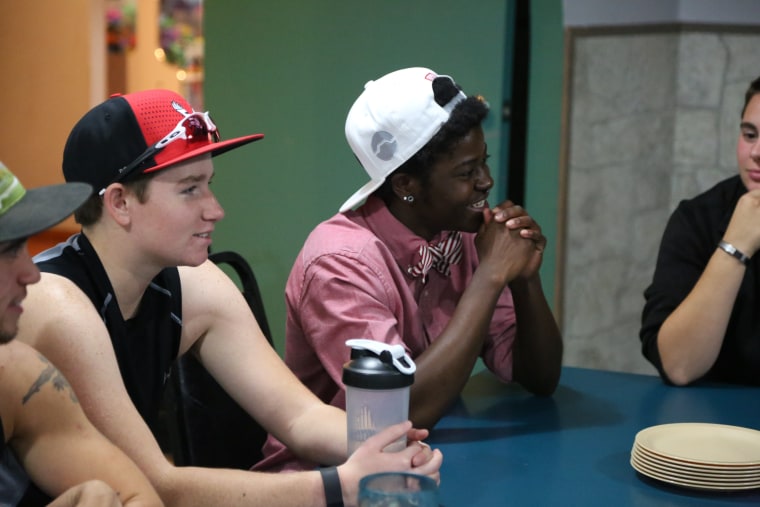 Knowing when and how to come out as transgender often comes up in conversation at meetups. Recently, in Spokane, Washington, Ribot offered his approach on dating apps, "Something that I tried that seems to work really well was where I came out as trans in my profile. I put 'Use the word pineapple in your message to me if you understand that I am a trans masculine individual,'" he explained. "So if I got a message that didn't have the word 'pineapple' in it, I knew that they didn't know already or that they didn't read my profile. So it was easier for me, and I felt safer at the time to just reply to messages that actually did have that in it," Ribot concluded.
While Ribot admits that their shared experience means the group attendees relate to one another, he says one of the biggest things he's learned is there are so many different types of trans individuals. "There's a whole spectrum," he says. "There's just so many different ways to express gender, it doesn't have to be MTF (male to female) or FTM (female to male). There's non-binary, there's a variety of expressions."
That variety of expression is something Ribot hopes to build awareness of not only within the trans masculine community, but also externally within society at large. And it appears his project is indeed achieving the visibility he desires outside of the trans community, too. Since the beginning of his travels, Ribot has been prolific on social media, posting pictures and using relevant hashtags. So much so, he now has a following of almost 40,000 on Instagram.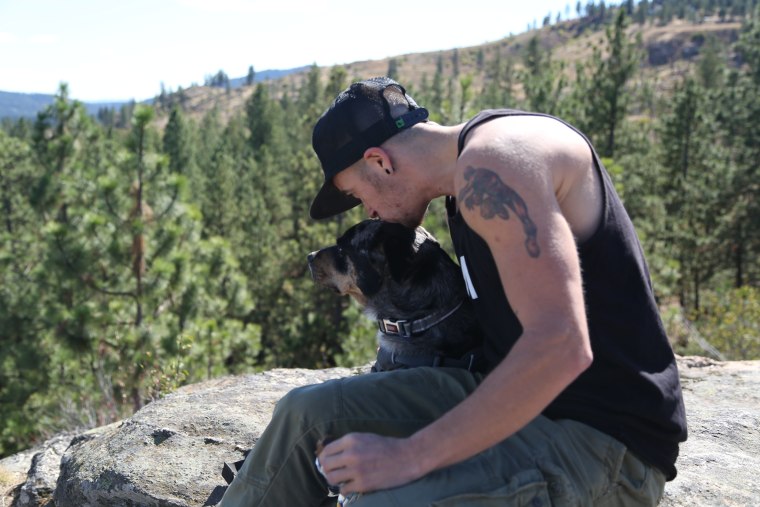 A few months into his road trip, Ribot spent a weekend passing through Chicago before heading west. He stopped by his old Crossfit gym, where his trainer asked him, "Are all those guys that you're meeting, are they all trans guys?" Ribot's million-dollar smile splashed across his face as he continued the story, "And I was like 'Yeah!' And he's like, 'I had no idea that there was so many out there!' I was like 'Yeah we're all over the place!' So I found that it was spreading visibility for the cis community as well," he said, beaming.
In the meantime, Ribot keeps going. He has Hawaii, Alaska, Montana, North Dakota, South Dakota and Wyoming remaining before he can claim to have connected fellow trans masculine individuals throughout the entire United States. "Just to see their faces and realizing they aren't alone, every time I hear that I'm like, 'This is why I'm doing this.' It gets me emotional," Ribot professed.
Once that mission is accomplished, Ribot intends to expand his meetups to connect trans people who identify anywhere on the gender spectrum — not just trans masculine individuals. "This has all been ever-changing and evolving, and I've been trying to go with the flow as it's been continuing and growing," he said. "We all have a similar experience, but we're all different, too. I think that's important for people to know."
Follow and contact Malcolm Rene Ribot on Instagram (@gorillashrimp) or his FTM Traveler Facebook page if you would like to follow his travels or organize a meetup in your area.
Fiona Dawson is an Emmy-nominated multi-media director, producer and writer. She directed "Transgender, at War and in Love" and created the media project "TransMilitary." In 2015 Fiona was honored by The White House as an LGBT Artist Champion of Change.
The embedded video above was shot and edited by Jennifer Weiss of NBC News and produced by Jennifer Weiss and Fiona Dawson.