It wasn't the first time Captain Jennifer Peace had worn her dress uniform to a meeting inside the Pentagon, but it was the first time she had worn those blues to meet with the Secretary of Defense, Ashton Carter. In fact, it was the first time transgender service members had been summoned to the office of the head of the Department of Defense, and it was just last week, Friday, June 24, 2016.
Peace, an Army Intelligence Officer who enlisted in 2005 and has completed two combat deployments, was joined by three counterparts each representing a different branch: Navy Lieutenant Blake Dremann and an Airman and a Marine both of whom wish to remain anonymous. Dremann, who was commissioned in 2006, has completed 11 operational deployments and is stationed at the Pentagon. These troops were led by Sue Fulton, an Army veteran and President of the LGBT military association, SPARTA.
Over the past 18 months, Fulton and transgender service members from SPARTA have met with other senior officials several times, each time documenting their experience to ensure the story of how they won is not lost in time.
"We never made these meetings public, even within the SPARTA Trans organization," said Fulton, a West Point graduate and veteran of the "don't ask, don't tell" fight. "Our aim was to educate senior military and civilian officials, in part with documentation and evidence, but also by hearing firsthand from transgender troops."
Despite advocating for their right to serve for many years, the troops barely had three days to prepare for meeting Secretary Carter. In order to be seen as who they know themselves to be, the SPARTA members decided that each would be wearing a dress uniform appropriate for their known gender. For the Airman this meant buying brand new military attire different from the male one she was originally assigned and ensuring all the articles and tailoring were complete in short order. It was a race to finish the final alterations – and a hefty rush fee at the Airman's expense.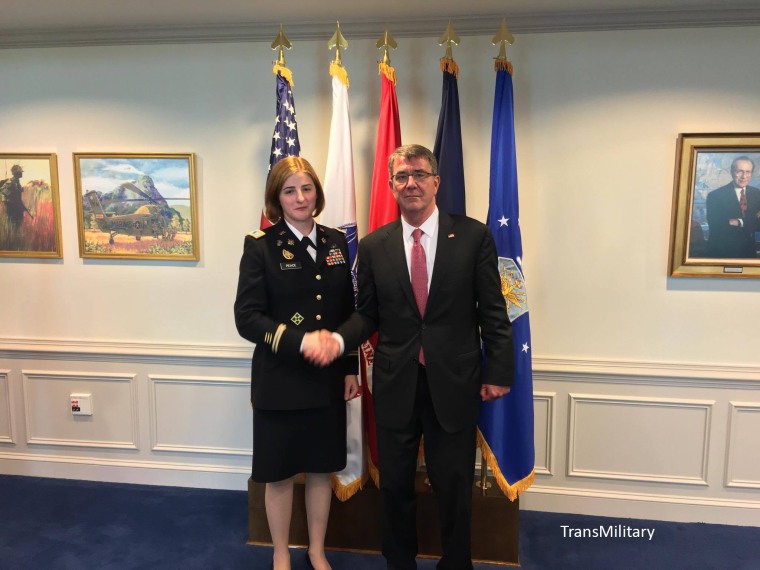 Peace was in the field at the National Training Center, California, when Fulton messaged her to meet with the Secretary of Defense. "A battle period was just ending and I was preparing to go back in the refit for another 48 hours out," she said. "I asked if I could be available by Friday and within a few hours I was preparing to leave Fort Irwin."
Ironically, Dremann, whose desk is just walking distance from Mr. Carter's, was out on a training assignment in Virginia when he learned of the meeting. "It was a moment of disbelief combined with a slight 'oh crap, of course because I am out of town,'" Dremann laughed.
"I had to work out a solution with my instructors," he said. "Could I graduate early? Could I finish the class remotely? My instructors were awesome. We decided I would do a solo online session at my desk on Friday morning so I could attend the engagement and graduate from my class. Then I had to make sure my story got rehearsed again.... you know, the easy part, right?!"
Given Dremann had participated in some of the previous Pentagon meetings SPARTA had orchestrated, he knew the practice drill well. But this one was incredibly important and timing was extremely tight, so the group rehearsed at a local Holiday Inn that morning. They each wanted to succinctly share their own personal story, but also speak on behalf of the thousands of troops like them.
Peace, who has had a roller coaster of an experience, is today seen as the woman she knows herself to be. However, she's adamant about advocating for her brothers and sisters in arms to receive the same treatment. "The policy is preventing them from being recognized for their accomplishments as trans service members and prevents them from living authentically," she said.
Once they were set, the group left early to ensure a prompt arrival for the 3:15 p.m. historic appointment with the Secretary of Defense.
His handshake was firm and he repeated their names as one by one they made their introductions. "I quickly realized this is a pivotal moment not just in my life, but in the lives of others in a similar position," the Airman said. "I was also a bit overwhelmed, but kept my mind on my mission."
Any stress soon dissipated as Carter put the group at ease. "At the beginning he told us that he absolutely believed that anyone capable of serving should be able to and that being transgender did not prevent that," Peace shared.
"On his desk he had a piece of the Pentagon that was damaged during the 9/11 attacks and on a side table he had a picture recently taken of Pluto. He had some amazing photos of troops in Afghanistan and historical leaders. But those two things each said something to me," Peace recalled. "The attacks on America showing the conflict we still have here and a photo of Pluto showing what we are capable of doing as a people."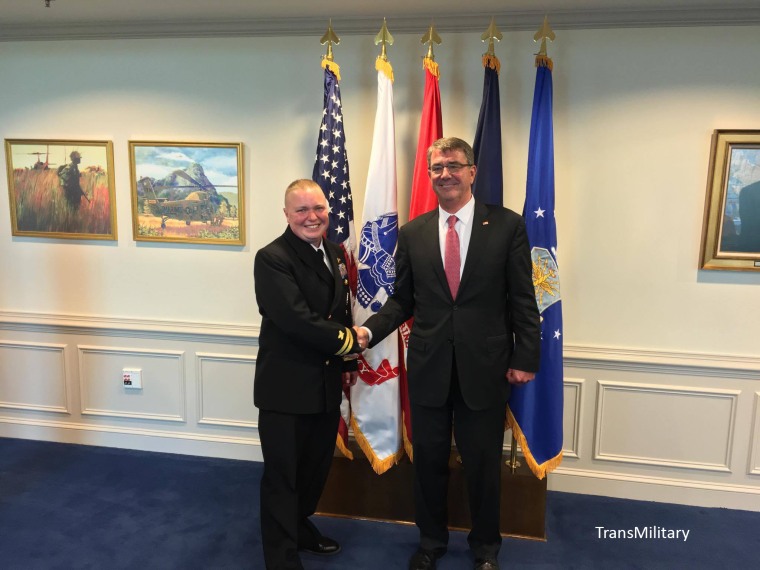 Carter was very interested in hearing from the troops themselves and asked what advice they would give the Department of Defense as they look to changing the policy. Dremann told the Carter, "We don't want exceptions. We simply need a mechanism to switch from box A to box B. We are a standards-based organization. We will maintain the standards of the box that is checked."
The Airman, who is in her 25th year of service and has played a role in every major conflict since the Gulf War, conversed with Carter about the different aircraft she's flown. "I realized how humble and approachable the most powerful person in the Department of Defense is," she said. "He has a driving desire to do what is best for our nation and those serving in the armed forces."
Outdated medical and administrative policies have banned transgender people from serving in the U.S. military, yet 18 other countries allow their service. Secretary of Defense Ashton Carter last year initiated a working group to explore the implications of allowing openly transgender people to serve. And Thursday, Carter announced the ban will be lifted.
In the meeting last Friday, Peace said Carter "apologized for the difficulties that we had faced, thanked us for continuing to serve despite the challenges, and said that we had endured challenges that no service member should ever be asked to." This came as welcome validation for Peace. "I don't think he saw us any different than cisgender service members, but in that moment I think he recognized the additional sacrifices we have made to continue to serve."
"Being transgender is something that I usually put at the end of a long list," Peace continued. "Somewhere after a mom, wife, soldier, intelligence officer… I'm also transgender. Speaking with [Secretary Carter] however, I was proud that I could tell him I was transgender. Not that it says anything about who I am, but that it highlights the accomplishments of my career that I have made despite that fact. I wanted him to see what a trans soldier is capable of contributing to the military."
Now that the military has joined all the other Federal agencies in allowing transgender people to serve equally, the fight these troops have been waging shifts from changing policy to changing hearts and minds. Even though they have the support of the Secretary of Defense, the Airman and Marine reflect the attitude of many other service members.
The Marine shared with Secretary Carter that his supportive commander has said that if he had to, he would, "fire downrange next to me to fight this fight." But after the meeting, the Marine confessed that he's not sure if he's ready to publicly come out. He explained, "I just want to be a Marine that represents trans Marines not (my name), the trans Marine Officer." However, when it comes to being in the photo with the Secretary of Defense, he wants his uniform to be visible. "I want Marines to know that it could have been a [transgender] Marine to your left or right that was fighting this silent war while in the same foxhole."
The labor of transgender service members, whether they've taken the risk of being open or they've continued serving in silence, is coming to fruition. Dremann said he felt like the meeting with the Defense Secretary was a culmination of five years of work. "I have identified as trans since I was in Afghanistan in 2010-2011… I had no intention of being one of the ones who helped lead the charge. It just worked out that way."
Leaving Secretary Carter's office that day knowing the policies would soon change, Dremann surmised, "It was kinda like a big sigh of relief, knowing that we had worked this to the end, and I will be able to continue serving where only the quality of my work matters and not my gender or the perception of what my gender is supposed to be."
Fiona Dawson is the director of the feature documentary 'TransMilitary.' Following the success of her short opinion film, 'Transgender, at War and in Love' in 2015, Dawson was honored by The White House as an LGBT Artist Champion of Change. For more information, visit her website: TransMilitary.org.