For as long as he can remember, Jaceon Coronado has dreamed of having a flat chest.
When he turned 18 in the spring of 2017, the transgender teen eagerly started planning his surgical transition.
"This surgery is something I need to continue to get up in the mornings every day," Coronado told NBC News.
Just six months after his 18th birthday — and a year after the Obama administration lifted the transgender military ban (which would later be reversed by the Trump administration) — Coronado joined the U.S. Army in a combat role. He decided to surgically transition while in the military, because doing so beforehand would have delayed his enlistment by at least 18 months. Two weeks after arriving at his base in San Antonio, he informed his superiors of his plan.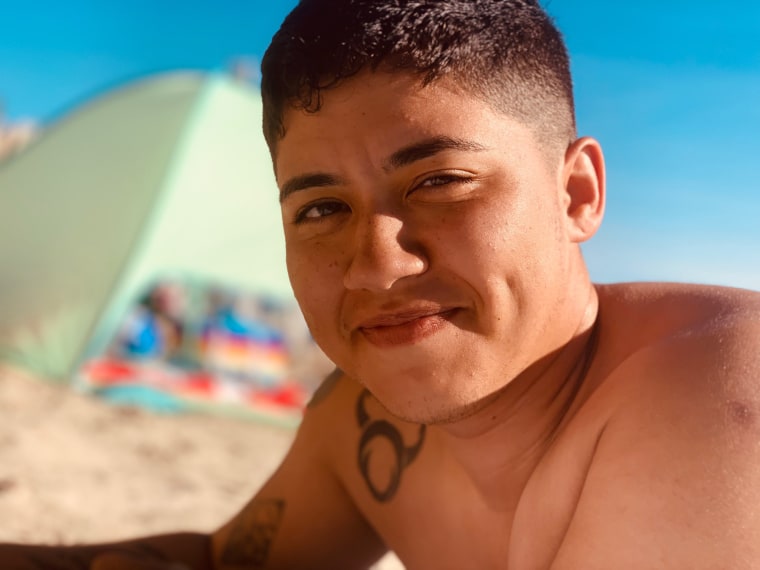 After a year of paperwork, psychological evaluations, medical intakes, hormone treatments and having his wife prepare to oversee his postsurgical care, Coronado was finally given the green light in July 2019 to undergo top surgery, a masculinizing procedure to remove breast tissue.
This long-awaited surgery, which Coronado describes as the most significant step in his medical transition, was scheduled for March 23. Last week, however, he received a call from the hospital informing him that the procedure had been postponed indefinitely due to the coronavirus pandemic. They said it would be six to eight weeks before they could even discuss rescheduling. He said the call "completely crushed my hopes."
"I was really mad in the beginning," Coronado, 20, told NBC News. "It took so much for me to get approval for the surgery, and now I just feel like it's been yanked away."
As the coronavirus pandemic has insidiously crept its way around the globe over the past several months, the daily lives of people from Beijing to Berlin to Boston have been upended. And with hospitals scrambling to deal with the influx of COVID-19 patients, surgeries deemed "nonessential" or "elective" have been canceled or postponed indefinitely. Among those surgeries put on the back burner are gender-affirming procedures, which can be lifesaving for transgender people.
Some trans individuals who have had their surgeries canceled or postponed, like Coronado, say they are now facing debilitating levels of gender dysphoria on top of the anxiety and uncertainty spawned by the global health crisis.
"This surgery is not elective for me," Coronado said. "It's something that I need to continue to get up in the morning and live a normal life."
Consequences of delayed treatment
While most health insurance carriers in the U.S. currently consider gender-affirming procedures to be "cosmetic" — with over 30 states allowing providers to exclude transition-related care from coverage — such a distinction is inaccurate, according to Laura A. Jacobs, a licensed clinical social worker, psychotherapist and board chair at Callen-Lorde Community Health Center, a New York-based LGBTQ health center.
"For many trans folks, existing daily in a body that doesn't match your sense of self isn't just uncomfortable, it's traumatic," Jacobs explained. "There's a lot of research that shows that delaying treatment for trans people increases levels of depression, anxiety and suicidal ideation."
A study published in October in the American Journal of Psychiatry found gender-affirming surgical procedures yield long-term health benefits for transgender individuals. Among those who had surgery, the longer ago their surgery, the less likely they were to suffer from anxiety, depression or suicidal behaviors during the study period, the researchers found.
Along with psychological repercussions, Jacobs said, surgical delays can also cause physical repercussions for trans people, including elevated levels of smoking, obesity and substance abuse.
'It's not a vanity thing'
Katalina Murrie, a 31-year-old transgender woman living in Ottawa, Ontario, said there is "a clear misunderstanding about the urgency of trans health care."
"Once this year, I had to take an ambulance to the hospital due to anxiety I've been experiencing because of dysphoria," she said.
Gender dysphoria is a diagnosis that "involves a conflict between a person's physical or assigned gender and the gender with which he/she/they identify," according to the American Psychiatric Association. The association notes this type of dysphoria can result in distress, anxiety and impaired daily functioning.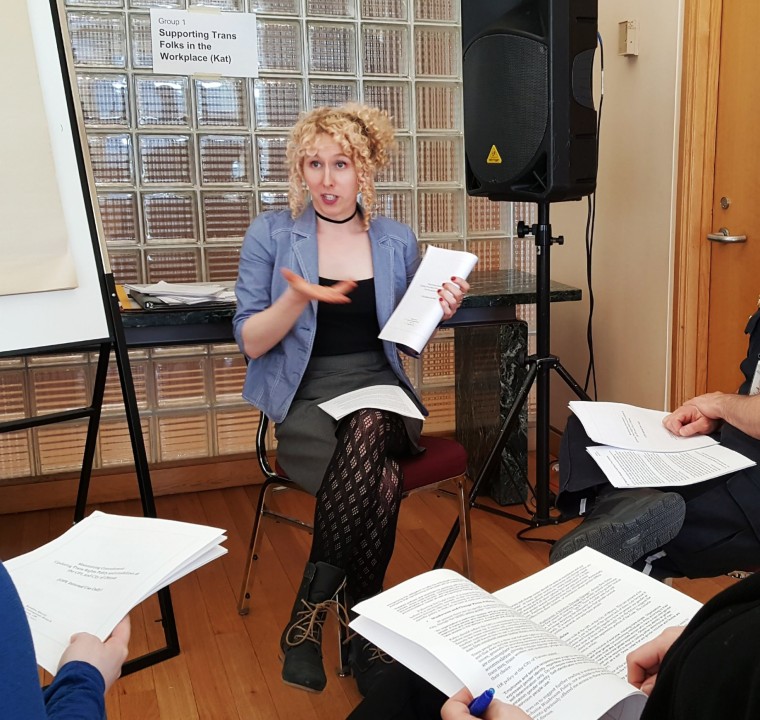 For several months, Murrie had been excitedly preparing to undergo facial feminization surgery, a set of procedures intended to soften one's facial features and bone structure. Murrie said for her, the surgery is a matter of life and death.
"I'm not gonna last to my 40s if I don't have this surgery," she said.
Since gender-affirming surgeries are often not covered by health insurance, many trans people travel internationally in order to access different procedures and to save on out-of-pocket costs. This reliance on international travel complicates matters further for those seeking this type of care — and it certainly has done so amid this current pandemic, which has drastically limited both domestic and international travel.
Although Canada's national health system covers some gender-affirming procedures, including sex-reassignment surgery, facial feminization is typically not covered. As a result, Murrie had scheduled the procedure for March 27 with a surgeon in Guadalajara, Mexico, where the cost of surgery is lower. Once news of COVID-19 became an impending reality, however, she began to wonder whether her surgery was still going to be a possibility as she would have to travel abroad from Canada.
"What if all the borders closed around the world and I am stuck in a foreign country?" Murrie recalled asking herself. "My face would be covered in stitches. I'd have to travel through popular airports where there have been confirmed reports of staff members with COVID-19. My dream surgery all of a sudden became very stressful."
Eventually, her surgeon offered her the choice of a refund or a date change at no additional cost; she chose the latter. While Murrie is confident she will be able to undergo the procedure at some point in the future, she is still disappointed that surgeries like hers are not considered essential.
"It's not a vanity thing," Murrie said. What makes this worse, she added, is that it is just the latest in a long list of obstacles she has faced along her transition journey, which have included gender dysphoria, anxiety and red tape in order to legally change her name and acquire hormone therapy.
'It's about being comfortable enough to function'
For Ashton Onion, a 22-year-old nonbinary transgender man living in New York City, simply finding a doctor able and willing to provide gender-affirming care was a daunting task.
"I did all this research and finally found a doctor I was comfortable with," Onion told NBC News. "There's a type of security you look for in all of this."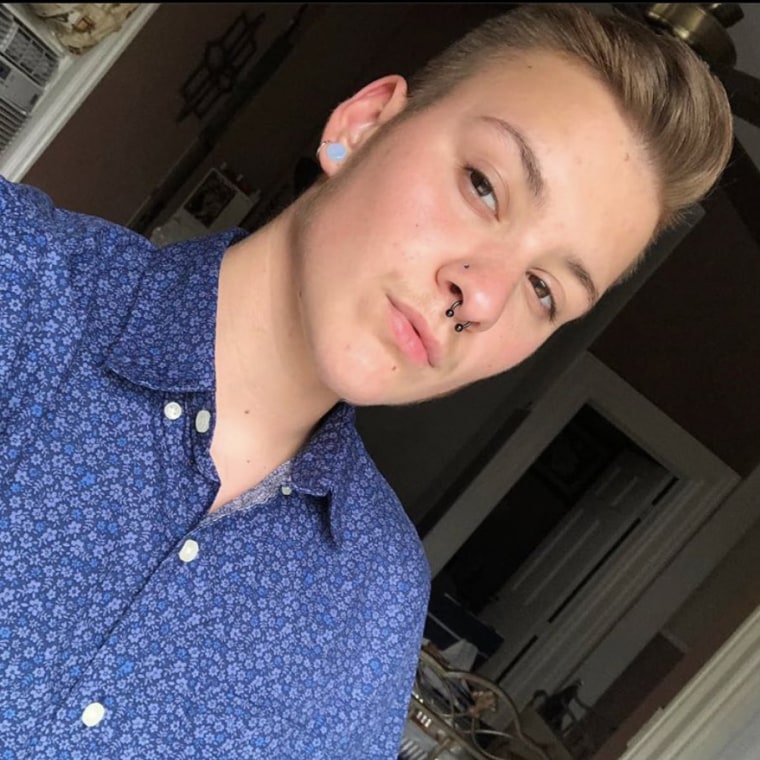 Onion is not alone in being cautious when it comes to finding an affirming health care provider. A 2016 report from the National Center for Transgender Equality and the National Gay and Lesbian Task Force found that 28 percent of trans and gender-nonconforming respondents reported being subjected to harassment in medical settings, and 19 percent said they have been refused care outright due to their gender identity or expression.
Onion, who said he has been eagerly awaiting top surgery since he was 13, finally had a consultation scheduled with a surgeon for March 19. He received a call three days before the scheduled appointment informing him the consultation would be canceled for the foreseeable future due to the COVID-19 pandemic.
"To have it taken away makes me uneasy," Onion said of his long-awaited appointment. Like Coronado and Murrie, Onion said a gender-affirming procedure is much more than "cosmetic" for him.
"Growing up in a Catholic space, I was very religious," he said. "I remember growing up praying I wouldn't develop a chest."
When Onion began to grow breasts during puberty, he initially turned to nonsurgical methods of body modification, including chest binding. Onion said that while binding was helpful in the interim, it has caused physical pain and stress on his body that is not sustainable, including back pain, skin irritation and breathing problems.
"It's always me deciding which kind of toll I want to experience today," he said. "A physical pain when I wear the binder or a mental toll when I don't wear one."
Onion, who has found support from his girlfriend and among friends in his trans-masculine support group, said moving forward he hopes the broader health care system will begin to recognize the urgency of trans care.
"People don't realize the daily challenges trans folks have to endure," he said. "This surgery isn't cosmetic — it's about being comfortable enough to function. It's necessary."