Cities across the world will glitter with candlelight on Tuesday in honor of Transgender Day of Remembrance. From New York to Sydney, vigils will pay tribute to the many transgender people who have lost their lives to violence.
Violence against the trans community has risen steadily in recent years, according to a grim report released Monday by the Human Right Campaign, a national LGBTQ advocacy group. The HRC report found at least 22 people were killed so far this year due to anti-transgender violence, and the organization has tracked 128 anti-transgender homicides in the U.S. since 2013.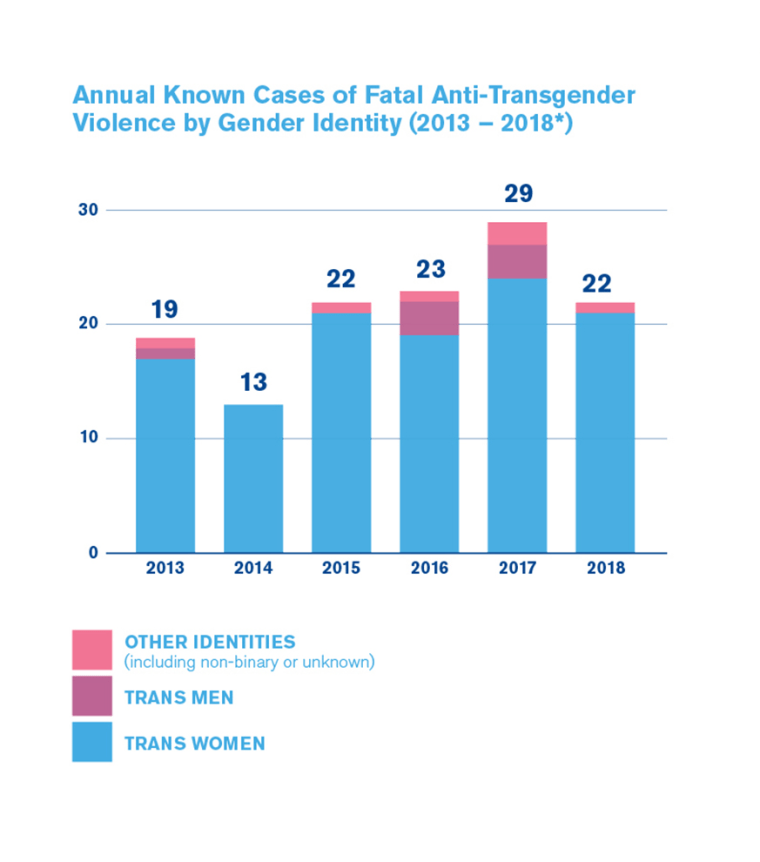 The 73-page report documents the 22 lives lost since the beginning of 2018: The victims are mostly young, mostly female-identified and mostly black. Of those killed, 82 percent of the victims were transgender women of color, and 64 percent were under the age of 35.
The victims include 35-year-old Tonya "Kita" Harvey from Buffalo, New York, described by friends as having "a loving heart," and 31-year-old Ciara Minaj Carter Frazier from Chicago, whom a friend described as "one of the sweetest people [she] had ever met."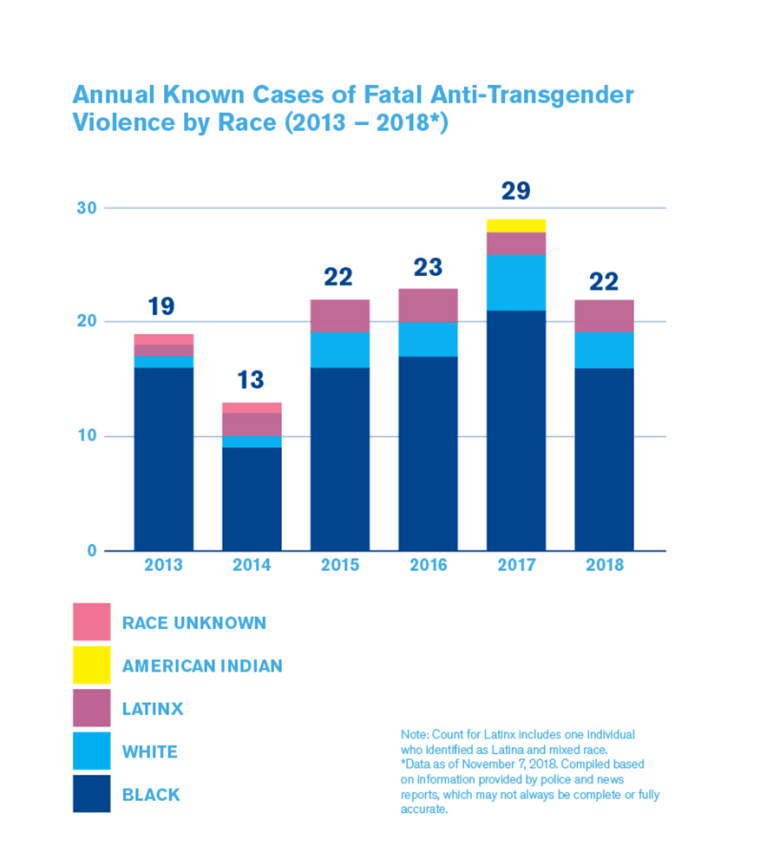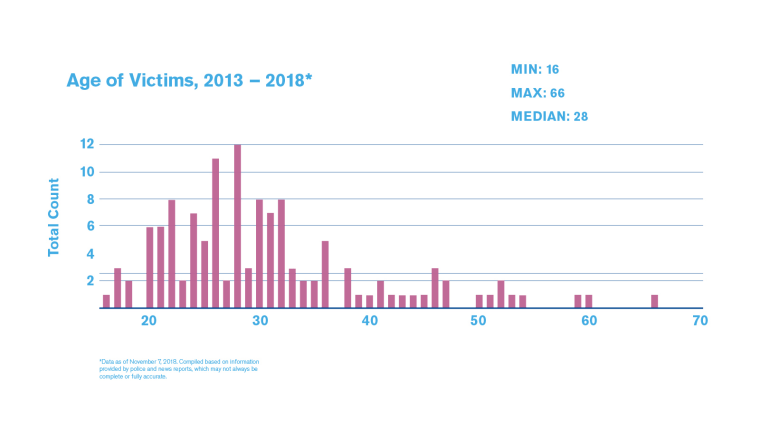 Lourdes Hunter, executive director of the social justice group Trans Women of Color Collective, said that as a black trans woman, she worries about violence every day.
"Going to the market, going to the store," Hunter told NBC News, "simple things like that, you could lose your life."
"EPIDEMIC OF VIOLENCE"
Human Rights Campaign National Press Secretary Sarah McBride said there is an "epidemic of violence" that is targeting the transgender community.
"While every year is a little bit different, overall, we are seeing an upward trend in hate-based violence against the transgender community as well as other marginalized communities in this country," McBride told NBC News. "And the upward trend, I think, reinforces the urgency of combating this violence against LGBTQ people."
Transgender women of color are particularly vulnerable, according to McBride, "because they exist at the intersection of misogyny and racism." The consequences, she said, are often "deadly."
Transgender people are three times more likely to be unemployed compared to the general population, according to the HRC report, and 30 percent of those surveyed reported having been fired, denied a promotion or subjected to mistreatment at work due to their gender identity. High unemployment and workplace hostility often push transgender people to the margins — at least 10 of the known trans homicide victims in 2018 engaged in sex work to survive, the report found.
Hunter, 42, said she co-founded the Trans Women of Color Collective in 2014 because she felt more needed to be done to help her community. She said the Washington, D.C.-based group helps members of her community access the educational and employment opportunities they desperately need.
"We can bring down the numbers of unemployment, we can bring down the numbers of homelessness in our community, because all of those — homelessness, violence, murder, discrimination — they're inexplicably linked," Hunter explained.
HATE CRIMES ON THE RISE
The HRC report comes on the heels of an FBI report released last week that found anti-LGBTQ hate crimes rose 3 percent in 2017, with lesbian, gay, bisexual and transgender people comprising more than 16 percent all 8,828 known hate crime victims. The data found federally reported hate crime incidents targeting the LGBTQ community have risen steadily since 2014, totaling 1,249 last year.
Advocates see the rising wave of violence against the trans community as part of this trend. They attribute it, in part, to a lack of LGBTQ legal protections when it comes to housing, education, employment and health care, which they say exacerbates poverty and exposes trans people to violence. Twenty-nine states, for example, do not have laws protecting against employment discrimination based on gender identity, according to HRC.
"This failure to protect and serve some of the most vulnerable people in our country today encourages this violence," Mara Keisling, executive director of the National Center for Transgender Equality, told NBC News.
Advocates also lament the fact that it is currently not mandatory for law enforcement agencies to report hate crimes to the FBI. The annual FBI hate crimes report is based on statistics reported to the FBI by state and local law enforcement agencies. However, Frank Pezzella, a criminology professor at New York's John Jay College of Criminal Justice, said only 75 percent of the approximately 18,5000 police agencies participate in hate crime reporting, and of those who do participate, nearly 90 percent "report zero hate crimes every year."
MOVING FORWARD
Despite the grim statistics and reports about violence against trans people, Hunter said she is optimistic that this hate violence will decrease.
"Every day I wake up, I have hope," she said. But she stressed that advocates need to focus on what the community needs most: greater employment and educational opportunities.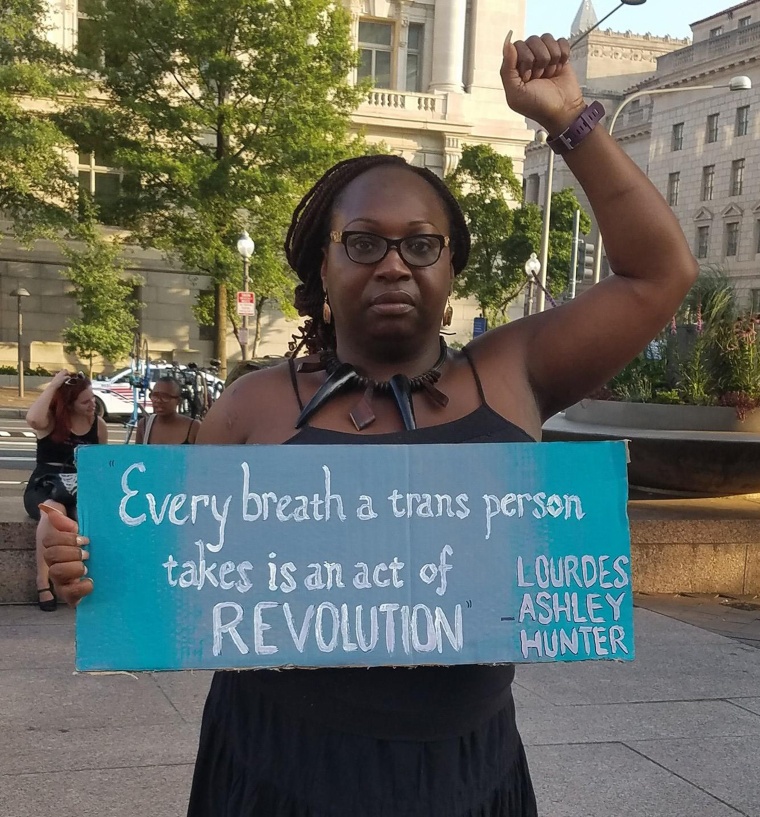 "This is how we contribute to expanding the conversation beyond murder and death and violence and discrimination towards encouragement, empowerment, support and sustainable uplifting and economic empowerment in our community," she said.
The activist said she will speak Tuesday night in honor of Transgender Day of Remembrance at the Metropolitan Community Church in the nation's capital. She said the dozens of vigils held across the country will honor not only those who lost their lives, but those who still live and struggle every day with violence and discrimination.
"We honor their contribution to the movement," Hunter said. "It's because of them — their energy, their presence, their existence — that we are here today, still moving forward."