Three years after a Massachusetts jury acquitted William Palmer on murder charges in the death of 23-year-old Chanelle Pickett, who was killed Nov. 20, 1995, another black transgender woman was found dead in nearby Allston, a suburb of Boston. Rita Hester, 35, died Nov. 28, 1998, after being stabbed 20 times.
Across the continent, San Francisco-based transgender activist Gwen Smith was surfing America Online. "I was talking in a chatroom that evening that Rita Hester was murdered, and when I talked to people about it, they said they had never heard of the Chanelle Picket murder," Smith told NBC News. "It made me realize we really weren't looking at the issue of people getting killed."
Hester's murder led to Smith creating the Remembering Our Dead web project, where candles are lit beside digital obituaries for murdered transgender and gender-nonconforming people. Then the next year, in 1999, Smith created the first Transgender Day of Remembrance.
This year, the somber annual event is 20 years old, and it continues to draw attention to the worldwide epidemic of anti-transgender violence.
"Those who cannot remember the past are condemned to repeat it," Smith said, quoting George Santayana.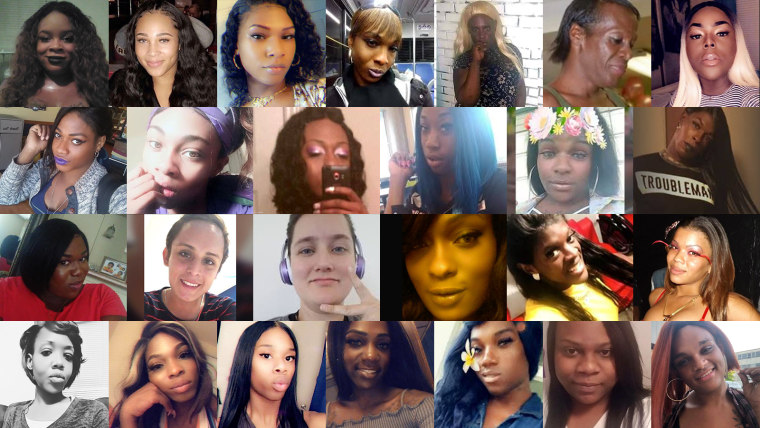 The killings that led to the creation of Transgender Day of Remembrance two decades ago are still happening today.
According to an annual transgender violence report published by the Human Rights Campaign, at least 22 trans and gender-nonconforming people have been killed in the United States so far in 2019. Most of those killed in 2019 were young, black women — just like Pickett and Hester.
Human Rights Campaign President Alphonso David called the killings "a national crisis that demands the attention of lawmakers, law enforcement, the media and every American."
The organization's "Violence Against the Transgender Community" project was started in 2013 to track the epidemic of anti-trans violence. Since then, it has documented more than 150 killings of trans and gender-nonconforming individuals.
According to activist group Transrespect Versus Transphobia Worldwide, 331 trans and gender-diverse people have been killed across the globe between October 2018 and September 2019 — and over 3,300 have been killed since January 2008.
Of the 22 known deaths in the U.S. this year, 91 percent were black women, 81 percent were under the age of 30 and 68 percent lived in the South.
Those are women such as Bee Love Slater, 23, a trans woman who was found dead in a burnt out car in Clewiston, Florida, on Sept. 4, and Chynal Lindsey, 26, a Dallas woman whose body was pulled from a lake showing "obvious signs of homicidal violence." Texas led all states in 2019 with four known killings of transgender individuals, according to Human Rights Campaign.
Only 19 states and Washington, D.C., have hate crime laws that explicitly cover sexual orientation and gender identity, and Texas — along with most southern states — is not among them. Since 2013, when the organization began consistently tracking anti-transgender violence, 82 percent of all fatal violence against trans and gender-nonconforming people took place in a state that had no such law.
The organization's data paint a picture of the most at-risk transgender people in America: Black women under 30 residing in the South. Poverty and participation in survival sex work are also factors that dramatically increase risk of violence.
Two decades after she started Transgender Day of Remembrance, Gwen Smith said the annual event — now observed across the U.S. and beyond — instills mixed feelings.
"On one hand, it's amazing to see how big the event has grown, but at the same time when all is said and done, we are still being killed," she told NBC News. "And with the current environment, it seems to be growing."