A transgender Honduran woman, who was part of the caravan of Central American migrants that arrived at the U.S. border earlier this month, died in detention on Friday.
Roxana Hernandez, 33, died in the custody of U.S. Immigration and Customs Enforcement (ICE) at a hospital in Albuquerque, New Mexico, from what appeared to be cardiac arrest. Hernandez was first admitted to a hospital more than a week ago "with symptoms of pneumonia, dehydration, and complications associated with HIV," according to a statement from ICE.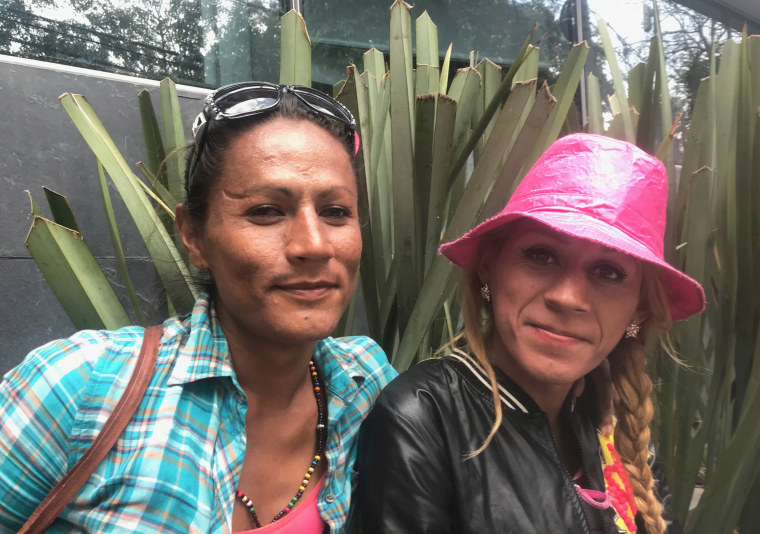 Immigration officials identified the woman as Jeffry Hernandez, but LGBTQ rights advocates and caravan organizers said her name was Roxana.
An ICE spokesman confirmed Tuesday that Hernandez was part of the caravan.
Hernandez surrendered at San Ysidro Port of Entry between San Diego and Tijuana and asked for asylum on May 9, according to Pueblo Sin Fronteras, the immigration-rights group that organized the caravan. The organization said she was held for five days by U.S. Customs and Border Protection (CBP) in a holding cell that is part of a facility many refer to as the "iceboxes" due to its temperature.
On May 13, Hernandez was transferred into ICE custody in San Diego. Three days later, she was taken to a transgender unit at the Cibola County Corrections Center, a privately owned prison facility for men in New Mexico that contracts with ICE.
The following day, May 17, Hernandez was admitted to a nearby hospital, according to a statement from ICE, and later transferred to Albuquerque's Lovelace Medical Center where she remained in an intensive care until she died on May 25.
"Roxana traveled over 2,000 miles through Mexican territory on foot, by train, by bus, because her last aspiration and hope was to save her own life," read a statement released Tuesday night on behalf of Pueblo Sin Fronteras and fellow immigration-rights groups Al Otro Lado and Diversidad Sin Fronteras.
"Roxy died due to medical negligence by U.S. immigration authorities," the statement continued.
A 2015 report from the American Immigration Council describes the "icebox" holding cells as "inadequate for any overnight detention," and official CBP policy states detention in these holding cells should last no longer than 72 hours. Hernandez was allegedly held for five days in the facility, which the report also describes as "routinely lacking in adequate food, water, and medical care."
In a statement announcing Hernandez's death, U.S. immigration officials said "all ICE detainees receive medical, dental and mental health intake screening within 12 hours of arriving at each detention facility," along with "access to daily sick call and 24-hour emergency care."
Hernandez was one of roughly 60 transgender women participating in the migrant caravan. The trans migrants all said they were forced to flee their home countries because of the discrimination and violence they faced for being transgender.
Alexandra Mejia, a friend of Hernandez also travelling in the caravan, told NBC New she was targeted by gangs in El Salvador because of her transgender identity. When Mejia refused to engage, she said local gang members raped her and killed her father.
Hernandez had previously been deported three times from the U.S. and was set to be deported without seeing an immigration judge, a process known as "expedited removal," according to ICE.
She had entered the U.S. illegally twice between 2005 and 2009 and was granted voluntary return to Mexico because she claimed Mexican nationality, according to ICE. While in the U.S., Hernandez was convicted of theft in 2006 and lewd, immoral, indecent conduct and prostitution in 2009. ICE said Hernandez entered the U.S. illegally a third time and was deported on March 2014.
Hernandez is the sixth detainee to die in ICE custody since October 2017, according to ICE.
"Paired with the abuse we know transgender people regularly suffer in ICE detention, the death of Ms. Hernández sends the message that transgender people are disposable and do not deserve dignity, safety, or even life," Isa Noyola, deputy director of the Transgender Law Center, said in a statement.
The Transgender Law Center is demanding ICE adopt and implement a policy around detaining transgender people. The organization has created a Twitter campaign, #JusticeForRoxana, in the hopes of bringing attention to other trans migrants currently being held in detention.
"IT WAS FREEZING ... YOU HAD TO SLEEP ON THE FLOOR"
NBC News spoke with one of the caravan members, 18-year-old David from Guatemala, who is presently being held at Otay Mesa Detention Facility in San Diego. David declined to share his last name for fear it would negatively impact his chance of asylum.
David described the conditions of the detention facility as inadequate and frightening, noting, "When someone has a pain somewhere, the guards usually tell them to come back tomorrow or wait for medical attention that never comes."
David said he was taken to Otay Mesa Detention Facility on May 4 along with 12 other members of the caravan, including a transgender woman. Last week, one of the men from the caravan was sent to the "hole" after trying to interpret for another member of the caravan who needed medical attention, David recalled. He said the guards yelled at the translator for being "defiant."
Prior to his current detention facility, David was held in the so-called "iceboxes." He said he spent two days in a room with 45 other people that was intended to only hold 25.
"They didn't let you shower, it was freezing, they didn't let you brush your teeth, and there were no beds, so you had to sleep on the floor," he explained.
David said he fled Guatemala with his partner after people in his hometown posted on Facebook that the two were gay. Following the post, David said he and his partner were beaten, including by David's parents, and had their lives threatened. The two joined up with the caravan on the Guatemalan border with Mexico and stayed together until they were separated at the U.S. border. David's partner is currently being detained in Chicago.