Just two days after President Donald Trump signed a memo giving new guidance to his previously tweeted ban on transgender individuals serving in the U.S. military, six transgender soldiers and veterans walked the red carpet at Sunday's 2017 MTV Video Music Awards (VMAs).
Army Captain Jennifer Peace was among them and said she and her fellow trans service members attended to "tell our stories and help people to realize that trans people are serving in the military just like everyone else."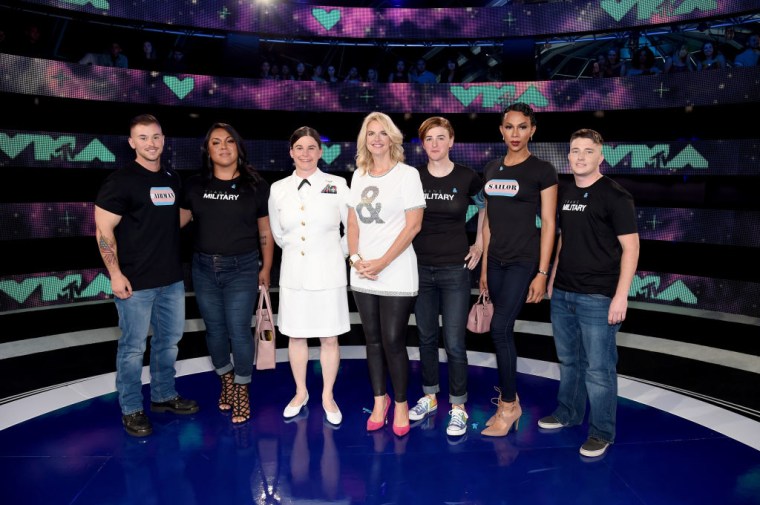 "The only thing we're asking for is to be treated just like everyone else in the military and be discriminated against only based on our performance," Peace said.
She added that despite the president's efforts to ban transgender people from service, morale among the troops is high.
"Our unity is high because we know we've been doing this job, we know we're capable of doing the job ... Our record stands for itself," she explained. "We have trans service members in combat right now, asking, 'How can I be non-deployable when I'm openly serving as trans when I'm in Afghanistan today?'"
Last week, MTV President Chris McCarthy told NBC News in an emailed statement that he and his team would be "honored" if trans service members and veterans attended the VMAs.
"Any patriot who is putting their own life at risk to fight for our freedom and stands for equality is a hero at MTV, and to young people everywhere," McCarthy explained.
Sarah Kate Ellis, president and CEO of LGBTQ advocacy organization GLAAD, applauded MTV for extending the invitation.
"MTV has always been a leader dating back two decades with 'The Real World' when they had the first person with AIDS on a show. MTV has always been a leader and a responder," Ellis told Variety on the red carpet. "MTV represents the youth today."
Sunday's awards show was certainly not the first time a political statement was made at the VMAs. Last year, Beyonce arrived with several women whose sons were killed as the result of police actions, and in 2010, Lady Gaga brought four soldiers who were either discharged or asked to leave the military because of the "don't ask, don't tell" policy.