Within the span of a month, two transgender women took to Twitter to share stories of having their passport renewal requests denied by the U.S. Passport Office.
"Today I was denied a renewal of my US Passport and told I would need to get a judge to unseal child welfare records from Foster care in order to 'prove' my US Citizenship," Seattle-based transgender activist Danni Askini posted on June 29.
Then on July 25, Janus Rose, also a trans woman, claimed on social media that "due to an 'error,' the government has *retroactively invalidated* the change of gender marker it authorized on my passport last year."
Those two tweets garnered more than 13,000 retweets combined and sparked a slew of news reports questioning whether the State Department, which oversees the Passport Office, was making a practice of revoking passports of transgender Americans.
However, upon closer inspection, the passport difficulties Askini and Rose encountered appear to be specific to their unique situations and not part of a policy or enforcement change at the U.S. Passport Office.
Under the current policy, implemented in 2010 by President Barack Obama, transgender Americans wishing to change the gender marker on their passport must present a note from a licensed physician stating that they either "have had" or are "in the process of getting appropriate clinical treatment" for a gender transition. If they have already received this treatment, they are eligible for a 10-year passport, and if they are still in the process of treatment, they are eligible for a two-year passport.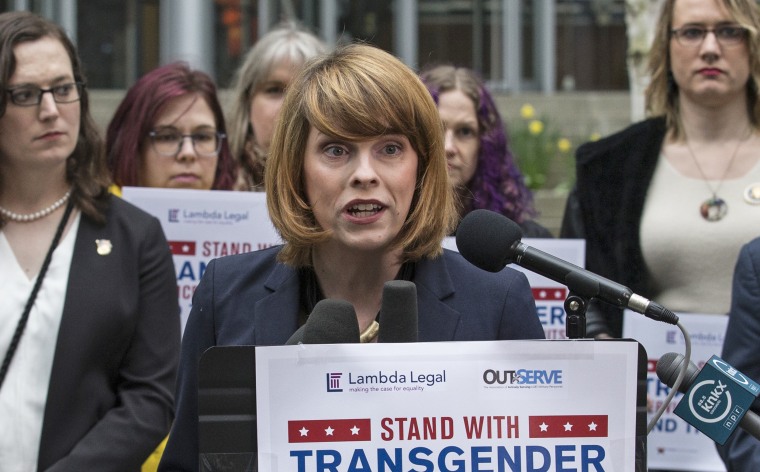 Askini transitioned 20 years ago, when she was a minor in Maine's child welfare system, and all of her identity documents have identified her as female since the late '90s. But when she went to renew her passport in late June, she said she was asked for the first time for proof of her transition. When she explained that her welfare records were sealed, she said the passport officer suggested she travel across the country to Maine and ask a judge to unseal them, despite Askini's assertion that she had to leave the country quickly because of online death threats.
"She was cruelly indifferent when I explained when I was fleeing violence," Askini said.
In the case of Rose, a New York-based technology researcher, her letter was reportedly signed by a nurse practitioner, not a licensed physician, as required by the Obama-era transgender passport policy.
A State Department official told NBC News the department has seen "reports of a few transgender individuals having difficulty renewing their passports" but said it "has not changed policy or practice regarding the adjudication of passport applications" for trans people.
"While we cannot comment on individual passport applications due to privacy concerns, the department addresses cases individually, and strives to treat all applicants with dignity and respect," the spokesperson added.
Following reports about the U.S. government "retroactively reversing" the passports of transgender people, the National Center for Transgender Equality (NCTE) released a statement this week to assuage concerns.
"All of the incidents we have seen involved unusual circumstances and bureaucratic mistakes by the passport agency and have caused very unfortunate hardship and anxiety for our community members," the organization wrote in a statement posted to Twitter. "Please note, the longstanding passport gender marker policy has not changed."
Carl Charles, an attorney with the American Civil Liberties Union, also said that he doesn't think "we're seeing reversal of the policy or a change in enforcement."
"I think we're seeing a very rigid adherence to the current policy, which is of course frustrating but not the same as a reversal," he added.
However, Charles said he understands why some members of the LGBTQ community were alarmed.
"So many other bad things are happening right now politically in our country," he said. "It can be easy to get caught up in that."
The Trump administration has employed and advocated for a number of policies that roll back transgender rights, including the reversal of Obama-era trans bathroom protections and the president's attempt to ban transgender people from military service.
While Askini called coverage of her story "alarmist," claiming she never said passport policies for transgender people had changed, she warned the transgender community to stay vigilant.
"This administration has an awful track record on human rights," she said, citing the Trump administration's policy of separating children from their parents at the border as an example. "People are absolutely right to be cautious."