When Darcy Corbitt went to the Lee County Driver's License Office in eastern Alabama last summer, she said things started out on a very cordial note.
"When I arrived in the office, I was treated with the utmost respect and courtesy," Corbitt recalled. The clerk was "so friendly" that Corbitt told her about her recent decision to move back to Alabama from North Dakota to complete her doctoral degree at Auburn University.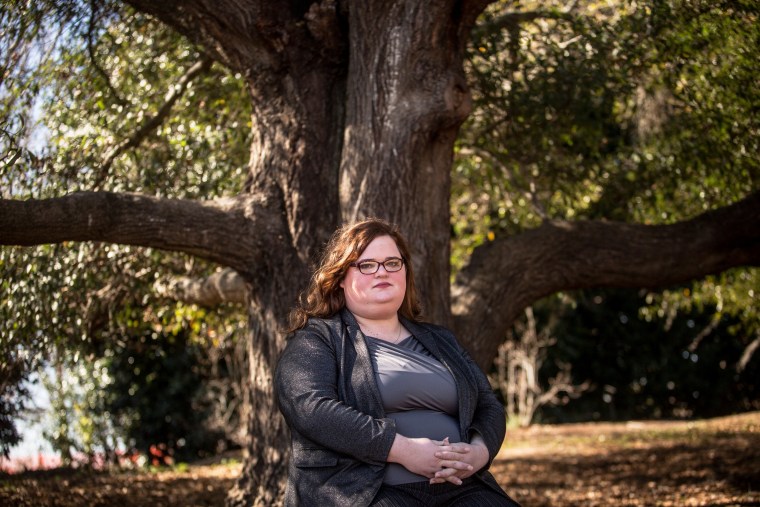 The clerk's tone changed, however, when she searched Corbitt's previous driver's license record, which listed her gender as male.
"In a period of half an hour, I was subjected to the most blatant cruelty another human being had ever inflicted upon me," Corbitt said in a phone call with reporters.
The clerk "loudly" discussed Corbitt's gender identity "in a room full of strangers," calling her "he" and "him," Corbitt said. "She dehumanized me when she started calling me 'it.'"
Because Corbitt could not prove to the clerk that she had undergone sex reassignment surgery, Corbitt left the office without a new license, despite having already changed her gender marker on her passport, social security card and North Dakota driver's license.
The ACLU is now suing Alabama on behalf of Corbitt and two other transgender individuals, claiming the state's driver's license policy "violates the privacy, due process, free speech, and equal protection rights" of the plaintiffs and other transgender people in Alabama.
The lawsuit, filed Tuesday, states "many transgender Alabamians cannot obtain a license that they can use without disclosing highly sensitive information, risking discrimination and attack, compromising their own health and wellbeing, and endorsing a message about their gender with which they strongly disagree."
The lawsuit specifically mentions Alabama Policy Order 63, which permits changing the gender on one's driver's license only "due to gender reassignment surgery" and requires applicants to submit an "amended state certified birth certificate and/or a letter from the physician that performed the reassignment procedure."
Gabriel Arkles, senior staff attorney with the ACLU, said transgender people, like all people, "deserve to live their lives without the government compromising their privacy, safety, autonomy, dignity, or equality."
"They have the right not to be discriminated against by the government for who they are," Arkles said in a statement sent to NBC News. "In addition to endangering transgender people, Alabama's policy — and other policies like it — violate the law."
A spokeswoman for the Alabama Law Enforcement Agency, which oversees the state's driver's license division, said the agency could not comment on the pending litigation.
According to the ACLU, Georgia, Iowa, Louisiana, North Carolina, Oklahoma, South Carolina, Texas and Wyoming have state I.D. policies that are similarly as discriminatory to Alabama's.
In its "Resource Guide on Gender Designation on Driver's Licenses and Identification Cards," the American Association of Motor Vehicle Administrators discourages states from requiring proof of "surgery or other specified treatment" in order to change one's gender designation on a government-issued driver's license.
While sex reassignment surgery is considered medically necessary for some transgender people, this is not the case for everyone, Arkles explained on a conference call with reporters. Some may not want or need to undergo surgery or may not be able to afford the type of medical treatment they require. Further, not all transgender people want or need the same types of medical treatment.
"The government just has no business pushing people into getting certain types of health care. We should all be able to make our own health care decisions. It is outrageous to make an accurate, usable driver's license depend on having had a sort of health care that has nothing to do with one's ability to drive," Arkles said on the call.
"Driver's licenses matter for transgender people's safety and ability to participate in public life," Arkles added. "Things that many people take for granted like applying for jobs, traveling, making purchases … can become quite frightening and sometimes inaccessible."
The inability to access a driver's license may also make voting impossible in the state of Alabama. Julie Ebenstein, a senior staff attorney with the ACLU's Voting Rights Project, said Alabama Policy Order 63 "disenfranchises trans voters." The state, Ebenstein explained, has strict voter I.D. laws that require one of seven forms of acceptable identification at the polls. A driver's license in the most common form of identification used, she said.
"This refusal of Alabama to issue appropriate identification creates a dangerous and unnecessary barrier to our clients living fully as citizens of Alabama both in everyday life and in exercising their fundamental right to vote," Ebenstein said in a phone call with reporters.
The ACLU's lawsuit cites data from the 2015 U.S. Transgender Survey, which found 80 percent of transgender respondents in Alabama have no accurate form of identification.
"The state of Alabama does not have the right to define our identities or our worth," Corbitt said.