Two weeks after Secretary of Defense Ashton Carter announced transgender individuals can openly serve in the U.S. military, Army Captain Jennifer Peace, who enlisted in 2005 and has completed two combat deployments, was doing pull-ups in the gym. Peace had just completed 60 repetitions and was about to move on to cardio when she overheard the word "transgender" from a group of soldiers whom she had never seen before. Her ears immediately perked up. "They can join the Army now," said one. "That's fucking weird," said another.
Without hesitation, Peace walked up to the three men, who had "arms as big as her thighs" and said, "Maybe this isn't appropriate, but I'll regret it if I don't say something. I'm one of the transgender soldiers that met Secretary Carter a few weeks ago when the new policy came out."
RELATED: Trans Service Members Detail Historic Meeting With Defense Secretary
In that meeting with Carter, which came just one week prior to his historical announcement, Peace had been joined by Navy Lieutenant Blake Dremann and an airman and a Marine both of whom wish to remain anonymous. The group was led by Sue Fulton, an Army veteran and president of the LGBTQ military association, SPARTA. They exclusively shared their story and image with NBC OUT.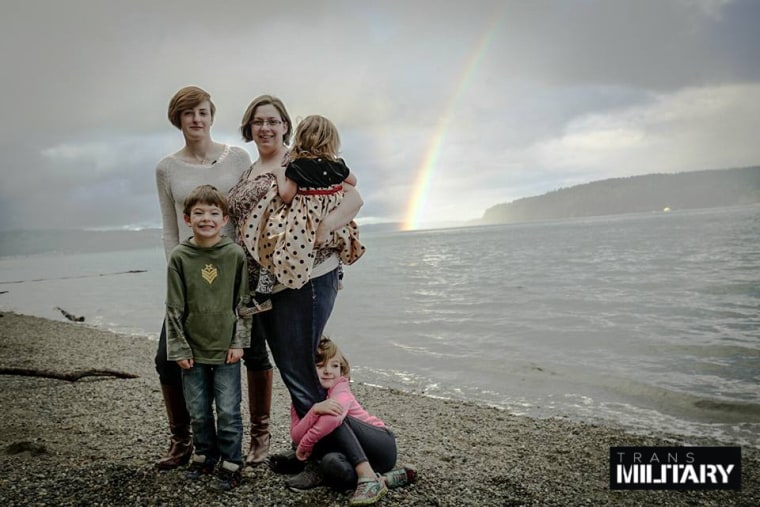 The weekend following Carter's announcement, Peace celebrated the Fourth of July holiday on post with her wife and three young children. Looking back on that celebration, she said with a massive smile, "My wife is so relieved. She is the strongest woman I know, but years of fear and anxiety have been rough on us all. We have missed so many events together, hid so long. Now we can be together, completely and openly. She has had to hide part of her life, too, with the ban. Now we are both free in a way we haven't been in a long time."
Dremann, who was commissioned in 2006 and is currently stationed at the Pentagon, shared the journey of his proud parents. "Being a sailor has been extremely important to my parents. They are very proud of my service," he said. Although, when he came out to them as transgender they had a tough time. "They wholeheartedly believe that my choice to join the Navy was the best decision I have made, but they were more confused with my willingness to give it up to transition."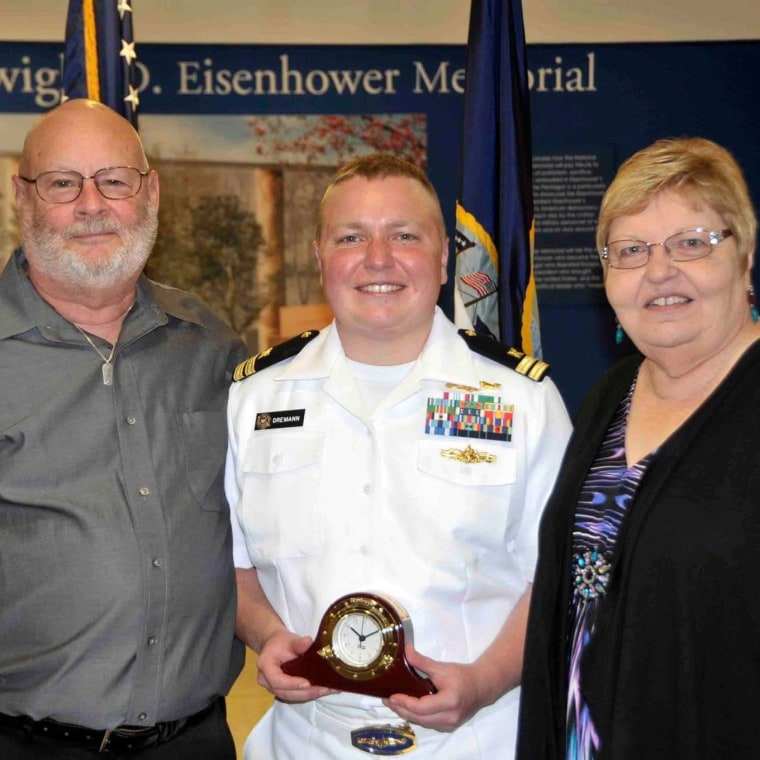 Knowing the ban could dictate his discharge, outside of his job Dremann volunteered to be an advocate. "I had no desire to leave the service, but at the same time I couldn't continue as a female. So instead of choosing between the two, I have spent the last few years working to change that."
In the meantime, his parents shared Dremann's desire to maintain a strong family relationship. Last Christmas they acknowledged his name for the first time, and last month, on Dremann's birthday, for the first time they acknowledged his gender. "I will say," Dremann beams, "that my birthday card was the first time I felt fully acknowledged by my parents." And now the ban is lifted, the conflict of their parental pride between their child's chosen career and his known gender is over.
RELATED: Pentagon Lifts Ban on Transgender People Serving Openly
For the anonymous Marine, who was in the photo along with Peace, Dremann, Fulton and Secretary Carter, coming out is an incremental process. A few close friends recognized his image and one excitedly approached him the following day saying, "So can I start calling you 'Sir' now?" But he says he didn't want to confirm or deny it. "She first asked me a while ago, because I think she could tell I was very uncomfortable hearing 'Ma'am.' After that photo was released she asked me, 'Can I call you 'Sir' now?' and I said we'll take it step by step … but for right now stick with 'Ma'am.'"
The Marine is waiting for the Department of Defense directive, which is slated to be issued no later than October 1, 2016, before making official changes. Further, he says he would rather have his commander on board before he administratively moves from one gender marker to the other.
That being said, hearing Secretary Carter's words that transgender people can now serve was a huge, welcome relief. "It was one of the best feelings," he said. "I'm not really in a big rush, but the next day I felt like I had that breathing space. I didn't have to worry no (sic) more."
RELATED: Air Force Cadets Describe Life After Don't Ask, Don't Tell
"It was a feeling of mission accomplished with excitement of coming changes," said the anonymous airman from the photo when she heard the announcement. "I am not out at work and no co-workers recognized me. I am sure there are a couple that speculate, but have not come to me and asked. The people that did recognize me are those I have confided in. They congratulated me on being a small part of making this change happen."
Like the Marine, she, too, wishes to wait for the directive being in place and having one-on-one conversations with her chain of command. "I have enormous respect for my leadership and want them to hear it from me, not through the media or the grapevine," she said.
The airman is coming toward the end of a very long and tenured career. She's played a role in every major conflict between 1991 and 2011 and works in a very male-dominated field. "I am looked up to for my capabilities as well as my past experience," she explains. "I know some of my fellow airmen will not be as accepting as I would like. In fact, they may even question my ability to continue to operate at the same capacity. I will have to prove myself all over again."
RELATED: Commentary: Proud to Serve as an Openly Transgender Woman
Proving themselves is something transgender service members have had to do over and over again within their commands, and some within the Pentagon. Fulton, who introduced SPARTA members to civilian and military leaders 3-star and higher over a series of ten meetings, said those interactions were critical.
"Within minutes, you could see the reaction of the senior leaders as they relaxed, realizing that these service members are 'just' soldiers (or sailors, Marines, airmen), like all the other junior service members they meet and talk to," explained Fulton. "They commented on this operation or that outpost, connecting with their own experiences."
Now that the announcement has been made, advocacy to change policy shifts to changing hearts and minds. Back in the gym that day, when Peace volunteered that she was a soldier, who happened to be transgender, she went on to explain to the guys, "Most people have this perception of what a trans person looks like in their head, but it isn't accurate. Everyone grew up with these stereotypes of trans people from Jerry Springer and think soldiers are going to show up wearing high heels in uniform, but we are just people. Sometimes meeting someone can change the way you think about it. So I just wanted to introduce myself to you."
There was a slight pause. A bead of sweat ran down Peace's face. Then one of the soldiers asked her, "Oh. Where do you work?"
Fiona Dawson is the director of the feature documentary "TransMilitary." Following the success of her short opinion film, "Transgender, at War and in Love" in 2015, Dawson was honored by The White House as an LGBT Artist Champion of Change.