During their respective campaign stops over the weekend, both Hillary Clinton and Donald Trump made overtures to the LGBTQ community.
Clinton made a stop at The Manor Complex, a gay club in Wilton Manors, Fla., on Sunday during a campaign rally co-organized by the Human Rights Campaign. During her speech, she took aim at her Republican rival.
"Donald Trump has a terrible record on LGBT rights, and this election will determine whether we can continue the progress we've made or let it be ripped away," Clinton said after speaking of her vision for a "hopeful, inclusive" America.
"We will call on Congress to pass the Equality Act. We will then be able to protect LGBT Americans from discrimination in all aspects of our lives. We will work together to achieve the AIDS-free generation that is within our reach, and we will take on homelessness, bullying, and violence," Clinton added. She also called for gun control reform to ensure that "what happened in Orlando can never happen again."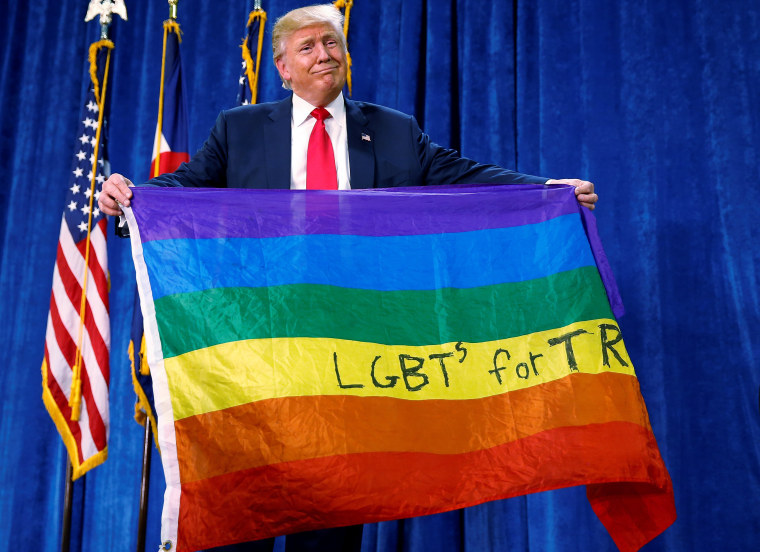 During a rally at the University of Northern Colorado on Sunday, Trump unfurled an upside-down rainbow flag with the words "LGBTs for Trump" written on it before returning it to one of his aides.
"In nine days, we are going to win the state of Colorado, and we are going to win back the White House," Trump told the audience.
The Republican nominee has said in the past that he would be a better president for the LGBTQ community, a claim Clinton and many LGBTQ advocates refute.