Last week, President Donald Trump tapped Sam Clovis as his pick to lead the U.S. Department of Agriculture's Research, Education and Economics division. Pending Senate confirmation, Clovis would oversee scientific research at the agency.
Clovis is a former economics professor at Morningside College in Sioux City, Iowa. His career in politics includes an unsuccessful bid for U.S. Senate in 2014 and serving as an early adviser on Trump's presidential campaign. He is perhaps best known, however, as the host of talk radio program "Impact with Sam Clovis" in the conservative stronghold of western Iowa.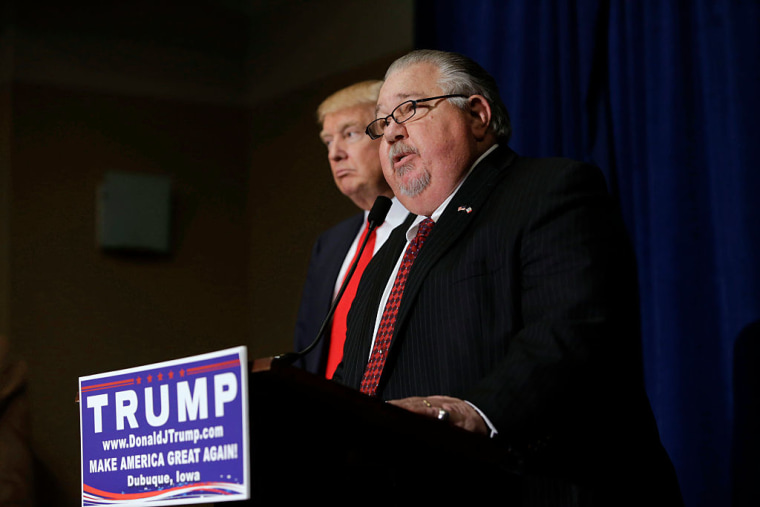 Clovis' nomination immediately came under fire from both the scientific community and the LGBTQ community.
Catherine Woteki, the former undersecretary for research, education and economics in the Obama administration, stated that Clovis' lack of scientific credentials makes him unfit for the position, one that she said necessitates scientific understanding.
"This position is the chief scientist of the Department of Agriculture. It should be a person who evaluates the scientific body of evidence and moves appropriately from there," Woteki told ProPublica.
As a radio host and political aspirant, Clovis has also established himself as fervently anti-LGBTQ. In public forums, Clovis has rejected civil rights protections for gays and lesbians on the grounds that homosexuality is a "choice" or an alterable "behavior."
"We are being asked to provide Constitutional protections for a behavior — a choice of behavior as opposed to a primary characteristic," such as age, race or disability, Clovis said in a video interview posted to YouTube.
In the video, Clovis — nominated to oversee scientific research for the U.S. government — states, "I don't know what the science is on this," but "as far as we know that's a choice that they make." During the same interview, Clovis goes on to make a "slippery slope" argument, stating, "If we protect LGBT behavior, what other behaviors are we going to protect? Are we going to protect pedophilia?"
In an op-ed for The Iowa Republican, Clovis fervently defends "traditional marriage" from attacks by the LGBTQ movement, the media and "hip" Republicans. His opposition rests on the claim that same-sex marriage undermines the 14th Amendment and exposes proponents of "religious freedom" — such as himself — to charges of "hate speech."
"Dismantling marriage is one of the dual goals of this whole progressive effort. If the gay rights movement can get marriage redefined, then there will be further inroads made to undermine one of the pillars of American strength," Clovis wrote in the op-ed. "The traditional family is about procreation, education, socialization and religious familiarization, that institution serves as a direct threat to the progressive movement's aim of ridding society of God."
The Human Rights Campaign (HRC), one of the largest LGBTQ advocacy groups in the U.S., was among the organizations to denounce Clovis' nomination.
"Sam Clovis has opposed equality for LGBTQ people at practically every turn, including questioning the scientific consensus around what it means to be LGBTQ," HRC Government Affairs Director David Stacy told NBC News.
"Despite his claims before the election, President Trump has proven to be no friend of the LGBTQ community," Stacy added.
LGBTQ advocacy group GLAAD took to twitter to criticize Clovis, taking aim at both his anti-LGBTQ comments and his ability to engage in reasoned argument.
Clovis is the latest in a growing list of Trump appointees criticized by LGBTQ advocates: Attorney General Jeff Sessions, Health Secretary Tom Price and Education Secretary Betsy DeVos are among the others.
"Trump's appointments are part of a worrying pattern of people who have made careers out of targeting LGBTQ people and specifically LGBTQ rights," Ryan Thoreson, a fellow at Human Rights Watch, said.
Thus far, Trump appointees have taken concrete steps against LGBTQ rights. Most notably, the Department of Justice, led by Jeff Sessions, withdrew Obama-era guidelines protecting transgender students from discrimination under Title IX and intervened in civil litigation to oppose LGBTQ employment protections.
While Clovis may not oversee a department with as apparent an impact on LGBTQ rights as Sessions, Thoreson said executive branch-appointees have the power to "interpret the law," such as Title IX of the Civil Rights Act, in light of their own views. Though sometimes seemingly obscure, these areas of law "really do affect people's everyday lives," he added.
As an example, Thoreson also cited small changes at the Department of Housing Urban Development (HUD) that make a big difference to LGBTQ people. Under Ben Carson, Thoreson said, "HUD ended a survey on LGBT youth homelessness, removed best practices about serving transgender people from their website, and told shelters they don't have to put up posters telling residents they're protected from anti-LGBT discrimination."
"Some of the under-the-radar changes don't make the headlines, but they make it much more likely that federal programs will leave out LGBT people, or that LGBT people who face discrimination won't know where to turn for help," Thoreson explained.
Trump's history of appointments does "not give a lot of confidence to LGBTQ people that their rights will be protected," Thoreson concluded.
The White House did not immediately respond to a request for comment.