After growing criticism from leading Democrats, civil rights advocates and even some members of his own party, President Trump's pick for Army Secretary, Mark Green, has withdrawn his name from consideration.
"Tragically, my life of public service and my Christian beliefs have been mischaracterized and attacked by a few on the other side of the aisle for political gain," Green said in a statement sent to NBC News. "While these false attacks have no bearing on the needs of the Army or my qualifications to serve, I believe it is critical to give the President the ability to move forward with his vision to restore our military to its rightful place in the world."
Green had previously offended many members of both the LGBTQ community and Muslims with a number of comments and policy positions seen as discriminatory -- including comparing transgender people to ISIS militants.
"A man who was the lead sponsor of legislation to make it easier for businesses to discriminate against the LGBTQ community; opposes gay marriage, which is the law of the land; believes being transgender is a 'disease'; supports constricting access to legal contraception; and makes deeply troubling comments about Muslims is the wrong choice to lead America's Army," Senate Minority Leader Chuck Schumer said in a statement earlier this week.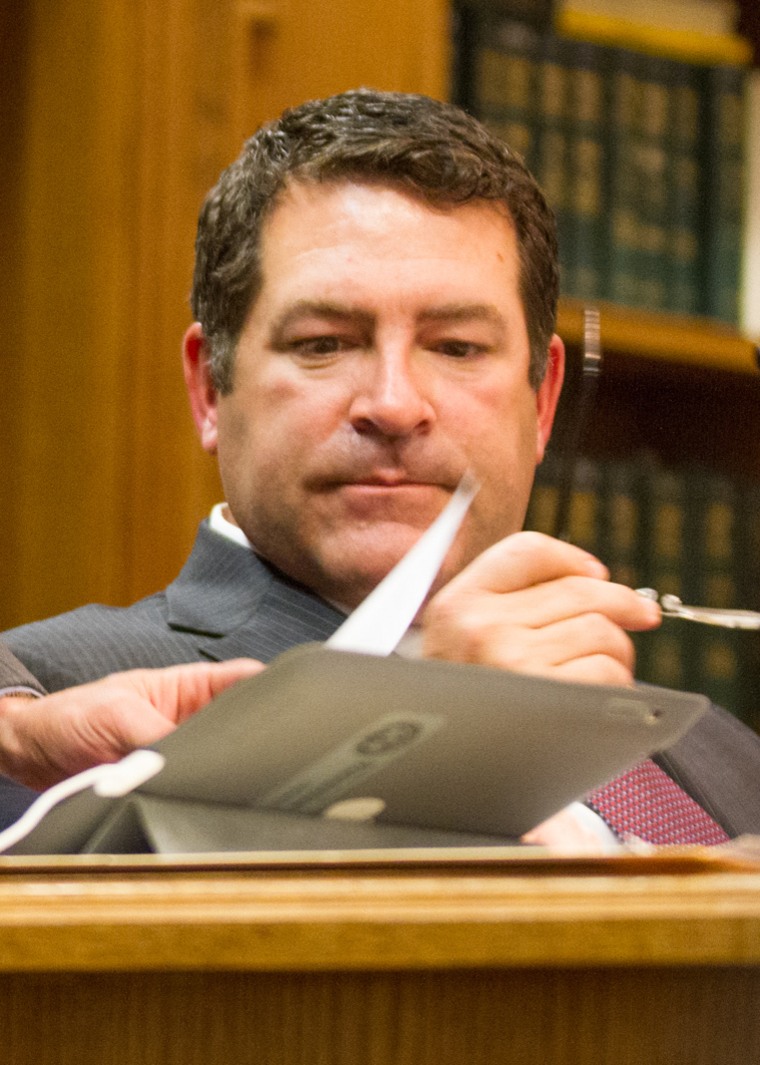 Schumer was just the latest in a string of politicians and civil rights advocates speaking out against Green, a Republican State Senator of Tennessee and a retired Army flight surgeon.
Just hours before Green announced his resignation, combat veteran and U.S. Senator Tammy Duckworth, a Democrat of Illinois, released a statement opposing Green.
"Confirming someone with Dr. Green's attitudes towards Muslim, Gay, Lesbian and Transgender Americans would send the wrong message to brave and selfless Americans who simply wish to serve their nation," Duckworth said. "I am grateful for Dr. Green's record of service but if he doesn't appreciate the importance of a diverse, inclusive Army, then he is not fit to lead it."
And it wasn't just Democrats taking issue with Green's nomination to the Army's top civilian post. In an interview with USA Today, Republican Senator John McCain, chairman of the Senate Armed Services Committee, said he found a "broad variety" of Green's comments "very concerning."
When asked by USA Today which comments he found most troubling, McCain said comments "concerning the Muslim faith, concerning the LGBT community."
Controversy surrounding Green's anti-LGBTQ record gained traction when advocacy group GLAAD unearthed audio from Green's appearance on the online radio show "Hotwash With CJ and Alex" in 2016. In it, Green seems to compare transgender people to ISIS militants.
"The government exists to honor those people who live honorable who do good things — to reward people who behave well and to crush evil," Green said in the interview. "So that means as a state senator, my responsibility very clearly in Romans 13 is to create an environment where people who do right are rewarded and the people who do wrong are crushed. Evil is crushed. So I'm going to protect women in their bathrooms, and I'm going to protect our state against potential infiltration from the Syrian ISIS people in the refugee program."
Green recently took to Facebook to push back against what he says is a purposeful attempt from the left to misrepresent his words.
"The liberal left has cut and spliced my words about terrorism and ISIS blatantly falsifying what I've said. Let me be very clear," the post reads before continuing into an enumerated list, "I believe that every American has a right to defend their country regardless of race, ethnicity, gender, sexual orientation, gender identity, and religion. It's the radical left that won't allow the latter."
GLAAD CEO Sarah Kate Ellis called Green's "change of heart" on LGBTQ issues a "step in the right direction" but added his "anti-LGBTQ history still makes him unfit to be the next Army Secretary."
Related: Health Department May Revise Obamacare's Nondiscrimination Rule
Green's comments on "Hotwash With CJ and Alex" aren't his only controversial statements regarding the LGBTQ community. During a town hall event before a Chattanooga Tea Party event last year, he publicly stated being transgender is a "disease."
"If you poll the psychiatrists, they're going to tell you transgender is a disease," he said.
Mara Keisling, executive director of the National Center for Transgender Equality, called Green "clearly unqualified for the position."
"He has called transgender people 'diseased,' 'immoral,' and 'evil,' and has pushed for anti-transgender legislation in his current role as a Tennessee state senator," she said in a statement emailed to NBC Out.
At that same town hall in Chattanooga, Green made remarks about Muslims that also drew controversy. One attendee asked what could be done about the possibility of armed insurrection by people who "don't belong here, like Muslims in the United States." Green said it was a "great question" and made reference to the "Muslim horde" that sacked Constantinople over 500 years ago.
The Council of American-Islamic Relations said Green's "past Islamophobic statements" should disqualify him from the role, and in a press release highlighted the remarks Green made at the town hall.
Other Muslim organizations that have spoken out include the legal advocacy group Muslim Advocates, which said in a statement, "You can't lead a diverse Army while having contempt for diversity. Our armed forces are filled with patriotic Americans of all faiths, races, sexual orientations and gender identities, and Mark Green's naked bigotry disqualifies him for the job of Army Secretary."
In the face of growing opposition, House Republicans mounted a defense of Green in the form of a letter to Senate Majority Leader Mitch McConnell and Sen. McCain in which they affirmed his "long record of distinguished accomplishments in defense of the nation."
"Any attempt to politicize personal statements or views that have been expressed by Mark at any point throughout his career must not be allowed to supersede his qualifications or be conflated to create needless uncertainty with his nomination," the letter reads. It was signed by 11 lawmakers, including all seven House Republicans from Tennessee.