Ralph Shortey, a former Oklahoma state senator who last year served as Donald Trump's campaign chair in the state, was meticulous about keeping up his reputation as a pious man, according to several fellow Oklahomans. That reputation, however, has all but disappeared. According to Shortey's attorney, the former Republican lawmaker will plead guilty to one count of child sex trafficking on Nov. 30.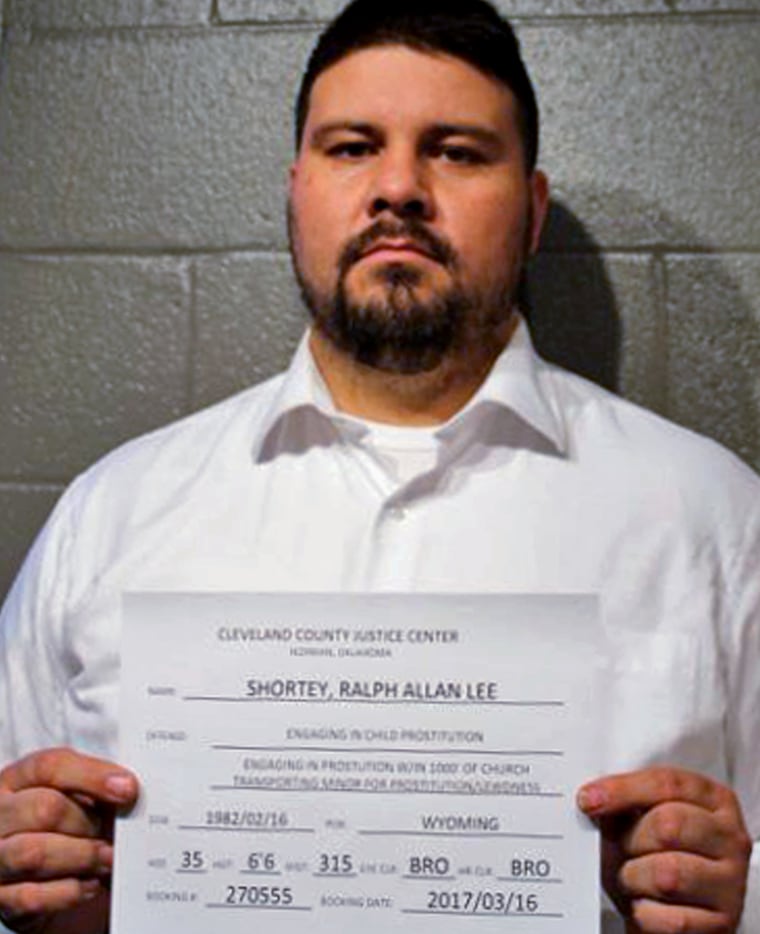 Shortey, a 35-year-old married father of three, resigned from the state Legislature in March after being charged with several felonies, including engaging in child prostitution, after police found him in a hotel room with a 17-year-old male. Shortey's attorney, Ed Blau, confirmed that his client will plead guilty to a charge of child sex trafficking in exchange for U.S. prosecutors' dropping three child pornography charges against him.
"Mr. Shortey feels this is a necessary step in putting this painful and humiliating ordeal behind him, for both himself, his family and for the state of Oklahoma," Blau told local news site NewsOK on Friday.
Blau did not respond to NBC News' requests for comment.
While the age of consent in Oklahoma is 16, child prostitution statutes apply to anyone under 18. Shortey faces a minimum of 10 years in prison on the child sex trafficking charge.
According to court documents, Shortey and the unnamed teen, referred to as John Doe, connected on Craigslist in or around February 2016. From then until March, the documents state, Shortey "obtained at least one image of John Doe's penis." Then, on or around March 8, the teen messaged Shortey saying, I need money for spring break." The then-lawmaker asked if the teen would be interested in "sexual stuff."
Following a tip from John Doe's father, police went looking for the teen at a Super 8 Motel in Moore, Oklahoma, on March 9, at a room rented with Shortey's driver's license and credit card. When officers knocked, Shortey told them he and the teen were getting dressed.
"When Shortey opened the door, Doe left the room with his backpack, which contained a bottle of lotion," the police report stated. "Inside the room, Moore Police offers found Shortey's backpack. Shortey's backpack contained an open box of condoms and a laptop computer."
The report also stated Shortey was in possession of child pornography that "depicts a man engaging in sexually explicit conduct with a prepubescent girl."
For LGBTQ advocates in the heartland, Shortey's fall from grace exposed the "family values" politician as a hypocrite. Troy Stevenson, executive director of the LGBTQ organization Freedom Oklahoma, said he knew Shortey as a person who cared a great deal about maintaining his image as a good Christian lawmaker.
Stevenson described one encounter with Shortey ahead of a vote on an anti-transgender "bathroom bill" in which the lawmaker allegedly told Stevenson that while he couldn't vote against the measure because it would inflame his Christian base, he would abstain.
"Then, not 12 hours later, he sits in the committee and voted in the bill," Stevenson lamented.
This was not the first time Shortey voted against the state's LGBTQ community because of his Christian beliefs. He routinely voted with his Republican colleagues on bills targeting gay and transgender people, including a measure passed earlier this year that would allow business owners to discriminate against gay people.
Shortey is not the only social conservative who has taken a recent fall from grace either. Wesley Goodman, a Republican and first-term state representative in Ohio, resigned on Nov. 14 because of "inappropriate behavior." Several local news outlets, including The Cleveland Plain Dealer and The Columbus Dispatch, reported Goodman — a vocal proponent of "natural marriage" — was caught engaging in sexual activity with a male visitor in his legislative office. The New York Times and The Washington Post also reported on Goodman's alleged inappropriate behavior with young men.
"I've seen it in both parties, but there are these ultra right-wing politicians trying to prove their piety and running on issues of moral superiority while having behind-the-scenes lives," Stevenson said. "They don't think anyone is going to catch them."
Stevenson said he does not believe Shortey's sexual orientation is worth delving into.
"We've made it very clear that this isn't about him being gay. It's about him being a child predator and a sex trafficker and a hypocrite," Stevenson said. "He was also caught with child pornography of both males and females of a much younger age. He's an equal opportunity predator."