President Donald Trump nominated Neil M. Gorsuch, a federal appeals court judge in Colorado, to fill the Supreme Court seat left vacant after the death of Antonin Scalia nearly a year ago. Trump said he arrived at Gorsuch based on his "writings," which he studied "closely"; his "academic credentials" (he holds degrees from Columbia, Harvard and Oxford); and his experience clerking for Justices Byron White and Anthony Kennedy. "It is an extraordinary résumé," Trump declared during Tuesday's announcement, "as good as it gets."
Despite his "extraordinary résumé," however, numerous LGBTQ advocacy organizations released statements immediately following the announcement to express serious concerns about what Gorsuch could mean for lesbian, gay, bisexual and transgender rights.
"We cannot afford a justice who will roll back our rights," said Chad Griffin, president of the Human Rights Campaign, in a statement sent to NBC Out. "The Supreme Court has played a central role in advancing the promise of equality for LGBTQ Americans, and Judge Gorsuch's anti-equality record -- from opposing crucial medical treatment for a transgender person to supporting a license to discriminate for private corporations -- make him unfit to sit on the nation's highest court."
GLAAD, National Center for Transgender Equality, National LGBTQ Task Force and Lambda Legal were among the other LGBTQ organizations to publicly oppose Gorsuch's nomination. Lambda Legal, the nation's oldest and largest LGBTQ legal organization, called Gorsuch's record "hostile" toward LGBTQ people and took the "difficult step of formally opposing his nomination," an unprecedented move for the 44-year-old nonprofit.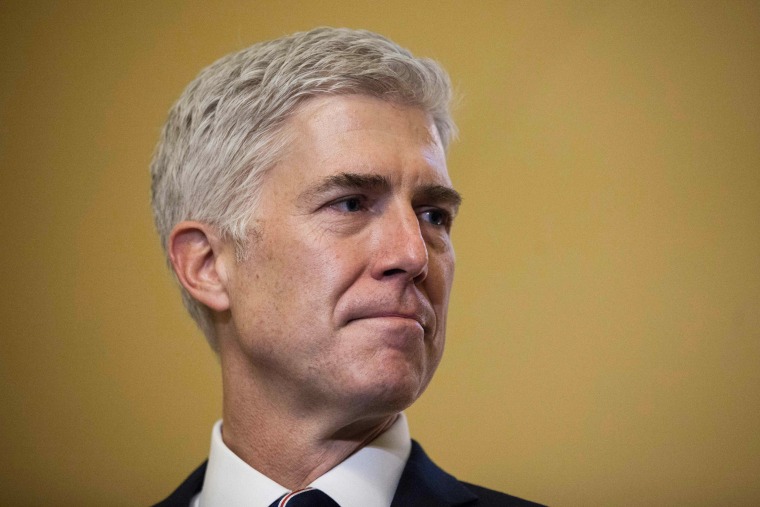 Religious Freedom
"If we are thinking about things that might be affecting LGBT people, obviously questions of religious exemptions are front and center right now," said Douglas NeJaime, a professor of law at UCLA and the faculty director of the university's Williams Institute.
NeJaime said Gorsuch's decisions in Hobby Lobby Stores, Inc. v. Sebelius and Little Sisters of the Poor v. Burwell -- both "religious freedom" cases -- suggest LGBTQ people "have reason for concern" about how Gorsuch "may approach religious exemptions in the context of anti-discrimination law and same-sex marriage."
Both the Human Rights Campaign (HRC) and Lambda Legal cited the Hobby Lobby case as evidence of Gorsuch's potentially anti-LGBTQ views. In the Hobby Lobby case, Gorsuch joined the decision in favor of the conservative retail chain, arguing the Affordable Care Act should not compel employers to cover basic reproductive health care (specifically IUDs and Plan B) for their employees if doing so contradicts their personal religious convictions.
"The Hobby Lobby decision set a terrible and destructive standard for bosses being allowed to meddle in our sex lives and decide whether or not birth control is covered by the employer's insurance plan," Lambda Legal CEO Rachel B. Tiven said in a statement.
HRC argued the "expansive" Hobby Lobby ruling "could allow employers to deny transgender employees access to hormone treatment, access to birth control and other crucial health care for LGBTQ people.
RELATED: Trump Will Leave Obama's LGBTQ Workplace Protections 'Intact'
What is especially worrisome about those cases, according to NeJaime, is that Gorsuch supported "complicity-based claims." The logic is, for example, a bakery owner could refuse to bake a wedding cake for a gay couple because doing so would make the baker "complicit in their sinful relationship," he explained. "We have those cases in state courts. We are going to see more of those."
"If we go down that road, then we really are potentially objecting to the operation of anti-discrimination law," he added.
Gorsuch's nomination, it should be noted, comes just one day after the Trump administration released a statement of support for maintaining existing rules to protect LGBTQ people from workplace discrimination.
Transgender Rights
In a case filed in 2014, Druley v. Patton, a transgender woman filed a complaint against the Oklahoma Department of Corrections for denying her access to adequate levels of hormone therapy and housing her in an all-male facility while she was imprisoned. Citing "absence of any medical evidence," Gorsuch found that denial of treatment did not cause the plaintiff "irreparable harm" and did not violate her constitutional rights.
"We have here a judge that has not shown particular empathy for the situation a lot trans prisoners find themselves in," NeJaime said.
In an earlier case, Kastl v. Maricopa County Community College, Gorsuch joined an opinion that -- while recognizing a transgender person can state a claim for sex discrimination under Title VII based on gender stereotyping -- ultimately ruled against the plaintiff. The plaintiff, Rebecca Kastl, was barred by her employer from using the women's restroom until completing her gender-confirmation surgery. The court ruled that "restroom safety" was a non-discriminatory reason for the employer's decision.
The Next Scalia?
After the announcement of his nomination to the Supreme Court, Gorsuch praised Justice Scalia as a "lion of the law," and many have have compared Gorsuch to Scalia. However, that comparison doesn't bode well for the LGBTQ community.
Scalia was a vocal opponent of LGBTQ rights and voted against every major Supreme Court ruling advancing them, including Obergefell v. Hodges, United States v. Windsor and Lawrence v. Texas.
"[Trump] has nominated Judge Gorsuch to the Supreme Court, fulfilling his campaign promise to nominate a justice in the mold of Antonin Scalia, one of the most vehemently anti-LGBTQ justices to ever sit on the court who once went so far as to compare gay people to murderers," HRC's Griffin said.
However, NeJaime noted an important shift in the discussions surrounding gay rights since Scalia's time on the court.
"We are talking about religious exemptions and not the validity of Obergefell, and that tells us something," he said, referring to the 2015 Supreme Court case Obergefell v. Hodges, which gave same-sex couples across the U.S. marriage rights.
RELATED: As a Student, SCOTUS Nominee Supported Gays & Lesbians
NeJaime said he believes Gorsuch will treat Obergefell as "settled law," noting even Trump said he would treat the landmark case as such. "They are not treating Roe [v. Wade] as settled law, but I do think there are reasons to believe [we will not see] a frontal attack on Obergefell," he added.
However, he noted, "You never know what a justice is going to do when they are no longer subject to review of a higher court."
Republicans are hoping to confirm Gorsuch in April. Doing so would allow him to participate in the Court's decisions this summer.
Julie Moreau is a Post Doctoral Research Fellow in the Department of Women's, Gender and Sexuality Studies at Washington University in St. Louis. She tweets at @JEMoreau.