The U.S. military is the number-one employer of transgender people in the world, according to LGBTQ military advocate and U.S. Army veteran Sue Fulton. But Fulton, like many current and former service members, is worried that those transgender soldiers are suddenly going to be left in limbo.
On Wednesday morning, President Donald Trump used Twitter to announce that the U.S. Military will no longer allow transgender people to serve "in any capacity," reversing Obama-era policy.
Related: Trump Bans Transgender People Serving in the Military
"There are about 15,000 trans people currently surviving in the military," Fulton said, "and Trump just told them they're going to be pink-slipped."
While the Williams Institute at the UCLA School of Law estimated in a May 2014 report that there were more than 15,000 transgender individuals on active duty in the U.S. Armed forces or serving in the Guard or Reserve forces, a RAND research study released in 2016 estimated that number to be 1,320 to 6,630 active transgender service members and another approximately 1,500 on reserve.
Fulton, who retired from the military at the rank of captain, said Trump's announcement is likely to disrupt the readiness of the armed forces, where transgender people are "commanding troops, training new recruits, conducting special operations, flying jets and all of the duties that our service members perform every day."
Eric Fanning, former secretary of the Army and the first openly gay leader of any U.S. military service, told NBC's TODAY on Thursday morning he was "shocked that the commander-in-chief would turn his back on thousands of patriotic Americans who are serving."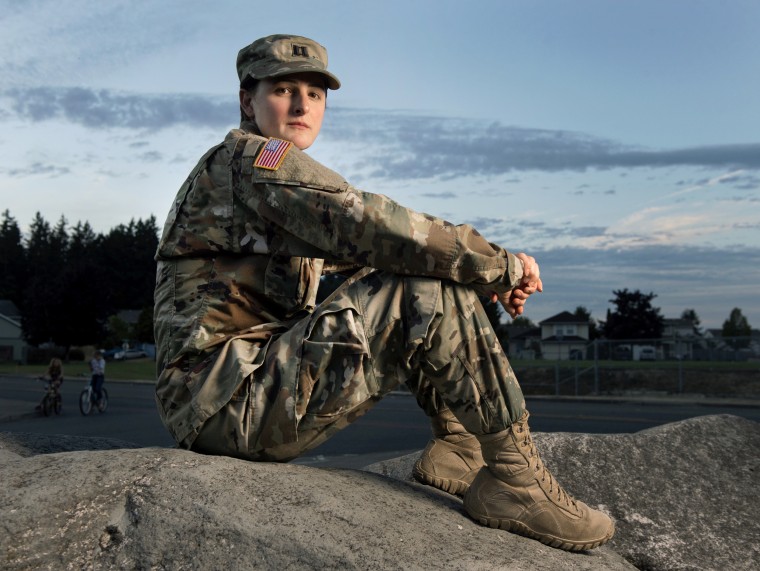 One of those service members is Capt. Jennifer Peace, an active duty Army intelligence officer who enlisted in 2005 and has served in both Iraq and Afghanistan.
"Removing transgender service members from their positions would disrupt our missions, cause a tremendous loss of experience, and damage the lives and careers of thousands of soldiers," Peace told NBC News via email. "Those who are capable of serving this country should be given the opportunity to do so and should be discriminated against based on only one criteria: their performance."
"At this point, I am confident that the military will do the right thing and ensure that those who are qualified and capable of serving will be given every opportunity to do so," Peace added. "I have served in the military for almost 13 years now and plan to continue doing so."
"Trump has more money in his wallet than it takes for trans care in the Department of Defense."
In his tweets, Trump referred to the "tremendous medical costs" associated with transgender service members as a reason for disallowing trans people to serve. According to Reuters, however, as of 2015, transition-related care was expected to cost $5.6 million a year, or "roughly little more than a rounding error" as a share of total military expenditure.
"Trump has more money in his wallet than it takes for trans care in the Department of Defense," said Tom Kolditz, a retired brigadier general and founder of the Ann and John Doerr Institute for New Leaders at Rice University. "This is about anger and appealing to a base. It has nothing to do with costs or readiness."
Kolditz noted that all of this is going to have to be put in public law by Congress or military regulations by the Secretary of Defense. "You can't just make an authoritative declaration and have the military follow," he said. "There has to be both medical and recruiting regulations that are going to be modified."
"That won't take long," Kolditz added. "But it has to happen."
Lawmakers from both sides of the political aisle, including former Vice President Joe Biden and Sen. John McCain, R-Ariz., voiced their disapproval of Trump's tweets.
"The Department of Defense has already decided to allow currently serving transgender individuals to stay in the military, and many are serving honorably today," said a statement on Sen. McCain's official website. "Any American who meets current medical and readiness standards should be allowed to continue serving."
Other lawmakers, like Rep. Vicky Hartzler, R-Mo., applauded Trump's transgender military announcement.
"I was very pleased that he took these important steps," Hartzler said. "The transgender policy from President Obama has been a huge distraction, as well as very expensive, and it was right to undo the entire policy."
Earlier this month, Hartzler introduced legislation that would have prevented money from being spent by the military's health care system for medical treatment related to gender transition.
Transgender celebrities and advocates, including Caitlyn Jenner, Laverne Cox and Chelsea Manning, also shared their reactions, as did Apple CEO Tim Cook.
LGBTQ advocacy groups, meanwhile, say they are gearing up to fight whatever policy the Trump administration puts forth on the matter.
"It's hard to sue a tweet," Sasha Buchert, said a transgender U.S. Marine Corps veteran and Lambda Legal staff attorney. "But we stand ready to take action alongside our partners at the ACLU if and when this gets translated into some kind of real policy within the Department of Defense, who was completely blindsided by this."
The Department of Defense has been referring all inquiries to the White House.
Buchert, who says she was not openly transgender during her time in the Marines for fear of being discharged, noted that the ban on transgender service members was only lifted last year and said Trump's tweets put trans people in the military in danger.
"This new policy-by-tweet approach is truly disruptive to military cohesion and threatens to put people in harm's way by forcing them into the shadows where they have to hide who they are," she said.
"Removing transgender service members from their positions would disrupt our missions, cause a tremendous loss of experience, and damage the lives and careers of thousands of soldiers."
Shane Ortega, a transgender former U.S. Army staff sergeant who retired last year after an injury, also expressed his disapproval with Trump's tweets.
"I'm entirely outraged, and I'm asking the American public to what degree and to what effort are you going to become outraged," he said during an interview on MSNBC Wednesday. "We give every ounce of everything we have to this country, and for Donald Trump to tweet this, I really feel this is the operation level of an elementary school child."