A dozen activists affiliated with the group No Justice No Pride were arrested at New York City's Pride March on Sunday, while protesting what they said was inappropriate corporate sponsorship and police presence in the LGBTQ community event.
The NYPD confirmed that 12 people were arrested, with six activists booked on charges of criminal trespassing, five charged with obstructing governmental administration and one charged with disorderly conduct.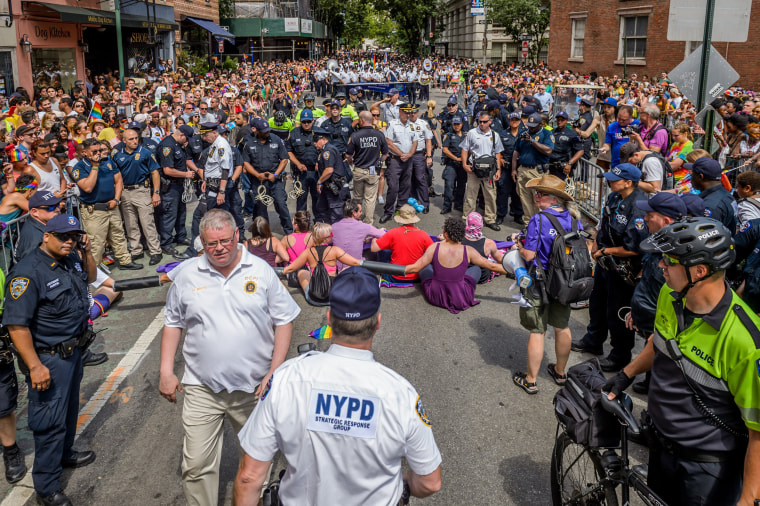 According to New Yorker Mike Basillas, a member of No Justice No Pride, about half of those arrested were released. On Monday, the remaining six with trespassing and obstruction charges were still awaiting arraignment.
"We're addressing police violence against marginalized communities, particularly black, brown and indigenous people," Basillas said, "and the corporatization and sponsorship of pride."
Across the U.S. this June, activists have been protesting police contingents marching in LGBTQ pride events. They say law enforcement presence is offensive to LGBTQ people of color and others who they say are frequently subjected to harassment and violence at the hands of police. Basillas also cited the historical roots of New York's Pride March, which was an extension of the Stonewall Riots.
"We can't say the police are our friends when this started with Stonewall," Basillas said, "which was a riot of resistance to police harassment."
Earlier in the week in a separate protest, activists used a projector to emblazon phrases like "The police will never keep us safe" across the facade of the Stonewall Inn.
Basillas said Sunday's New York protest was planned after a similar one took place at Washington, D.C.'s Capital Pride earlier this month.
On June 10, No Justice No Pride D.C. member Jen Deerinwater told NBC Out that activists decided to block that city's parade only after earlier negotiations with parade organizers failed.
"No Justice No Pride is a group of people that came together within the last couple of months, originally to ask Capital Pride to stop banking with Wells Fargo," Deerinwater told NBC Out. "We tried to have a dialogue at [Capital Pride's] last board meeting, but the dialogue wasn't fruitful."
Deerinwater, a Two Spirit member of the Cherokee Nation, cited Wells Fargo's funding of the Dakota Access Pipeline as an example of why some corporate sponsorship of LGBTQ pride parades struck her as inappropriate: "I cannot understand why Capital Pride would work with an organization that is actively causing harm to our community members."
In Columbus, Ohio, four activists were arrested for protesting at the city's June 17 pride event. Cell phone footage shared with the Columbus Dispatch showed police tackling and shoving people, while a medic poured water into the eyes of a young woman who had been maced by the officers.
Clashes with police were a theme at several pride parades this year. NBC Out reached out to the Gay Officers Action League (GOAL NY), which participates in the New York City Pride March. The group is celebrating its 35th anniversary this year.
GOAL NY President Brian Downey told NBC Out, "It's important that everybody has a voice and a seat at the table," and he said his group's mission is to help bridge the divide.
"We weren't just given the right to participate (in the NYC Pride March) in uniform. The right to participate in uniform was the result of a federal lawsuit we brought against the NYPD," Downey said.
In a short documentary about GOAL NY, officers are shown marching in an early gay pride parade without their uniforms.
"Right after I marched in the first gay pride parade," retired NYPD captain Jay Rivera said in the documentary, "I came back and my locker was vandalized."
Ever since, GOAL NY has been fighting to combat homophobia and transphobia within the police department.
Downey said that protesters "baited and antagonized" officers marching with GOAL NY, but he doesn't think the celebratory mood of the parade was dampened.
"I respect the issues that many people presented," Downey said. "I believe that there is still a certain degree of divide and a certain amount of distrust from people in the LGBTQ community with the justice system. My organization has been working on that divide for 35 years."
In a Facebook post, the New York group Hoods4Justice explained why it joined the No Justice No Pride protest at the parade.
"We stand against any police presence in Pride, since police have never stood with us," the post read. "The notion that police serve all people is a myth - they serve the white upper class and protect private property above all else."
The National Lawyers Guild sent legal observers to the New York protest and confirmed that Guild attorneys will be representing some of the 12 people arrested.