Twenty years ago, gay University of Wyoming student Matthew Shepard died after being brutally beaten on the outskirts of Laramie, Wyoming. His mother, Judy Shepard, has never stopped missing him.
"I miss talking to him, arguing with him — his big, bright smile, his great hugs," Judy Shepard told NBC News.
Six days before his death, Matthew Shepard's assailants — Aaron McKinney and Russell Henderson — picked him up at a bar, drove him to the edge of town, tied him to a fence and brutally beat him. Eighteen hours later, a passerby discovered Shepard barely alive. He was taken to a Colorado hospital where he later died on October 12. Russell and McKinney were sentenced to life in prison.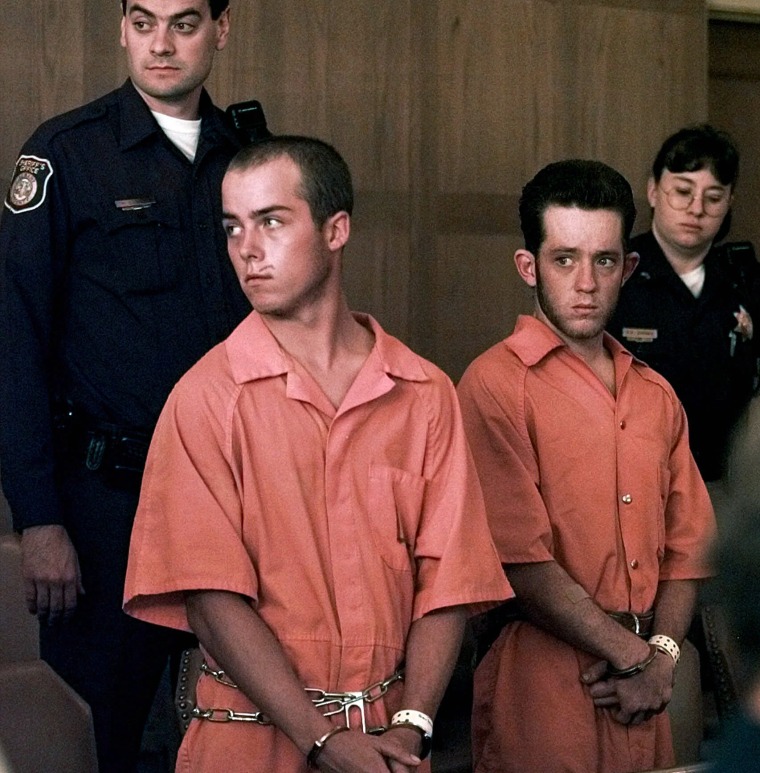 The homophobic attack of Matthew Shepard was a watershed moment for LGBTQ activism. Advocates staged protests and candle light vigils across the U.S. Activists were especially enraged that McKinney, who alleged Shepard made sexual advances toward him, claimed "gay panic" in his defense — a defense that is still legal in most states.
On December 1, 1998 — what would have been Matthew's 22nd birthday — his parents launched The Matthew Shepard Foundation, an organization with a mission to "erase hate by replacing it with understanding, compassion and acceptance," according to its website.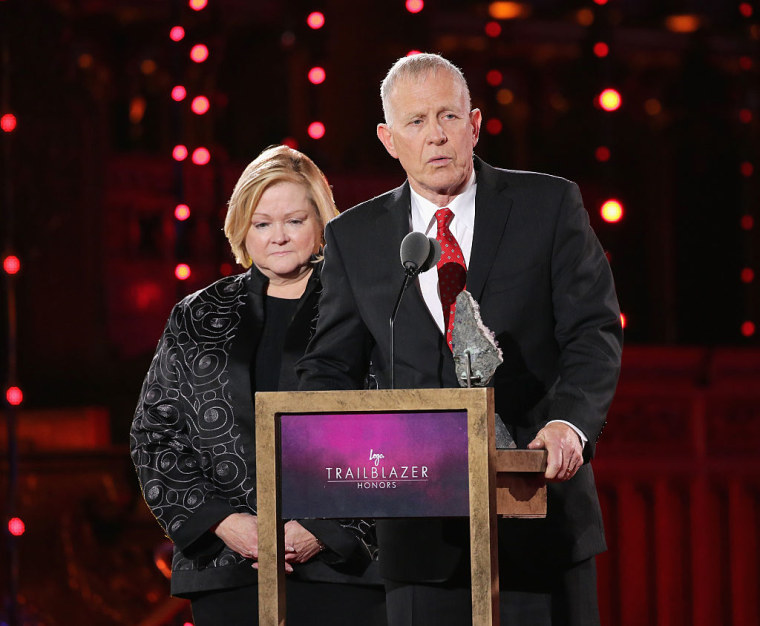 For more than a decade, the foundation lobbied for better federal hate crime legislation, and in 2009, Congress passed the Matthew Shepard and James Byrd, Jr. Hate Crimes Prevention Act. The federal law expanded the power of the U.S. Department of Justice to investigate and prosecute hate crimes based on sexuality and gender.
Judy Shepard remembered when then-President Barack Obama signed the act into law. "It felt marvelous," she said, "but also there was an understanding that it wasn't over yet — many things were still being denied the gay community."
A tragedy that changed hearts and minds
Heidi Beirich, director of the Intelligence Project at the Southern Poverty Law Center, said the Matthew Shepard and James Byrd Jr. Hate Crimes Prevention Act "was a big advance on legislation at the national level." But she said the legislation's jurisdiction is narrow. "It didn't have much impact, ultimately, on a lot of state-level laws," she explained.
In the years after Matthew Shepard's death, several states added sexuality and gender to their hate crime laws. Fifteen states have still not included LGBTQ protections. Five states — Arkansas, Georgia, Indiana, South Carolina and Wyoming, where Matthew Shepard was attacked — have no hate crime legislation at all.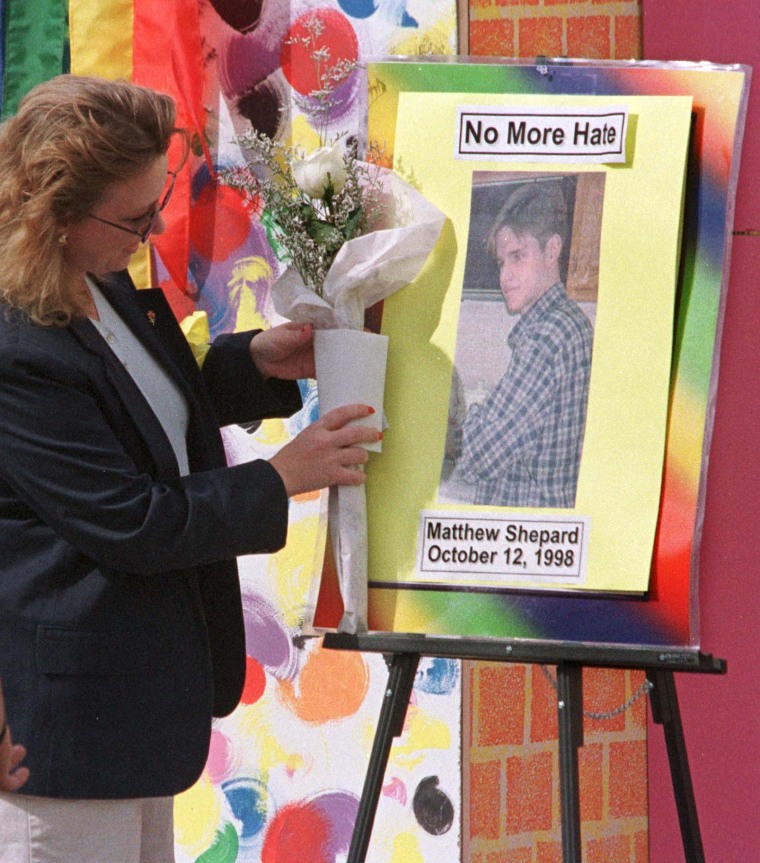 But activists say Matthew Shepard's legacy and his parents' efforts to spread LGBTQ acceptance have had a far-reaching impact on the hearts and minds of Americans. Under the umbrella of the Matthew Shepard Foundation, Judy and Dennis Shepard launched Matthew's Place, an online resource for LGBTQ youth.
"[Judy] has been hopeful that other parents who have kids who are part of the LGBTQ community would notice what she and Dennis have done and be supportive of it and, specifically, be welcoming to their kids who might come out," said Jason Marsden, executive director of the Matthew Shepard Foundation.
Advocates say the tragedy helped spark a seismic shift in attitudes toward the LGBTQ community. In 2015, the year same-sex marriage became legal across the U.S., a gallup poll showed that 57 percent of Americans said they would not be upset if their children said they were gay, compared to 9 percent 20 years earlier.
Several influential films were made in response to the tragedy, including the 2013 documentary "Matt Shepard Is a Friend of Mine," and "The Laramie Project," a 2002 HBO film based on the play by Moises Kaufman.
The play, performed over 2,000 times in towns and cities across the U.S., centers on the residents of Laramie as they struggle to understand how the murder could have happened in their town. Kaufman said the story is popular because many Americans see their hometowns in Laramie.
"What was striking about Laramie was not how different it was from the rest of the country, but how similar it was to the rest of the country," Kaufman said.
The tragedy also triggered a major shift in the way news agencies cover LGBTQ issues, according to Cathy Renna, an LGBTQ media activist. For more than a decade, Renna worked for the LGBTQ advocacy group GLAAD. After Shepard's body was found, Renna traveled to Laramie, where she met with journalists covering the story to help them understand how common anti-LGBTQ hate violence is.
"At the time it was really very basic education," Renna recalled. "It was really just showing them the numbers. People had no idea."
LGBTQ hate violence on the rise
Twenty years after her son's murder, Judy Shepard said she is "really mad."
"We made such progress, and now it's being tossed aside," she explained. In particular, she is upset with the Trump administration, which has made efforts to pull back on hard-earned LGBTQ protections.
The administration, for example, has attempted to ban transgender military personnel, revoked visas from same-sex domestic partners of foreign diplomats, and established a special religious liberty task force advocates say will permit discrimination in the name of religion.
Hate-related homicides against the LGBTQ community have risen sharply since the 2016 presidential election, according to the Anti Violence Project, an organization that tracks these incidents. In 2017, the organization tracked 52 hate violence-related homicides against LGBTQ people — an 86 percent increase from 2016. While it is unclear what's behind the reported increase, the Human Rights Campaign, the largest LGBTQ rights group in the U.S., has attributed it to the influences of anti-LGBTQ political rhetoric.
Advocates say transgender women of color are at the epicenter of the current hate-violence epidemic.
"We've seen a steady rise over the years of incidents of hate violence and also homicides of trans women of color that we also would really call a crisis," Beverly Tillery, executive director of the New York City Anti-Violence Project, told NBC News. "I think people are starting to pay attention to [this] more, but there hasn't necessarily been a clear response in terms of taking action to stop the violence."
Tillery said transgender women of color are vulnerable to hate violence because they exist at the intersection of multiple marginalized identities. In 2018 so far, at least 22 transgender people have lost their lives to violence, according to the Human Rights Campaign.
While American culture saw a major evolution in attitudes toward the gay community in the wake of Matthew Shepard's death, Tillery said the transgender community has yet to experience this shift.
"Unfortunately, 20 years has gone by, and we're still having the same conversation," Tillery lamented.
Hate crime legislation "never enough"
Over the last two decades, Judy Shepard has tirelessly traveled the U.S. She has told her son's story at colleges, high schools, and conferences across the country.
The mother said hate crime legislation is important but is "never enough, because the hate's still out there."
"You can't, as they say, legislate that away," Shepard said, adding that she wants to see a change in cultural attitudes toward marginalized communities.
"It's not just about the gay community, it's every marginalized community in today's world," Shepard said. "We all need the help and protect of each other, and if we started taking care of each other, that would be brilliant."
"Matt's final resting place"
Two decades after his death, Matthew Shepard's family has chosen his final resting place.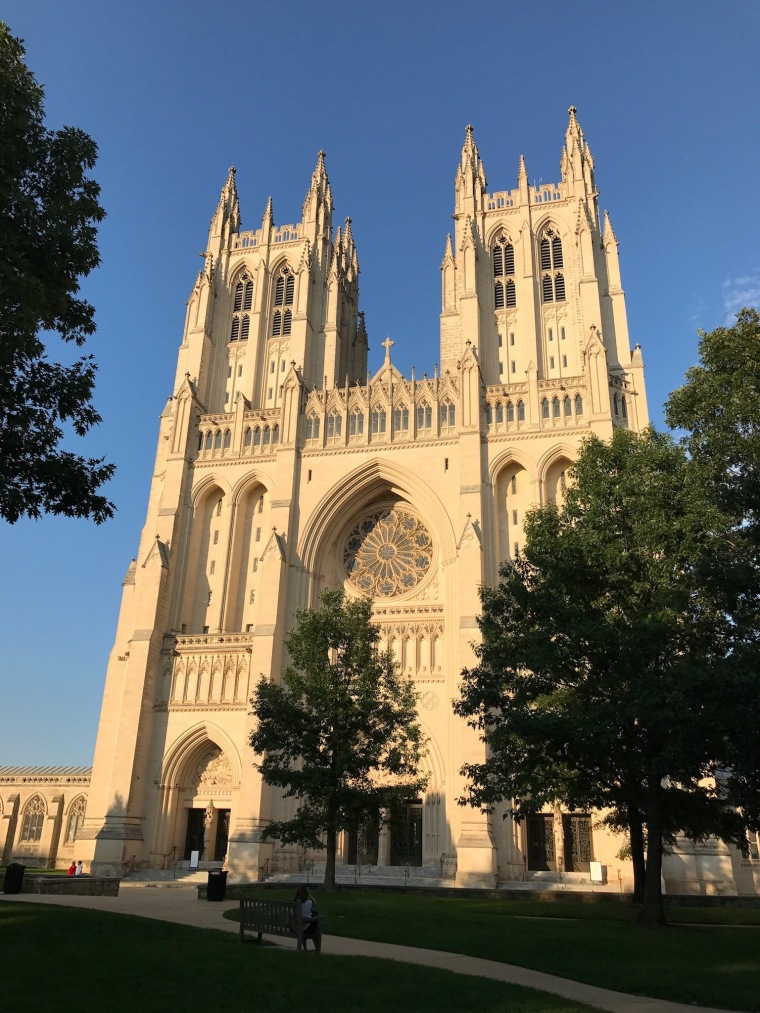 "We've given much thought to Matt's final resting place, and we found the Washington National Cathedral is an ideal choice, as Matt loved the Episcopal Church and felt welcomed by his church in Wyoming," Judy Shepard said in a statement shared with NBC News on Wednesday.
Matthew Shepard will be interred on Oct. 26. He will be buried alongside other notable Americans, including Woodrow Wilson and Helen Keller.