Retrospective looks at "Dawson's Creek" often focus on how the titular character Dawson Leery can be considered "annoying" and a "wannabe filmmaker"who treated women as collateral to actualize his vision of himself as a tortured artist. But besides introducing viewers to an arguably excruciating main character, the WB show also gave viewers one of the most iconic moments in television history back in 2000: primetime TV's first "passionate" gay kiss.
Nearly 20 years later, Kerr Smith, who played Jack McPhee on the teen drama, reflected on the impact of that kiss in an interview with Too Fab.
"We were the first ones to do that," Smith told the entertainment blog. "It was a crazy experience back then."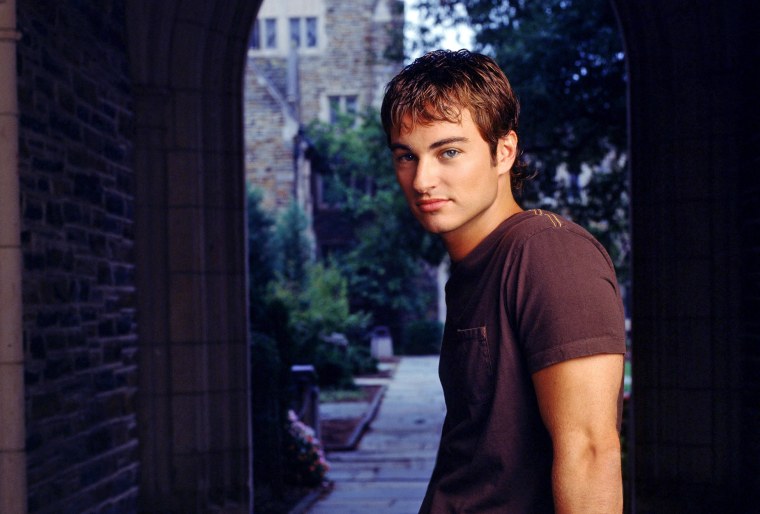 During the show's season 3 finale, titled "True Love," Jack confessed his true feelings for Ethan (Adam Kaufman) with a kiss. The storyline ends in heartbreak — Ethan has got back together with his ex-boyfriend and doesn't reciprocate Jack's feelings — but history was made nonetheless.
Before "Dawson's Creek," Will and Jack kissed on NBC's "Will and Grace" to protest the fact that they had never seen two gay men kiss on television, and a few other shows, including "LA Law" and "Relativity" featured two women kissing. Yet, LGBTQ representation either generally wasn't included or lacked nuance in earlier television eras. In the 1996 "Friends" episode "The One With the Lesbian Wedding," for instance, the series did not show Susan and Carol kissing at their own wedding ceremony.
As a result, McPhee said he felt a "huge" responsibility to play Jack authentically after Kevin Williamson, the creator of "Dawson's Creek," approached him with the storylines of Jack's coming out and the kiss.
While Jack dated Joey (Katie Holmes) in earlier episodes, Smith said Williamson "always had the intention of making one of his characters gay."
"He was still in the closet at that point too, and every character in 'Dawson's Creek' is an extension of Kevin Williamson," Smith told Too Fab.
Greg Berlanti, the openly gay writer, producer and director behind hits, such as "Chilling Adventures of Sabrina" and "You," mostly wrote Jack's character arc, according to Smith.
"It was an intense experience and I remember calling everybody I respected and said, 'Hey should I do this?'" Smith recalled. "Doing the first male-male kiss, I remember it was intense. I'm glad we did it and it was part of history."
Smith and Berlanti have recently reunited for The CW's "Riverdale," based on the characters of Archie Comics. Smith joins the cast as Mr. Honey, a new strict school principal, while Berlanti executive produces the show.
"Riverdale" also includes a gay character, Kevin (Casey Cott), whom Smith likened to Jack on "Dawson's Creek." Kevin, too, made history as the first openly gay character in Archie Comics history.
When it comes to LGBTQ television representation, however, there's still room for improvement, according to LGBTQ advocates. According to GLAAD's Where We Are on TV report, LGBTQ characters made up 8.8 percent of regular characters on primetime scripted shows in 2018.