KIEV, Ukraine — In a four-bedroom apartment found among a row of typical Eastern bloc-styled buildings in one of Kiev's sleeping districts, a group of strangers from around Ukraine is making a fresh start in a place they now consider home.
They call their newly acquired residence "The Shelter," a safe space where they are free to be themselves — a mix of ages, backgrounds and genders congregating under one roof, because their sexual orientation left them with nowhere else to go.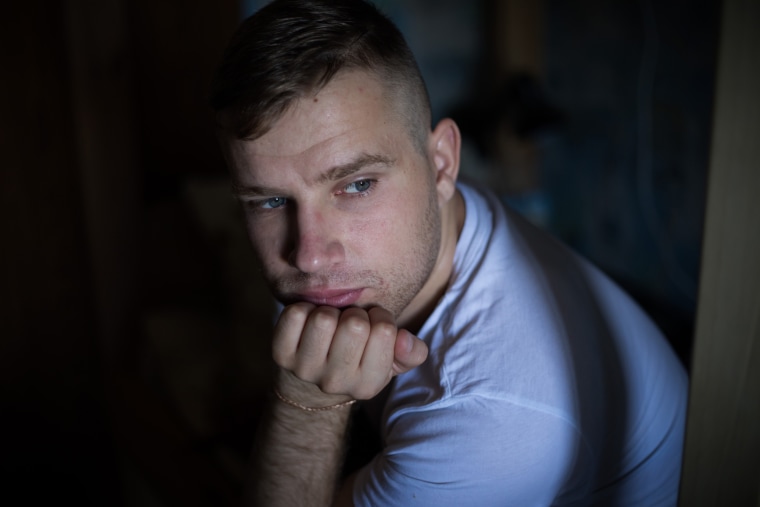 "I've known I was gay since I was a child," said Nik Litvinov, 22, who has been at The Shelter on and off since January of this year.
"My parents died, and the rest of my family died with my parents," he told NBC News. "They know that I'm gay and don't accept me. That's why I came into The Shelter."
Ukraine is still a young country when it comes to recognizing the rights of its LGBTQ citizens, a situation perhaps comparable to the fight for sexual equality in the West during the late 1960s.
"If it wasn't for The Shelter ... I'm afraid to think what would have happened to my life."
While it was one of the first post-Soviet countries to decriminalize sex between two men — a move taken to rid the stigma preventing those with HIV from seeking medical aid — Ukraine today lacks the legal tools and legislative reforms for LGBTQ people to live openly in society without fear of discrimination.
In 2016, there were 276 documented cases of violent and discriminatory acts of homophobia and transphobia, as stated by Nash Mir, one of the few organizations tracking hate crimes against the Ukrainian LGBTQ community.
"There have been a lot of moments where I've feared for my safety," Litvinov said, having grown up in the now self-proclaimed Donetsk People's Republic, a separatist pro-Russian state in eastern Ukraine, where he was bullied to the point of attempted suicide.
"If it wasn't for The Shelter," he said, "I'm afraid to think what would have happened to my life."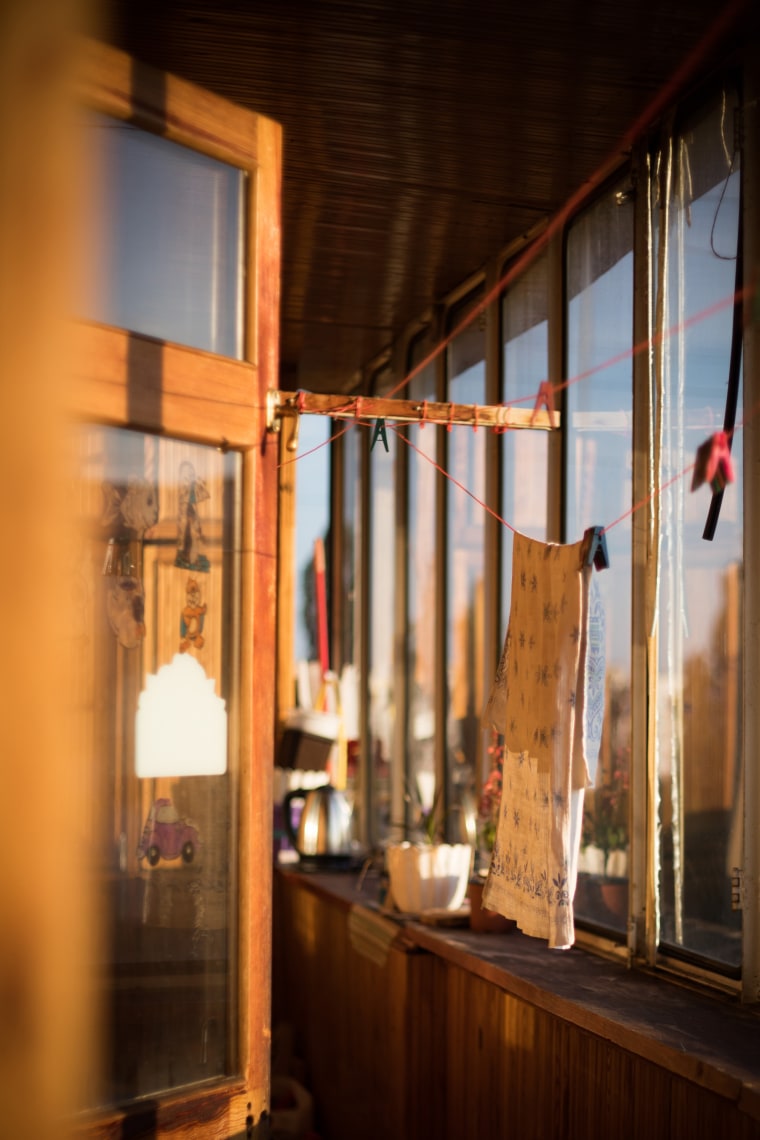 The Shelter, which first opened its doors in June 2014, was started by a Ukrainian non-governmental organization called Insight. It is the only housing project in Ukraine offering assistance to LGBTQ individuals — the majority of them young adults — kicked out of their homes due to homophobia or transphobia.
"We try to create conditions for people who have lost everything," Olga Olshanskaya, The Shelter's project coordinator, said, "so that they can focus on socialization in a new city, find a new job and, later, find a home."
Residents of The Shelter, of which there can be a maximum of nine at any given time, typically stay for three months, with the possibility of an extension if needed. The apartment is stocked with food and basic household necessities, including clothing and linens donated by Insight and the organization's wider community. A one-month travel card is provided to each resident, and there is also access to a psychologist and legal aid.
"These aren't people who are generally happy and everything is fine, so they can come here with some problems," said Igor, 48, who has lived in The Shelter since June of last year. He assists with settling new arrivals, making them aware of the general house rules of respecting others and their shared environment.
"They've faced discrimination, and a lot of them don't have family because their relatives have abandoned them," added Igor, who asked that his real first and last name not be shared out of fear for his safety.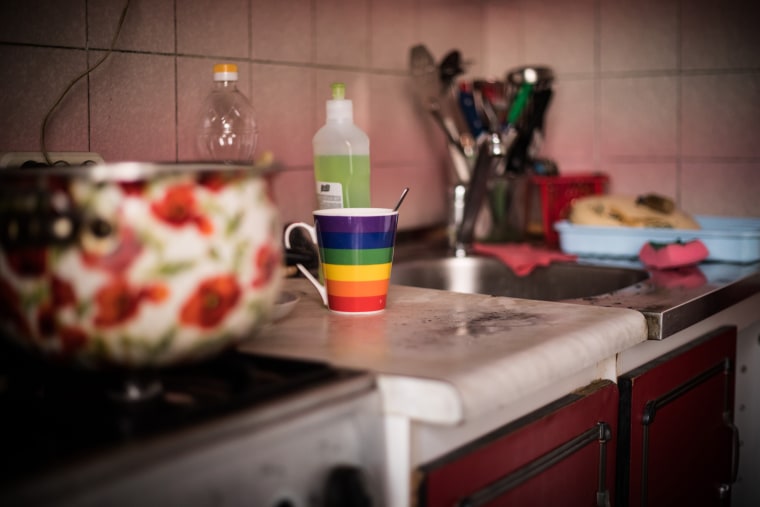 According to a 2016 poll by Kyiv International Institute of Sociology, more than half of the Ukrainian population maintains a negative view of homosexuality, with only 33 percent of citizens supporting LGBTQ equality, which includes granting things like marriage, civil partnerships, adoption and shields from prejudice.
For Igor, who works as a physician, The Shelter has been one of the few places where he can be open about his sexuality. He said he is forced to live a double life, fearing what the repercussions would be of introducing his boyfriend to the colleagues that ask him to bring his wife to dinner.
"I would be out of a job," he said. "It wouldn't be open discrimination, but they would find a reason to get rid of me because of my homosexuality. The stigma is too big."
Legislation prohibiting discrimination at work based on the grounds of sexual orientation was passed by the Ukrainian government in 2015 — a move required to satisfy visa-free travel within the European Union by Ukrainian citizens.
Following the Ukrainian Revolution in 2014 — which saw the ousting of former President Viktor Yanukovych, along with the country's break from Russia and its move toward Europe — Ukraine adopted an action plan to implement a national strategy for human rights, aimed at developing policies in line with European norms by 2020. Many of these proposals bring LGBTQ rights to the forefront, but only a few have been implemented. The criminal code, most notably, still fails to prosecute hate crimes due to a person's sexual orientation.
Related: Kiev Hosts Largely Incident-Free Gay Pride March
Absence of education aimed at raising awareness of homosexuality has stymied the expansion of LGBTQ rights in Ukraine, a country already deeply ingrained with systemic intolerance lingering from traditional Orthodox values and Soviet mentality.
"After the [Ukrainian] Revolution, the situation has not changed much," Olshanskaya lamented, though she did point to the success of recent pride marches held in Kiev and Odessa, which were supported by both police and local authorities.
The revolution and the continued war in the eastern part of the country has, however, helped The Shelter become a reality, according to Olshanskaya. Funding before 2014 was "simply not possible to find," she explained. But the military actions taken in the eastern region allowed Insight to focus on getting internally displaced LGBTQ people out of the country's conflict areas, particularly the Donetsk and Luhansk regions.
"Transgender people who felt threatened in the [conflict zone] began to contact our organization, and a clear action plan for The Shelter was formed," Olshankaya said. "Our funders helped us get people out of Donetsk with their things. We wanted to help people from our own community."
Sixty-five people have lived in The Shelter since it opened in mid-2016, and most of those living there during a visit earlier this month were from the eastern areas of the country where fighting is still taking place.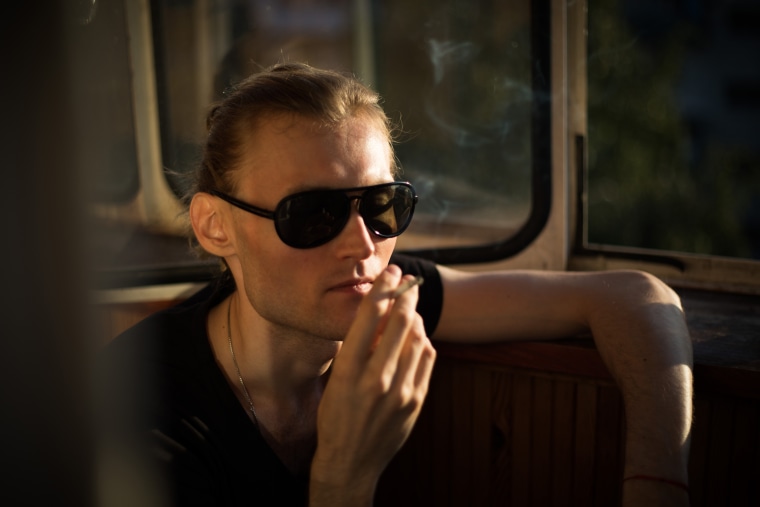 "In Donetsk, they're just trying to survive — food and sleep is the first necessity," said Slavik Smirnov, a 28-year-old model who arrived at The Shelter two months ago from Donetsk.
"There are lots of gay people in Donetsk," he said. "But it's much more relaxed and understanding here in Kiev. It's my home here. My first home since Donetsk. It's a very good start before other life begins."
In April 2016, The Shelter was opened to LGBTQ people living throughout Ukraine — not just those from the war-torn eastern area of the country. And as Insight continues to work, without government assistance, to build a better Ukraine for all, those in The Shelter prepare for a brighter future. In the coming months, for example, Litvinov plans to move to Moscow to live with his boyfriend.
"There's not much more homophobia there than in Kiev," he said. "Socially, going outside the flat, it's exactly the same as here. The only thing is that there's this anti-gay propaganda law."
Russia's gay propaganda law was passed in 2013 and bans the promotion of homosexuality to people under 18. It was deemed discriminatory by the European Court of Human Rights earlier this year. A similar law was debated in Ukrainian parliament but withdrawn in 2015.