U.S. Ambassador to the United Nations Nikki Haley spoke out late Monday afternoon against a reported anti-LGBTQ campaign in Chechnya.
"We continue to be disturbed by reports of kidnapping, torture, and murder of people in Chechnya based on their sexual orientation and those persecuted by association," Haley said in a statement.
"If true, this violation of human rights cannot be ignored," Haley continued. "Chechen authorities must immediately investigate these allegations, hold anyone involved accountable, and take steps to prevent future abuses."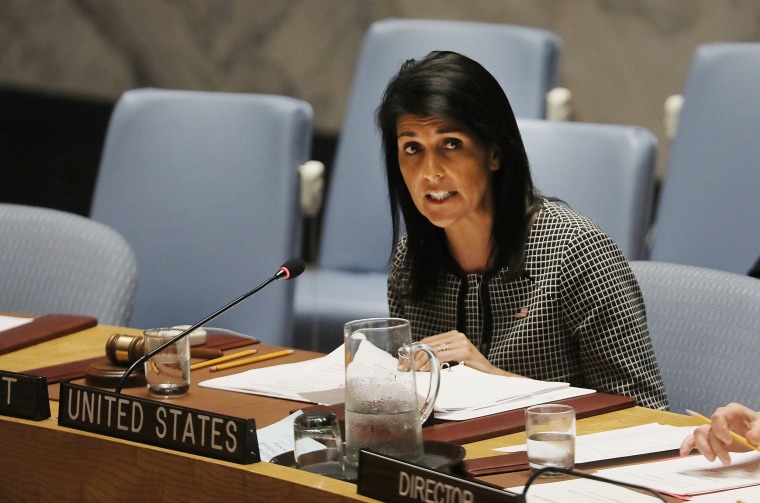 Haley is the second member of the Trump administration to condemn the reported LGBTQ crisis in Chechnya, where police are said to be arresting and detaining men believed to be gay or bisexual — then torturing them sometimes to death.
On April 7, the U.S. Department of State urged Russia to investigate the Chechnya situation.
"We are increasingly concerned about the situation in the Republic of Chechnya, where there have been numerous credible reports indicating the detention of at least 100 men on the basis of their sexual orientation," State Department spokesperson Mark Toner said.
"We urge Russian federal authorities to speak out against such practices, take steps to ensure the release of anyone wrongfully detained, conduct an independent and credible investigation into these, reports and hold any perpetrators responsible," Toner continued.
The Chechen crisis came to light in early April, after independent Russian newspaper Novaya Gazeta published an expose revealing the location of a secret detention center that some U.S. media later referred to as a "gay concentration camp."
An advocacy group, the Russian LGBT Network, set up an emergency hotline and began working with victims of the anti-LGBTQ campaign. On April 12, the group's International Advocacy Officer Natalia Poplevskaia told NBC News they have begun evacuating LGBTQ Chechens to safety.
The Russian LGBT Network said Friday that it has received about 50 calls for help from people inside Chechnya or who have recently escaped to avoid persecution.
"People are very intimidated and not eager to talk. They are hesitant to even talk to us," explained Poplevskaia, who said the organization was not connecting victims with reporters for interviews at this time. "The people who have been targeted by the campaign need some time to get back to normal life."
Numerous other officials — including former Vice President Joe Biden — have called for Russia to intervene in the Chechen crisis. Chechnya is culturally isolated from Russia but is overseen by the Kremlin and subject to Russian law.
"We are against all forms of discrimination, including against people based on sexual orientation," Haley said in the statement Monday. "When left unchecked, discrimination and human rights abuses can lead to destabilization and conflict.
Chechnya's Moscow-backed president, Ramzan Kadyrov, has denied allegations of an anti-LGBTQ campaign. His spokesman, Alvi Karimov, called Novaya Gazeta's report "an absolute lie," saying there were no gay men in Chechnya to be persecuted.
"Nobody can detain or harass anyone who is simply not present in the republic," Karimov told the Interfax news agency.
The UN Security Council will meet Tuesday afternoon to discuss international human rights. Chechnya's LGBTQ "purge" is said to be on the agenda for the meeting.