/ Source: Associated Press
The first-ever U.N. independent expert selected to examine violence and discrimination against lesbian, gay, bisexual, and transgender people has vowed to forge ahead with wide-ranging investigations despite formidable opposition to his appointment in a U.N. vote.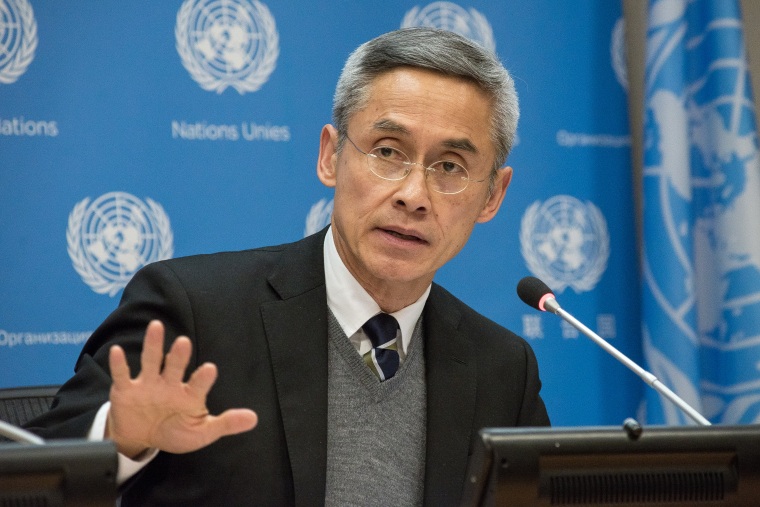 "This mandate will cover every country under the sun and under the moon," Vitit Muntarbhorn said at a LGBT conference in Bangkok on Wednesday. "There can never be a political or legal vacuum in terms of protecting people."
This includes working with countries opposed to his appointment, Vitit said.
"We also have to cover not only peace, but war," he said, noting that members of the Islamic State group have reportedly killed people accused of being gay by throwing them off buildings.
Vitit's U.N. position was in peril last week when a group of African nations nearly derailed his appointment by the Human Rights Council, saying the U.N. was prioritizing LGBT issues over discrimination based on race or religion. Blocking a Human Rights Council appointee would be unprecedented, according to U.N. officials.
Vitit, who was appointed on Sept. 30 and has started his duties, faces a final vote in the U.N. General Assembly later this month but is expected to be approved. In the meantime, he says he will "just carry on with the work."
He is in charge of writing a U.N. report on violence against LGBT people, as well as receiving and responding to complaints of abuse on the basis of sexual orientation or gender identity.
To achieve these goals, he plans to visit a "balance" of developed and poorer countries in different regions.
"No entity, no authorities are monolithic," Vitit said. "We will find strands, advocacy of kindness, consideration, humanity, in pretty much every region, and we must use that well in terms of building the capacity to rationalize with those authorities that might not yet be open enough."
"You will always find someone, even among those governments, that are slightly more open to discussion," he added.
Along with Africa, opponents to Vitit's appointment include countries in the Middle East as well as China and Russia. At least 76 countries have laws in place that criminalize or discriminate against people based on sexual orientation or gender identity, according to a U.N. report last year.
In a fiery speech to hundreds of cheering gay rights supporters, Vitit emphasized the need for a wide, inclusive focus.
Vitit was previously a U.N. outside investigator into human rights in North Korea, which consistently denied his requests for meetings during his six years in the role.