Following outrage by HIV advocates after UnitedHealthcare sent a rejection letter to a patient seeking Truvada — denying him due to his "high risk homosexual behavior" — the insurer announced Friday it is changing its policy for the daily HIV prevention pill "effective immediately."
"We apologize for the insensitive language appearing in the letter and regret any difficulty it caused. We have corrected our letters, removed the prior authorization requirement for Truvada and members can fill their prescription at the network pharmacy of their choice," a spokesperson for the company wrote in an email to NBC News Friday night.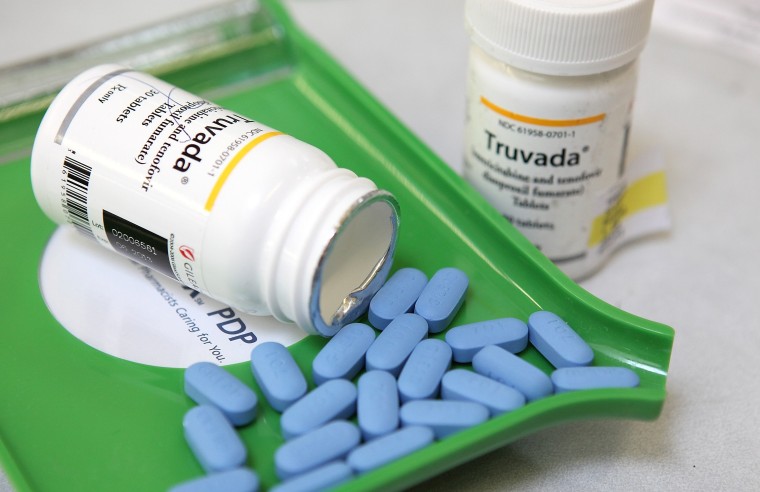 The monthlong controversy started with a pre-authorization denial letter sent to Thomas Ciganko, a New York man whose physician prescribed Truvada for Pre-Exposure Prophylaxis (PrEP). While the rejection came as a surprise, the stated reason was the real shock.
"The information sent in shows you are using this medicine for High risk homosexual behavior," the letter, dated July 11, 2017, read. In the same paragraph, however, the letter listed an approved reason for taking the medication "to reduce the risk of sexually acquired HIV-1 infection in adults at high risk."
In 2012, Truvada became the first medication approved by the Food and Drug Administration to reduce the risk of HIV "in adults who do not have HIV but are at high risk of becoming infected." Approximately 100,000 people in the U.S. are using the medication for PrEP.
Ciganko said he was "very angry" upon reading the letter. "I felt like they were saying, 'You people are different, and your behavior is not within our moral code,'" he told NBC News.
Ciganko shared the letter with HIV advocates from ACT UP New York and Treatment Action Group, who spread the word about the incident through social media, press interviews and an online petition to the New York State Health Commissioner.
James Krellenstein, a member of ACT UP New York and the author of the petition, said he was "shocked" and "appalled" by the situation.
"This is literally one of the largest health insurers in the country denying the most effective method of HIV prevention to a patient apparently because of his sexual orientation," he said. "When this patient gets denied, he is being put at risk for becoming infected with HIV."
Krellenstein said Ciganko is just one of the many people he knows of who have been denied Truvada.
After being informed by NBC News of the insurer's policy change, Krellenstein said, "I guess my first reaction is sort of, 'Wow.'"
"This proves activism and resistance works. If our community gets involved and we stick together and advocate for ourselves, we can achieve victories, and we can ensure these unnecessary restrictions will not be there," he said.
Krellenstein added, however, that "we might have won this battle, but the war isn't won."
"We need to at some point deal with the base cause of these restrictions, which is abusive pricing practices," Krellenstein said. While Gilead Sciences, the drug's manufacturer offers programs to help patients pay for Truvada, many have cited its cost of around $1,500 a month as a barrier to access.
Upon hearing about UnitedHealthcare's policy change, Ciganko said he's "pleased they're doing the right thing" and said the new policy — particularly the removal of the prior authorization requirement — will be "incredibly more convenient."
"I'm very happy if releasing this letter has played any part in bringing forward positive change," he added. "I'd do it in a heartbeat again."