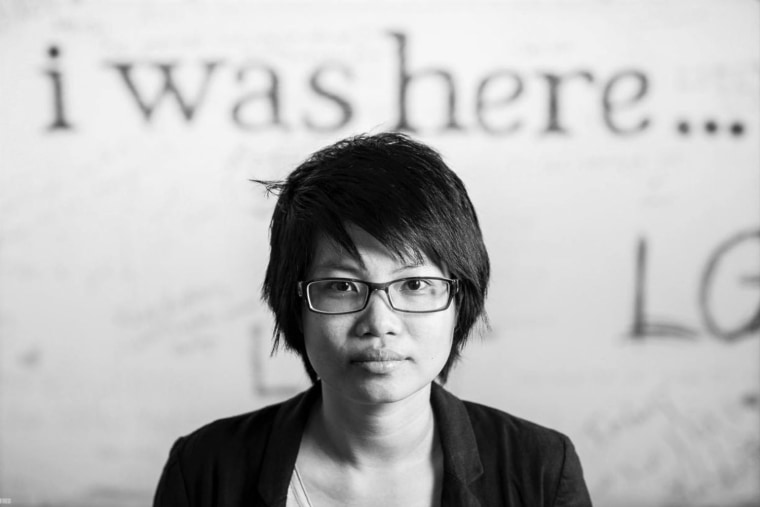 For Nguyen Hai Yen, it all started with the need to find a connection. As a queer woman living in Vietnam during the early 2000s, it was easy to feel like she was the only one.
At a time when being gay or queer was still considered by many in the country a "social evil" on par with drug use and prostitution, coming out in Vietnam wasn't necessarily the easiest thing to do. So Yen decided to turn to the one place she knew of to try and find a connection to other people like herself: the internet.
"I became the administrator of a lesbian online forum," Yen told NBC OUT. "The internet community was a safe space for us to meet, so we met each other and discussed things like dating or coming out."
This was in 2004, and Yen described a loose network of online forums and websites for lesbians, gay men, gay teens and transgender women that each had a large following but mostly remained separate and disconnected from one another.
"The issue of rights for the broader LGBTQ community was never mentioned," she said.
"I always tell people in Vietnam, not only do you get to see changes being made, you're also a part of it ... That is precisely why the LGBTQ movement in the country is thrilling and humbling. It has been a transformative experience to see your effort actually changing the society right in front of your eyes."
This began to change in 2008, when the Institute for Studies of Society, Economics and Environment (iSEE), a civil society organization in Hanoi, invited Yen and other online forum administrators to come together and discuss the idea of joining together in building a more cohesive and focused community.
"iSEE decided it should be the community's voice that brought up their own issues," Yen explained.
The group met in Hanoi that fall, and in many respects, this is when the LGBTQ movement in the country really began to blossom. Today the movement is in full bloom, and this month Vietnam is celebrating its fifth year of Viet Pride with celebrations occurring in 36 provinces across the country.
Activists like Yen are now turning their focus toward nurturing a new generation of young leaders in order to build on the successes that have already been achieved in the country's relatively young fight for LGBTQ rights.
"The first generation of leaders is now at their late 20s or 30s," iSEE Chairman Le Quang Binh told NBC OUT. "They are [now] building the second generation of leaders…[who] are young, passionate, committed and daring."
With the removal of a ban on same-sex marriage in 2015 and the passage of a law that will allow those who undergo gender reassignment surgery to register under their preferred gender, the LGBTQ movement in Vietnam has achieved a remarkable amount of success in a relative short amount of time. But activists like Yen stressed it is still important to change hearts and minds at the ground level, to ensure that the policy successes achieved in Hanoi go hand in hand with a broader social acceptance for the LGBTQ community in the smaller provinces across the country.
"It's important that local activists organize Viet Pride activities and celebrations in a way that is suitable to their society," Yen explained. She now works as a program manager at ICS, a civil society organization in Ho Chi Minh City, where she is helping to develop this new generation of local leaders through a curriculum of training, coaching and follow-up.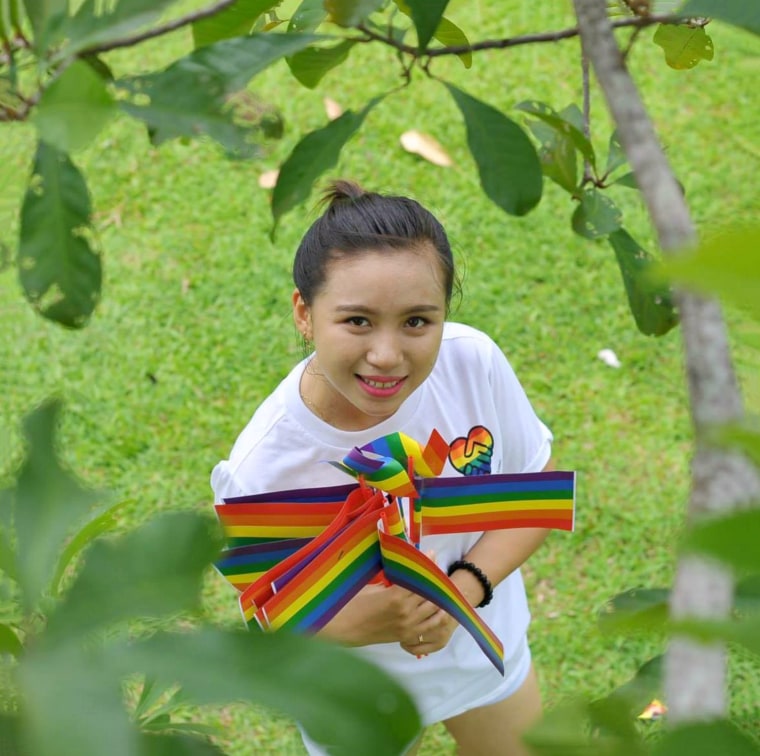 Ngoc Nhu Truong is one of those leaders and lives in Vinh Long Province. She said life as a sexual minority in Vinh Long is much different when compared to the metropolises of Hanoi or Ho Chi Minh City.
"The LGBTQ community here still suffers many prejudices from local people," Truong told NBC OUT. "The main reason for this judgment is a lack of understanding. Many people still believe being gay is the result of an illness or something that is learned from friends."
Truong said these biases prevent many LGBTQ people in Vinh Long from being more open about their sexuality and gender identity. In fact, before coming out, she herself was once engaged to be married to a man.
"After canceling the wedding I knew I had to confront the fact that I was gay," she said. "It was then that I joined the movement fighting for the rights of the community in the hopes that these prejudices would stop."
In the past three years, Truong has helped organize a number of efforts in her community, including a conference for parents of LGBTQ children and Vinh Long's recent Pride events. She credits training she received from ICS as providing her with the tools and skills needed to be an effective leader.
"At first I just followed the Facebook page of ICS to see their activities and learn from the experience," Truong said. "Then in 2014, ICS established [a leadership program],and I was chosen along with 21 people to participate."
Yen helped manage the program, which was one of the first leadership programs for LGBTQ activists in Vietnam, and Yen has been a mentor to Truong since.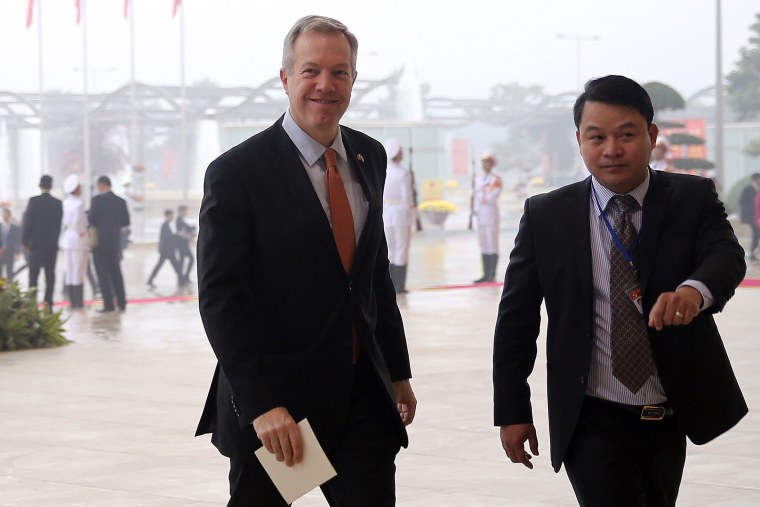 U.S. Ambassador to Vietnam Ted Osius applauds these types of efforts. "These are really brave, dynamic people who are making changes that I think will have an impact even beyond the LGBTQ community," he told NBC OUT via Skype.
"What iSEE and others have shown is that there is no threat from that part of civil society that deals with LGBTQ equality or the environment … or health issues, or disabilities. That the growth of civil societies is good for Vietnam," Osius added.
Osius himself has been described by many in Vietnam as a role model for the LGBTQ community, and he said he has been heartened by the warm reception that he, his husband and their two children have been given by the Vietnamese people.
"From the moment we got off the plane … we were with my mom, a three-generational family, and we were with our son. And right away people saw something in our family that they could identify with," Osius explained. "Family values are everything in Vietnam -- and we're a family."
In applauding the efforts being done at the grassroots level for LGBTQ rights in Vietnam, Osius also noted the contributions being made by some individuals working in government as well.
"The National Assembly, when it passed the civil code that had these provisions for transgender persons, was kind of stepping out ahead of society," he cited as an example. "So the government should [also] get some credit here."
This type of policy success has established Vietnam as one of the most progressive countries in the region when it comes to LGBTQ rights.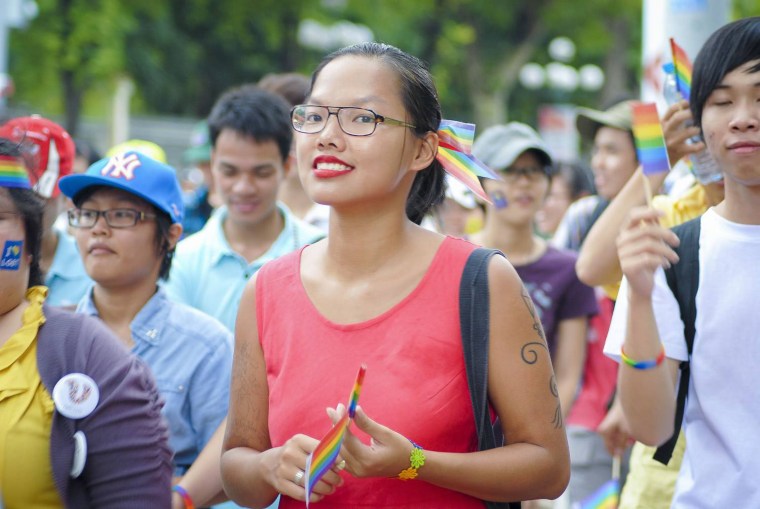 "The LGBTQ movement in Vietnam has had this really strange and unprecedented opportunity to grow so fast -- it's head spinning," Nga L.H. Nguyen told NBC OUT. She joined the movement in 2013 and now works on the organizing board of Viet Pride.
Nguyen noted there is still a lot of work to be done, including creating more inclusive workplaces and mainstreaming LGBTQ education in schools to combat widespread bullying of LGBTQ students. But she is proud of the progress her country has already achieved and the leaders it has produced.
"I always tell people in Vietnam, not only do you get to see changes being made, you're also a part of it, you get to put your hand into it," Nguyen added. "That is precisely why the LGBTQ movement in the country is thrilling and humbling. It has been a transformative experience to see your effort actually changing the society right in front of your eyes."