A viral video of a gay teen punching a classmate who had allegedly been harassing him underscores "a systemic failure" to address the prevalence of anti-LGBTQ bullying in schools, according to some experts and advocates.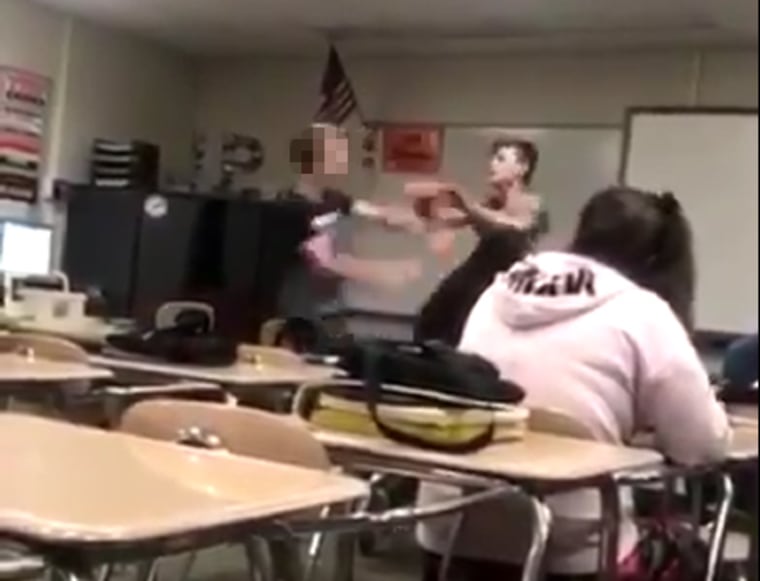 The video shows gay student Jordan Steffy, a junior at LaPorte High School in Indiana, yelling at a classmate who can be seen slowly walking toward him. Steffy can be heard telling the other student to stop calling him a "faggot," to which the classmate responds by using the slur repeatedly. In the video — which has been widely shared on Twitter since it was first posted by Steffy on Friday — the gay teen can then be seen shoving and punching the other student. At the end of the video, an off-camera voice, widely assumed to be that of a teacher, can be heard saying, "Whoa, whoa, whoa whoa. Hey, Jordan," presumably telling Steffy to stop hitting his classmate. It is unclear, however, what led up to the recorded incident.
The anti-gay taunting seen in the video was not an isolated incident, according to Steffy's mother. Angela Fillmore told NBC News that her son had started being bullied in the second grade, and that the bullying grew worse after he came out as gay in seventh grade. From being harassed to having food thrown in his face, Fillmore said he'd grown accustomed to the bullying, but that he had reached his limit following a recent cyberbullying incident.
"I was tired of him being bullied, and he was tired of being bullied," Fillmore said. While she added that she does "not agree with violence," she said she's happy her son "stuck up for himself."
Melanie Willingham-Jaggers, deputy executive director of GLSEN, an LGBTQ education advocacy organization, called the circumstances surrounding the video "heartbreaking."
"While we don't condone violence, it reflects the trauma that LGBTQ youth have endured and the fact that they feel they need to fend for themselves in school," she told NBC News. "Jordan deserves better. All students deserve better."
Nearly 60 percent of LGBTQ youth feel unsafe at school because of their sexual orientation, according to GLSEN's most recent annual National School Climate Survey. More than 70 percent of LGBTQ students report being verbally harassed, while nearly 30 percent report facing physical harassment.
This pervasive harassment and violence are exemplified by many of the Twitter responses Steffy received, which praised the student for "sticking up for himself."
"I don't hold with violence but I do hold with self-defense and I think you did a very very good thing," one Twitter user wrote. "Maybe this youngster will think twice before trying to build himself up by being an idiot. Good for you!"
"Jordan, I am so proud of you. I wish I had your courage when I was in school. You probably don't even realize that you just spoke for so many kids that get bullied," another user wrote. "You will see how many other kids you inspire to be themselves and stand up for themselves."
Willingham-Jaggers said that so many people could relate to Jordan's experience of being bullied is reflective of the fact that schools aren't doing enough to prevent harassment and violence.
"How can you legally require young people to be in a space, but not ensure their safety?" she said. "We need to prioritize school policy that enumerates sexual orientation and gender identity as protected identities and train educators to intervene in ongoing bullying — not just when it gets physically violent, but well before."
While nearly 80 percent of LGBTQ students report that their school has an anti-bullying and anti-harassment policy, only around 13 percent of students said their school had a comprehensive policy that specifically addressed sexual orientation and gender identity, according to the aforementioned GLSEN report.
LaPorte High School did not respond to NBC News' requests for comments regarding the incident and how it would be addressed, but the school's principal, Ben Tonagel, shared a statement on the school's website saying the "matter was addressed immediately and an investigation continues." Tonagel also noted the school "conducts its anti-harassment program for students each year" and its policy "prohibits harassment, fighting" and "disruptive behavior."
Fillmore's mother said that Steffy and the classmate in the video were suspended from school following the incident. She also said that she planned to homeschool him "because she doesn't agree with how it was handled." The two plan to clean out his locker on Friday.
"We need to stop bullying," Fillmore said. "Everyone's different, and we need to accept and respect people. Leave people in peace; there's no reason for constant hate and harassment."
Beverly Tillery, executive director of the New York City Anti-Violence Project, an organization that works to prevent violence against LGBTQ people and empower survivors of violence, compared the incident involving Steffy with that of Abel Cedeno. Cedeno, who came out as gay upon his arrest, stabbed a classmate to death and seriously wounded another at a Bronx high school in 2017 after he was allegedly bullied for his perceived sexuality. He was sentenced to 14 years in prison for manslaughter, eight years for assault and 90 days for criminal possession of a weapon.
"No one should have lost their life or be injured. Too often, there's so many people ignoring the situation — teachers, students, administrators — until things get physically violent," Tillery said. "We need schools to step in and take this seriously, because right now they're not doing their job to protect students."
Both Tillery and Willingham-Jaggers called on schools to reimagine their approaches to addressing anti-LGBTQ bullying. For example, instead of focusing on disciplinary action, Willingham-Jaggers said schools might think of incorporating "restorative justice practices," which tend to focus on finding a solution to the issue versus simply punishing students and can include setting "community agreements" in classroom settings to foster healthy relationships among peers.
They also cautioned against sensationalizing the violence in Steffy's video or viewing it as a sport.
"The gut reaction to the video might be, 'Yay, this is vindication for the bullying,' but what happened is tragic," Willingham-Jaggers said. "It points to a systematic failure."
For students who don't feel supported or safe at their schools due to their sexual orientation or gender identity, Tillery and Willingham-Jaggers recommend confiding in an adult or seeking support from a local advocacy organization. According to the Trevor Project, LGBTQ youth who report having at least one accepting adult were 40 percent less likely to report a suicide attempt in the past year.
If you or someone you know is being discriminated against for their sexual orientation or gender identity, or feeling hopeless or suicidal, contact The Trevor Project's Trevor Lifeline 24/7 at 1-866-488-7386. Counseling is also available 24/7 via chat every day at TheTrevorProject.org/Help, or by texting 678-678.