Virginia is the first state in the South, and the 20th overall, to prohibit "conversion therapy," the debunked practice of trying to change a young person's sexual orientation or gender identity.
"Conversion therapy sends the harmful message that there is something wrong with who you are," Gov. Ralph Northam, a Democrat, said in a statement Tuesday. "This discriminatory practice has been widely discredited in studies and can have lasting effects on our youth, putting them at a greater risk of depression and suicide. No one should be made to feel they are not OK the way they are — especially not a child. I'm proud to sign this ban into law."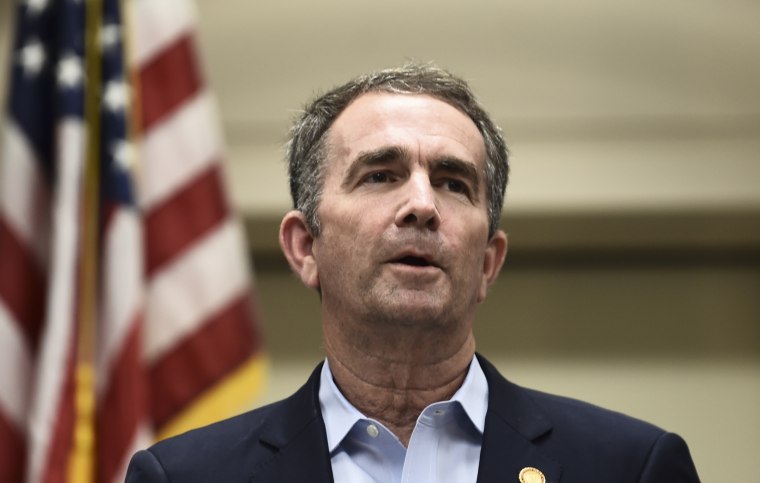 Virginia's measure, HB 386, which takes effect July 1, prohibits health care providers or counselors licensed by the state from subjecting anyone under 18 to the practice. Doing so, according to the bill, will constitute "unprofessional conduct and is grounds for disciplinary action."
Conversion therapy, sometimes called "ex-gay therapy" or "reparative therapy," has been condemned by nearly every major health association, including the American Psychological Association, the American Academy of Pediatrics and the American Medical Association, which in November backed a nationwide ban.
A 2018 report from the Williams Institute at the UCLA School of Law found that nearly 700,000 LGBTQ adults in the U.S. had received conversion therapy at some point in their lives, with about 350,000 of them having undergone the treatment as adolescents. Conversion therapy, which typically takes the form of talk therapy, is associated with an increase in suicidal thoughts, drug abuse and depression among teens.
Including Virginia, 20 states and Washington, D.C., have passed laws prohibiting it, according to the Movement Advancement Project, an LGBTQ think tank. California was the first to do so, in 2012. In a report released last year, the Williams Institute estimated that 10,000 LGBTQ youths 13 to 17 had been protected from conversion therapy because of state bans.
Sam Brinton, a survivor of conversion therapy, is the head of advocacy and government affairs at The Trevor Project, an organization dedicated to helping LGBTQ youth in crisis. On Tuesday, Brinton applauded the signing of HB 386.
"This bold action will send a message to all LGBTQ young people in the great Commonwealth of Virginia that they are loved and deserve support," Brinton said in a statement. "Conversion therapy has no place in modern society, and as the first of many LGBTQ-affirming bills to reach the desk of Governor Northam, we are happy to sweep conversion therapy into the dustbin of history."
While the conversion therapy ban is the first gay rights measure Northam has signed this year, HB 386 is not the only LGBTQ rights bill expected to reach his desk soon. Last month, the General Assembly passed a comprehensive antidiscrimination bill, known as the Virginia Values Act, which would ban LGBTQ discrimination in employment, housing and public accommodations.