Dressed in blue jeans and a red T-shirt, with her hair tied loosely at the nape of her neck, Purushi moves closer to examine the mural in front of her. Then she reaches for a paintbrush, mixes colors to get the right hue of brown and gets working on the eyelids of the transgender woman she is painting on a public wall in Bangalore. Her deft fingers measure each stroke, to get the facial features right. It's not something every artist painting along with her could be tasked to do. Intricate artwork requires practice and passion, and Purushi has both.
Purushi, now 31, had not previously recognized her talent for art or dreamed of becoming an artist. Just like a lot of other transgender women in India, she only begged or did sex work for survival. That all changed when she was invited to participate in the Aravani Art Project, a public art venture launched in 2016 by Bangalore-based artist Poornima Sukumar.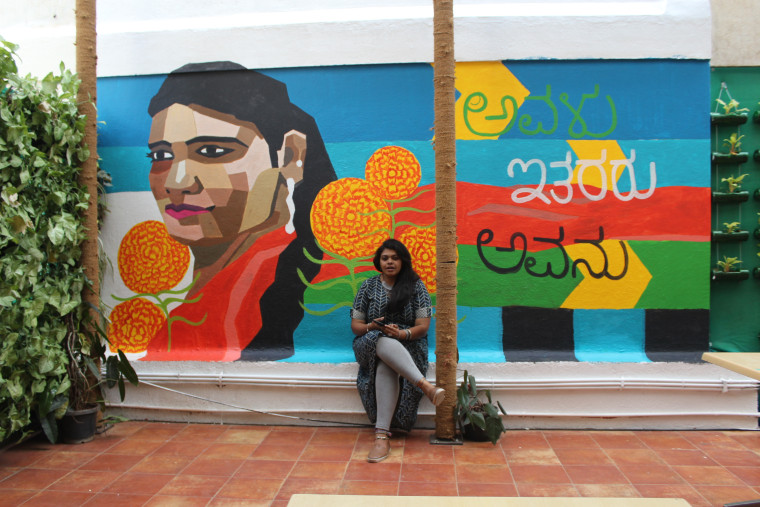 Led by a core team of three cisgender (non-transgender) and two transgender women, the project employs people from the trans community to paint murals in public spaces. The murals' themes represent slices of the trans experience and are a celebration of the community, according to Sukumar, who serves as director of the project. Portrayals of acceptance, violence, gender expression and equality have been painted in cities across India and on one wall in Colombo, Sri Lanka.
Sukumar met Purushi along with several other trans women more than three years ago when she was working on a documentary about transgender life in India. Sukumar worked on the film between 2012 and 2015 and noticed when she wanted to share stories about her experiences with the trans community, her friends would shy away from the subject.
"My friends were ignorant about transgender people's lives and also a bit wary to talk about them due to the stereotypes they held about the community," Sukumar explained, noting that due to widespread stigma and discrimination, transgender women in India often must resort to survival sex and begging in the street. Some even resort to pleading for money at weddings and birthdays in return for blessings.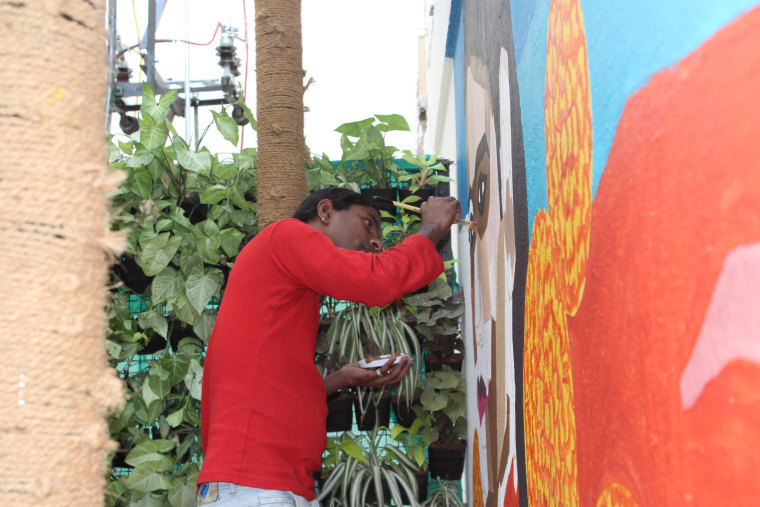 For this reason, Sukumar wanted to bring the community out into public spaces where they could be seen doing something other than begging. Being an artist herself, she thought a public art project would be the easiest way for her to help engage the community. She hoped this would "raise questions in people's minds about [transgender people's] lives and drive someone to have a dialogue about them and even with them."
Sukumar started having conversations about the proposed public art project with transgender women in Bangalore, where she lives, and then in other cities across India. It wasn't easy, she said, as it took time to build trust and have the trans women open up to her. Most of them, she added, were unfamiliar with painting murals and were skeptical of someone offering to compensate them to paint.
"Basically, they are just not used to anyone being nice to them," Sukumar said.
Sukumar's observation is not isolated. A 2016 study of 60,000 transgender people across 17 states in India found that a large portion of the community receives no support from their biological family, and the biggest perpetrators of violence against trans people are members of law enforcement. A separate report found approximately 60 percent of transgender people have experienced some form of harassment or violence.
THE MAKING OF A MURAL
Once an Aravani Art Project mural gets funded or commissioned, Sukumar connects with members of the trans community in that particular city. She and her team then spend a few weeks with them to understand their culture, their lifestyle and any unique issues they face. Together, they come up with a suitable theme to paint and a caption that accompanies the artwork.
"They convey and we articulate," said Sukumar, who outlines the design on the wall either herself or with the help of Sadhna Prasad, an illustrator and core team member of the Aravani Art Project. Geometric patterns are created within those outlines to enable even novice artists to fill in colors with little guidance. Depending on the size of the wall and the funds available, Sukumar hires anywhere from just a few transgender women to a dozen to paint the mural.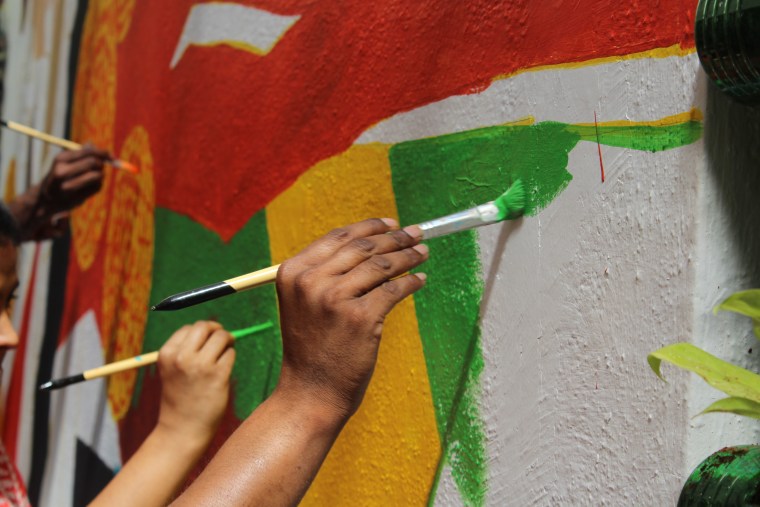 Once the mural is completed, Sukumar said the relationship between her team and the trans women they collaborate with does not end.
"Whether we work together again or don't, we never lose touch," she said, noting she and her friends can often be seen around Bangalore working on art projects or just having lunch with transgender people in the community.
"Over a period of time, the transgender community has started to understand that we share their stories without any agenda and give something back to them," she said.
Priyanka Divaakar, a 32-year-old transgender actress and radio host in Bangalore, said she joined the Aravani Art Project as a core team member because of her fondness for sketching and painting. "I also want people around me to understand that transgender people have the same skills as others, and we can do every work that anybody else can," she added.
Raina Roy, a Kolkata-based transgender activist who painted a mural for Aravani Art Project in her city in February, echoed Divaakar. "People don't know that we can be artists or even have a profession," she said.
India's 2011 census recorded nearly 500,000 transgender people living across the country. However, due to discrimination, there is very little integration of transgender people in the workforce. In 2014, a Supreme Court ruling gave trans people a "third gender" status and rights to education, jobs, health benefits and other welfare measures. However, a bill to work out the specifics of the ruling is still pending revision and is likely to be considered in parliament soon. The transgender community is strongly against a few issues in the bill, most importantly, the definition of transgender person as "neither wholly male or female" and the suggestion of medical screening for to establish one's trans identity.
Meanwhile, projects like Aravani are trying to bring transgender people to the forefront and give them a voice. Sukumar said when people hear about her project, they often come and watch the work of transgender people, have conversations with them and sometimes express a desire to hire them.
Roy is hopeful about public response in Kolkata. "When people will see faces on the wall that are a reflection of the trans community, they'll realize we exist," Roy added. "And I hope that seeing our work, someone will hire us for painting."
While the Aravani Art Project is only able to provide the trans community with temporary work thus far, for participants like Purushi, painting murals is about much more than economics.
"Painting is what really makes me happy," she said, adding that she often assists Sukumar with her other art projects as well. She also said creating art makes her feel more respectable in society and gives her a sense of dignity that she did not have before.
"When someone asks me what I do, I don't have to think. I tell them I'm an artist," she said enthusiastically.