Far-right Brazilian Congressman Jair Bolsonaro has implied women who are raped "deserve it," has said he'd be "incapable of loving a homosexual son" and has praised Brazil's 21-year dictatorship. Now, the so-called Trump of the Tropics is leading the presidential polls in the world's fifth-largest country.
On Sunday, Brazilians will vote for the president, all 513 members of the lower house of Congress, and two-thirds of the 81-member Senate. Support for Bolsonaro has surged in the past several days, giving the former military officer a comfortable lead over the other candidates in the race — though likely not enough to prevent a runoff election on Oct. 28 between the top two presidential contenders.
"Obviously, we're afraid," Toni Reis, president of Brazil's National LGBT+ Alliance, said of Bolsonaro becoming Brazil's next president.
BOLSONARO'S RISE
Support for Bolsonaro, 63, reflects the deep frustrations Brazilians have with a stagnant economy, rampant corruption and an increase in violence. Unemployment stands at more than 12 percent, with roughly 13 million Brazilians out of work. Homicides have hit record levels, with 63,880 people killed last year alone — a 3.7 percent increase from 2016.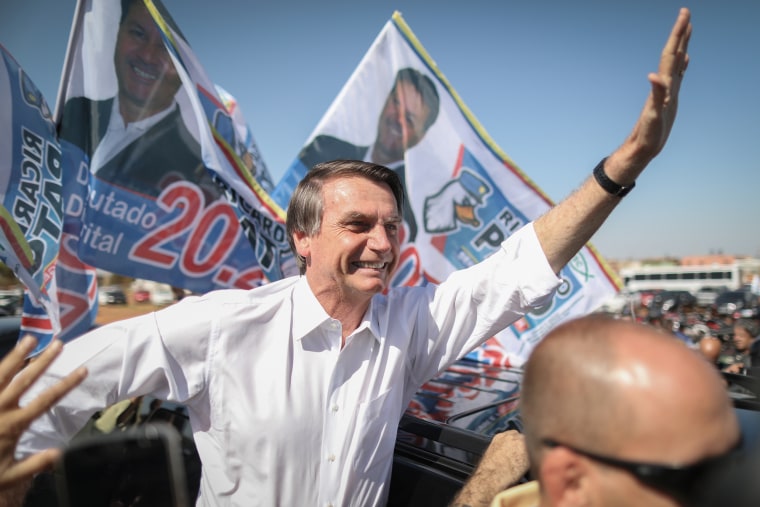 Political division has deepened and hardened in Brazil since former President Dilma Rousseff's impeachment in 2016, which many on the left viewed as an expedient way for a Congress rife with corruption to remove the Workers' Party (PT) after 13 years in power.
Brazil's business class has even warmed to Bolsonaro, a right-wing firebrand who has spent the past 27 years in Congress, with the nation's currency and equity markets rising along with his poll numbers. Many economists blame the Workers' Party policies of public subsidies for the country's economic troubles.
Bolsonaro has also made common cause with evangelical Christians, who support eliminating legal abortion and gay rights. Brazil is the largest Catholic country in the world, but evangelicals now account for nearly one-third of its population, up from 3 percent in 1970. The evangelical caucus controls a fifth of Brazil's lower house of Congress, and the upcoming elections are likely to sweep an even larger number of evangelicals into all levels of public office.
FIERY RHETORIC
Bolsonaro's fiery rhetoric places the blame for Brazil's ills on gays, ethnic minorities and leftists. He has been particularly brazen, however, in his harsh views toward LGBTQ people over the years.
Back in 2002, he threatened gay people with violence after then-President Fernando Henrique Cardoso was seen in a photo holding a rainbow flag at an event in support of same-sex marriage.
"I won't fight against it nor discriminate, but if I see two men kissing each other on the street, I'll beat them up," he said.
Nearly a decade later in June 2011, he doubled down on his homophobic views, telling Playboy magazine he "would be incapable of loving a homosexual son," adding, "I would prefer my son to die in an accident" than bring a man home.
Then in 2016, during an interview with actress Ellen Page for Vice's "Gaycation" series, Bolsonaro claimed homosexuality is a behavioral issue.
"When I was young, speaking in percentages, there were few [LGBTQ people]," he told Page. "With the passage of time, with libertinism, the increase in drugs, women working, too, there was a significant increase in homosexuality."
Roberto Efrem, a law professor at Brazil's Federal University of Paraiba, said if Bolsonaro is elected, there would be "a lot of consequences for LGBT people" — especially if his election is combined with an increase in social conservatives in Congress.
He noted that the LGBTQ community has obtained rights in Brazil — where same-sex marriage has been legal since 2013 — primarily through the judicial system, not through legislation. A greater number of conservative Christians in office, he added, "would enable a new legislative configuration to propose laws against existing rights."
Additionally, Bolsonaro has proposed adding 10 judges to the current 11 on the Supreme Court, which would give him substantial influence over the institution.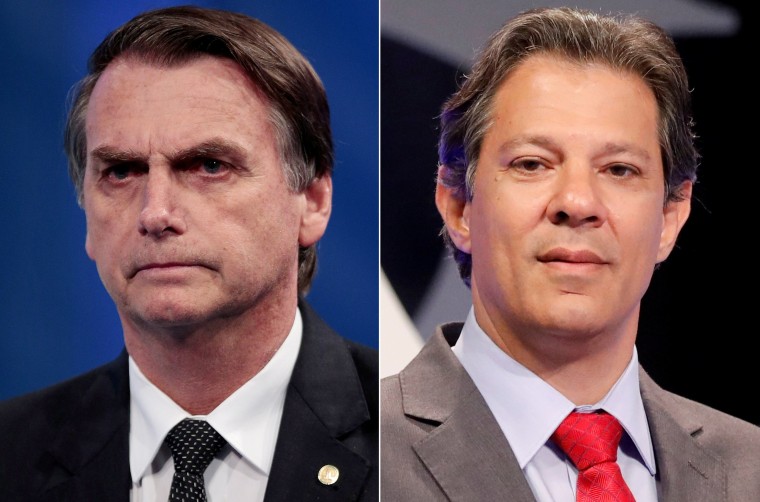 Rivania Rodrigues, a Brazilian advocate who helped convince her state's police to track anti-LGBTQ homicides, said if Bolsonaro and the evangelical caucus come to power, all the gains the LGBTQ community has secured over the past two decades will be threatened. Aside from gay marriage, Rodrigues said these gains include the creation of LGBTQ crisis centers, public health care for trans people and the inclusion of LGBTQ people in the military and in public sector jobs.
"I think Bolsonaro is worse than a [religious] fundamentalist," Rodrigues said.
Reis of Brazil's National LGBT+ Alliance said some in Brazil's lesbian, gay, bisexual and transgender community have openly discussed seeking political asylum abroad in the event Bolsonaro is victorious. However, Reis noted, this is not an option for everyone.
"We need to alert people … to this fascism that is installing itself in our country and that won't allow us to live," Rodrigues pleaded. "We poor people, we don't have the money to leave Brazil and live in another country."
"We're going to burned at the stake like people did at another time in history," Rodrigues warned.
If Bolsonaro, who now leads the polls with 39 percent of the vote, wins in either the first round of elections on Oct. 7 or in a runoff on Oct. 28, he would officially take office on Jan. 1.