Two of the largest banks in the U.S. say they will stop donating millions of dollars to Florida's private school voucher program after a newspaper investigation found that some of the program's beneficiaries discriminate against LGBTQ students.
In a statement to NBC News and CNBC on Wednesday evening, Wells Fargo confirmed that it would no longer participate.
"We have reviewed this matter carefully and have decided to no longer support Step Up for Students," the San Francisco-based bank said of the voucher program. "All of us at Wells Fargo highly value diversity and inclusion, and we oppose discrimination of any kind."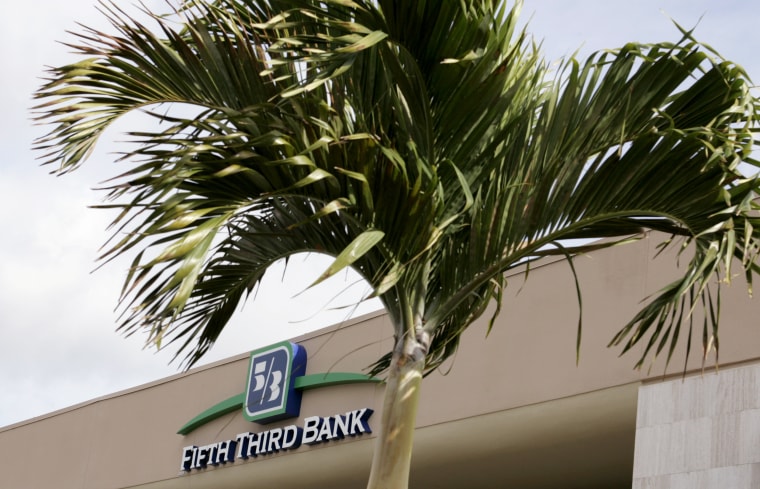 In a tweet to a Florida lawmaker Tuesday, Fifth Third Bank, based in Cincinnati, said it has told officials with the voucher program that it will also stop participating.
"We have communicated with program officials that we will not be contributing again until more inclusive policies have been adopted by all participating schools to protect the sexual orientation of all our students," the bank tweeted to Rep. Carlos Guillermo Smith, the state's first LGBTQ Latino legislator.
The banks' decisions come less than a week after an Orlando Sentinel investigation found that 156 private Christian schools with anti-gay views educated more than 20,000 students across the state with tuition paid for by Florida taxpayers.
"Florida's scholarship programs, often referred to as school vouchers, sent more than $129 million to these religious institutions," the Sentinel reported on Jan. 23. "That means at least 14 percent of Florida's nearly 147,000 scholarship students last year attended private schools where homosexuality was condemned or, at a minimum, unwelcome."
The Sentinel investigation found that 83 of the 156 schools with anti-gay views do not permit LGBTQ students to attend and that some of the schools prohibit students whose parents are gay.
In a separate post published Tuesday, the paper's editorial board identified five companies with pro-LGBTQ policies — Fifth Third Bank, Wells Fargo, Southern Glazer's Wine & Spirits, and Waste Management Inc. — that donated to the voucher program in exchange for write-offs on their state tax bills.
When Smith, the state legislator, tweeted out Tuesday's Sentinel article, Fifth Third Bank responded via Twitter thanking him for his feedback, telling him that the company "stand[s] with #LGBTQ students and parents" and informing him that Fifth Third Bank would no longer contribute to the voucher program.
Shortly after the bank's announcement, Smith publicly applauded the company for "supporting equality."
Emails seeking comment from the state Education Department, Geico, Southern Glazer's and Waste Management did not get immediate responses Wednesday evening.
Last July, before the Sentinel's investigation, a columnist for the paper wrote about the voucher program. Following the column's publication, at least one company, Rosen Hotels & Resorts, an Orlando-based hospitality chain, stopped donating to the program.
The column also led state Sen. Darryl Rouson to pre-file a bill last year that would prohibit private schools that deny enrollment to students based on "race, ethnicity, national origin, gender, disability, religion, sexual orientation, or gender identity" from benefiting from the program.
Rouson's bill, which was officially introduced this month, has not yet been considered by the Legislature.