/ Source: Associated Press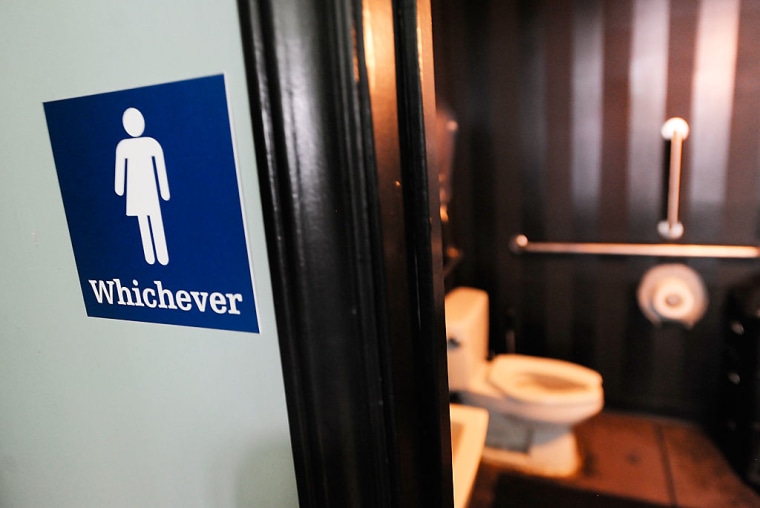 The Trump administration could revise or withdraw an Obama-era directive requiring public schools to let transgender students use bathrooms and locker rooms that match their gender identity.
White House spokesman Sean Spicer said Tuesday the Justice Department is working on a new set of guidelines on bathroom access but offered no other details.
"I think that all you have to do is look at what the president's view has been for a long time, that this is not something the federal government should be involved in, this is a states' rights issue," he said.
The Justice Department declined to comment. But Spicer's comment stoked concerns among transgender-rights advocates about a reversal of the Obama administration's protections.
Here's a look at the issue and what could happen:
WHAT IS THE FEDERAL BATHROOM GUIDANCE FOR SCHOOLS?
The Obama administration in May told public schools nationwide that they are obligated to treat transgender students in a way that matches their gender identity, even when records differ or it makes others uncomfortable. It was the administration's determination that Title IX, the federal law prohibiting sex discrimination in education and activities, also applies to gender identity.
About 150,000 youth — 0.7 percent— between the ages of 13 and 17 in the United States identify as transgender, according to a study by The Williams Institute at the UCLA School of Law.
The Obama-era guidance held no force of law but sent a warning that schools could lose funding if they did not comply with the administration's interpretation of the law. Republicans immediately pushed back, arguing it was an example of federal government overreach and the Obama administration meddling in local matters. Texas Lt. Governor Dan Patrick equated it to "blackmail" and said at the time that the state was ready to forfeit federal education money rather than comply with the guidance.
Thirteen states sued to challenge the directive. A federal judge in Texas temporarily blocked the guidance in August, and the Trump administration this month said it would no longer fight to limit the injunction.
WHAT COULD HAPPEN IF THE GUIDANCE IS WITHDRAWN?
Advocates said federal law would still prohibit discrimination against students based on their gender or sexual orientation even without the Obama guidelines.
"To cloak this in federalism ignores the vital and historic role that federal law plays in ensuring that all children (including LGBTQ students) are able to attend school free from discrimination," Vanita Gupta, who was head of the Justice Department's Civil Rights Division when the guidance was issued, said in a statement.
Still, legal experts say a change in position could have consequences for unresolved court cases dealing with Title IX.
The Supreme Court could decide to send a case about a transgender teen in Virginia back to a lower court. The high school senior was assigned female at birth, but identifies as a male and wants to use the boys' bathroom at his school. The high court is scheduled to hear the case in March. Courts are unsettled about whether, in the absence of guidance from the federal government, anti-discrimination laws require schools to allow students to use bathrooms and locker rooms based on their gender identity. The justices could direct lower courts to decide that issue.
Similar lawsuits are still playing out across the country.
"Some courts might say the fact that they go back and forth on this every time the administration changes, maybe we shouldn't defer to it, maybe we should just decide for ourselves," said Arthur Leonard, a professor at New York Law School who has studied LGBTQ legal history.
WHAT WOULD THE CHANGE MEAN FOR SCHOOLS?
A patchwork of state laws dealing with the bathroom issue will continue to emerge. Fifteen states have explicit protections for transgender students in their state laws, and many individual school districts in other states have adopted policies that respected such students on the basis of their gender identity, said Sarah Warbelow, legal director of the Human Rights Campaign. Just one state, North Carolina, has enacted a law restricting bathroom access to the sex at birth. But so far this year, lawmakers in more than 10 states are considering similar legislation, according to the National Conference of State Legislatures.
Transgender-rights advocates argued the guidance was a helpful tool for districts in understanding federal law. Without it, more schools could be subject to lawsuits as districts try to sort through the confusion, said Rachel Tiven, CEO of the LGBTQ advocacy group Lambda Legal. revising or rescinding the guidance
"The important thing to understand is that it doesn't change the underlying law, but it's an invitation to harm the most vulnerable kids in school," Tiven said of any efforts to revise or rescind the guidance.