LONDON — What's in a word? Plenty, according to a new exhibition at the Tate Britain, which is challenging visitors and critics with the title "Queer British Art 1861-1967." It's a slightly risky use of a risqué word. It's a term that was once used pejoratively — and, sadly, still is — to taunt and abuse, but has more recently been adopted by individuals and communities as a term of identity, resistance and celebration. There was ample evidence of those three qualities throughout the exhibition.
Identity revealed itself at every turn. The poster image for the exhibition was a striking self-portrait by Gluck. It's a defiant, slightly troubling and arresting image by the artist, born Hannah Gluckstein, who flourished in Britain in the 1920s and '30s. She changed her name to Gluck ("no prefix, suffix, or quotes") as she felt the gender of an artist was immaterial. She cropped her hair short, dressed in men's clothes and sought to challenge or merely ignore many of the social norms of her day.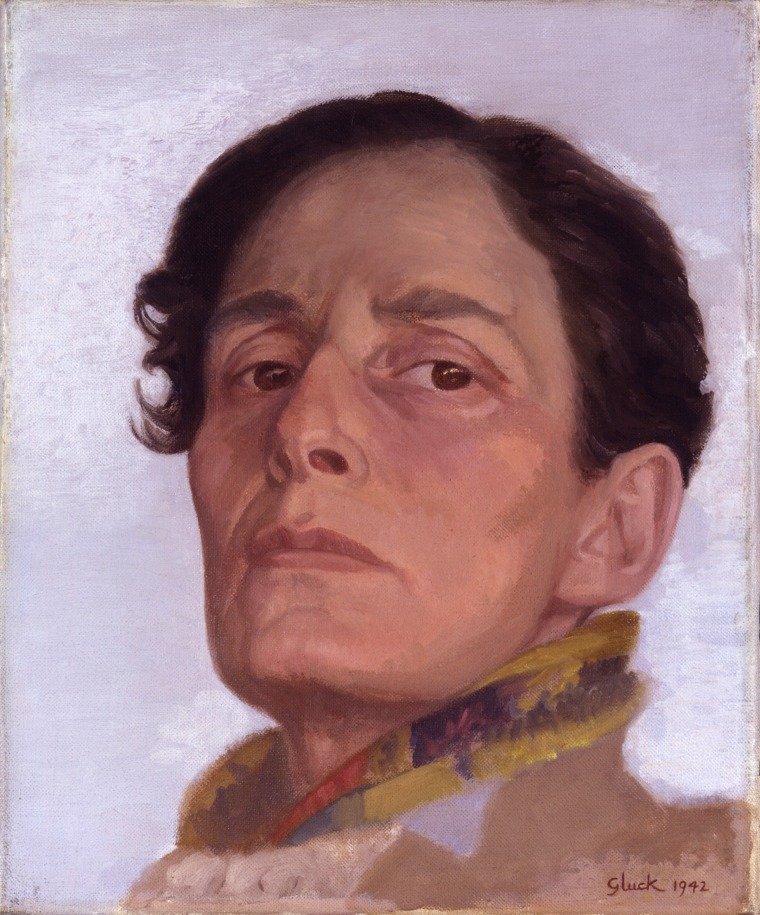 The show's curator, Clare Barlow, said that in exploring definitions of "queer," she resisted the temptation to simply "put together an exhibition of lots of nude men going 'Aah' and looking wistful and beautiful, as that would exclude so many stories and so much depth."
In the exhibit room titled "Defying Conventions," a large canvas helped illustrate the often defiant quality of resistance from a queer perspective. Viewed today, Laura Knight's "Self Portrait and Nude" is a rather prosaic oil painting with an interesting juxtaposition of art-within-artwork.
But it caused outrage when it first was first exhibited in 1913. Knight chose to depict herself as an artist at work and showed her female model, fellow artist and friend Ella Naper, posing nude. Female art students at the time were forbidden from painting naked models and were restricted to copying from casts and existing illustrations. Knight dramatically overturned convention, providing the viewer with the impression of having entered into the privacy and intimacy of the artist's studio.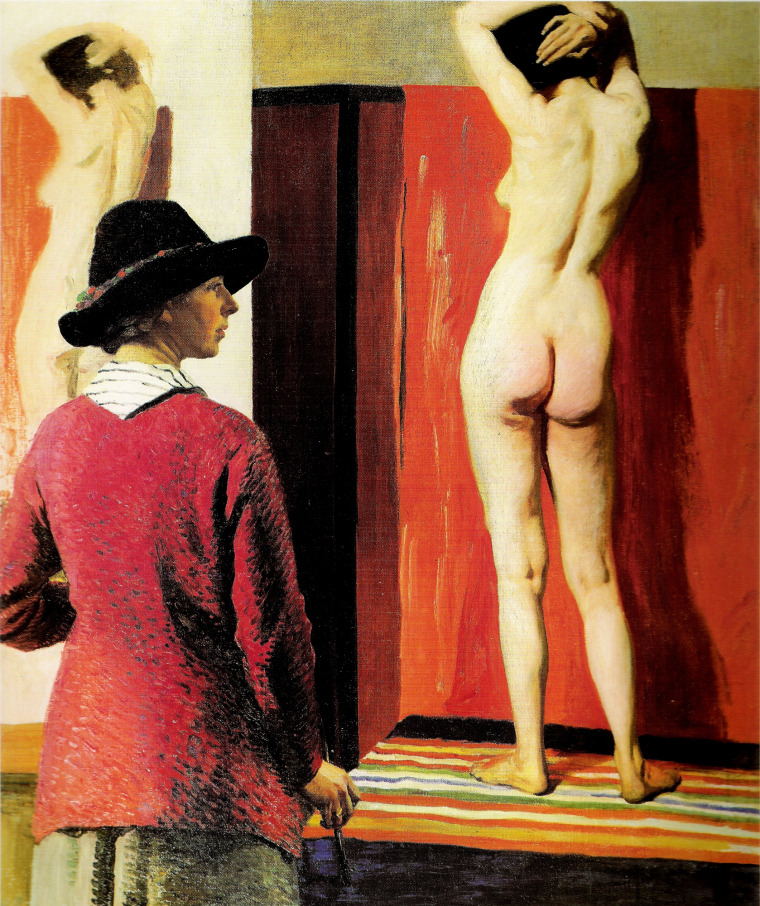 Barlow said the work is in the exhibition because of the reaction it provoked. "One reviewer said, 'It repels ... it's sensuous, vulgar and boring.' He didn't know how to frame it, but he knows there's something wrong with it," she said.
Over time, as in this exhibition, resistance may eventually give way to celebration. The celebratory sense of queer was abundantly evident in the exhibition's work of Edward John Burra. This English painter and printmaker traveled extensively in the U.S. before World War II and painted scenes from the East Coast underworld, Harlem nightclubs and the wider black culture. His 1937 watercolor "Izzy Orts" captured the noise and frenzy of a now-demolished sailor's bar in Boston.
In contrast, his 1941 piece, "Soldiers at Rye," was more threatening and somber, with grotesque masks disguising the soldiers' faces. But in both images, Burra used form and content to communicate the joie de vivre of gay subcultures. In "Izzy Orts," it was the same-sex attraction that was depicted, albeit by faceless and featureless protagonists. In the later work, Burra's attention to detail in the soldiers' buttocks created what the Tate Britain described as "a homosexual frisson" in the chaotic scene.
Related: Speaks Its Name!: National Portrait Gallery Celebrates LGBTQ History
One room of the show was devoted entirely to celebrating the close relationship between queer culture and the theater. The collection highlighted the wonderful paradox in gays and lesbians achieving celebrity, rather than notoriety, merely because their public lifestyle was intended as entertainment and performance. Beneath the exhibition's stereotypical depictions of female impersonators and cross-dressers lay stories of secret languages and secret lives lived out in the most public of arenas.
But in contrast to qualities of resistance and celebration, the exhibition also contained numerous examples of more ominous and threatening representations of queer life: fear, torment, persecution, oppression and repression bound up by secrecy and suspicion.
In the exhibition's second room, one encountered the cell door behind which Oscar Wilde was incarcerated in Reading Gaol from 1895 to 1897, after his conviction for gross indecency. The small, yellow, wooden structure has the quality of a medieval icon, belying its repressive history. The door was exhibited alongside one of the few surviving full-length portraits of the playwright. The 1884 painting by Robert Goodloe Harper Pennington was a wedding present and used to hang in Wilde's London home. But it was later auctioned, along with virtually all his belongings, to settle his debts while awaiting trial.
Barlow was particularly excited at being able to pair the two items, describing them as a diptych that summarized Wilde's story: from the tall, confident, successful young man to the beaten and battered door "where one wonders how he ever got his bulk through it."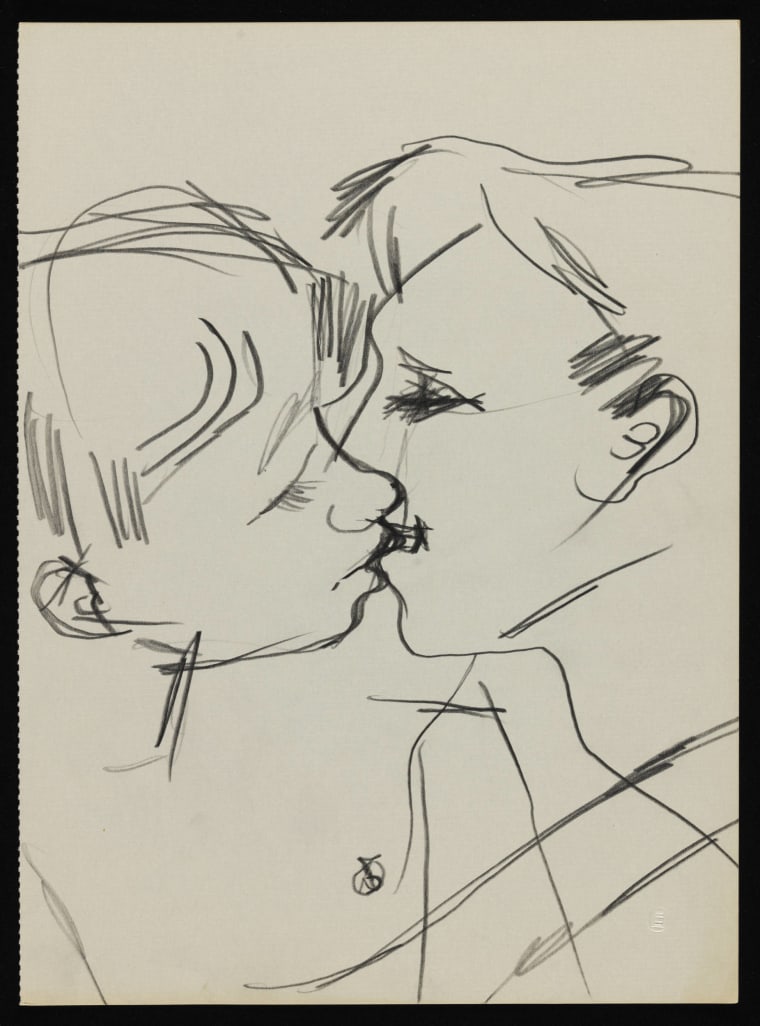 Elsewhere, there was a juxtaposition of works by artist Keith Vaughan that illustrated the division between public lives and private passions. On the gallery wall there were male nudes transformed into bold, expressionist, blocks of color, deliberately disguised from naturalistic depiction. Yet in a small display case nearby there were delicate, intimate, erotic sketches of naked men complete with detailed genitalia and engaged in sex. The contrast was striking: on the wall was what the artist felt he could stand beside in public; in the sketchbooks were his private experiences, fantasies and passions.
The exhibition also contained many harrowing narratives of persecution and suppression. One told how fashionable Jewish pre-Raphaelite artist Simeon Solomon felt it necessary to paint same-sex desire through the metaphor of "Sappho and Erinna in a Garden in Mytilene" because a similar work of men kissing would have been taboo in 1864. Less than a decade later, Solomon's life went into steep decline after he was arrested and fined for having sex with a man in a public toilet in central London. Shunned by most of his friends, his career never fully recovered, and he died drunk and destitute in 1905.
Where the exhibition excels, however, is in bringing to life some of the deeper, more problematic definitions of queer.
To many who use the term in a self-defining way, queer can mean a challenge to socially constructed gender and sexual identities, creating a meaning that is more fluid and rejecting the binary divisions between male and female and heterosexual and homosexual.
Take, for example, the relationship of Edith Cooper and her niece and life partner, Katherine Bradley. They jointly adopted the pseudonym Michael Field and published numerous volumes of poetry and plays under the collective name.
"Sometimes one of them is Michael and the other one Field. Sometimes they would both be Michael Field, and sometimes Edith and Katherine," Barlow said. "That kind of fluid identity is very exciting to uncover."
Related: Bold Art Helps Move Needle on LGBTQ Acceptance in Baltics
Furthermore, the use of the word queer to acknowledge unorthodoxy and to encapsulate subversive counter-cultures provides an echo of earlier definitions. Perhaps nothing illustrated this subversion better than the outlandish dust jackets doctored by playwright Joe Orton and his lover, Kenneth Halliwell.
The two poked fun at popular culture and sought to undermine municipal sensibilities by defacing the covers of hundreds of books borrowed and stolen from their local library. Some adorned the walls of their tiny London apartment, but others were smuggled back to the library shelves.
Despite the mild nature of their crime, which barely amounted to more than an adolescent prank, they were jailed for six months for "malicious damage." By some accounts, the punishment greatly outweighed the crime and was seen as a punishment for being gay rather than the damage caused.
Related: Surprisingly Queer Places in Northern England
There were also underlying themes within the exhibition that extended the discourse of queer beyond the limits of what one critic rather dismissively called "this current 'buzz-term.'" Not all of these themes are palatable.
One is struck repeatedly by the inequality of acceptance and/or punishment created by class differences. Wealthy individuals appear to have had the financial freedom to practice their art and indulge their queerness. On the occasions they came before the law, their treatment could be more lenient than those faced by members of the lower classes.
For example, Simeon Solomon was fined for his sexual misdemeanor; his working class co-accused was sentenced to hard labor. It may be easier to be queer when one has privacy of space. It may also help to be queer in a social milieu where bohemian lifestyles are valued, indulged or even encouraged.
But perhaps the most uncomfortable theme that one encountered was in the personal stories of the artists themselves: So many of these richly talented individuals have sad endings to their lives. The captions catalog suicides, murders, loneliness and misery.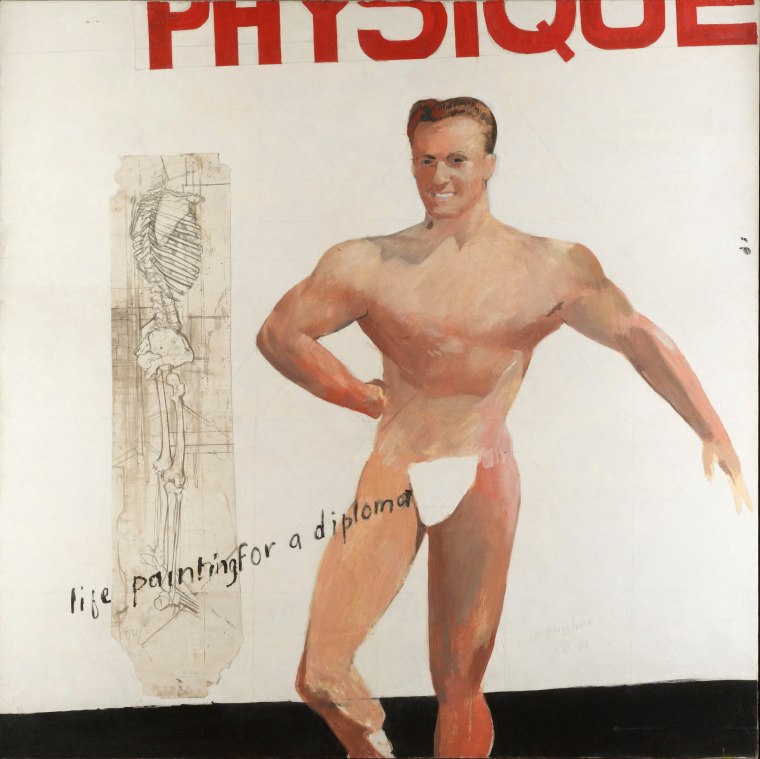 The exhibition's chronology ends in 1967, when male homosexuality in Britain was partially decriminalized. Before the end of the era, queer artists had already started experimenting with subjects and compositions that discarded the use of metaphor and innuendo. Among the many works that illustrated this anticipation of newfound freedom is David Hockney's "Life Painting for a Diploma," which is a joyous, exuberant celebration of what it is — or may be — to be queer.
"Queer British Art 1861-1967" is on display at Tate Britain until October 1.