El Martinez, a 16-year-old high school student from a suburb of Boston, remembers a heated confrontation with a classmate while discussing the aftermath of Hurricane Maria in Puerto Rico.
"The student had already been very vocal within the class about his opposition to the usage of they/them pronouns," said Martinez, who is president of the school's Gender and Sexuality Alliance. "He ended up saying, 'We should ship all the liberal snowflakes down to PR so they can fix what's happening.'"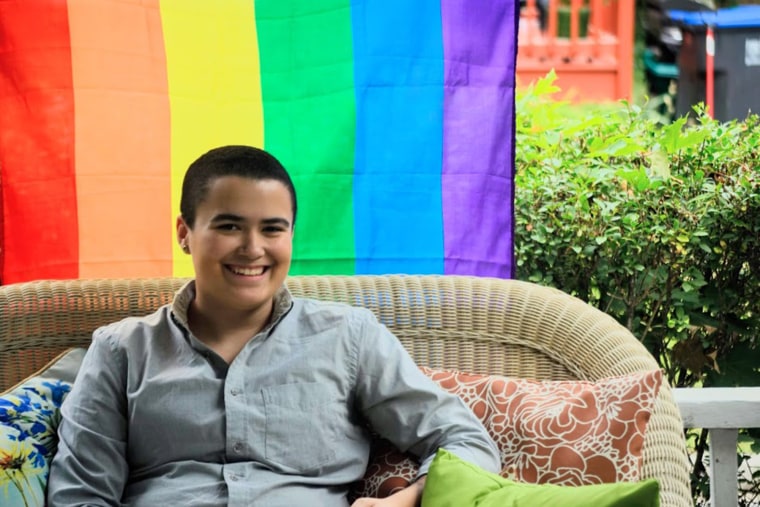 Martinez, who is Puerto Rican, identifies as transgender and uses gender-neutral pronouns to refer to himself, was personally offended by the student's comments. Martinez at the time had family in Puerto Rico that was unreachable due to the destruction left behind by the storm.
"I remember being told by teachers that he was harmless and that he was trying to be funny and to just ignore it," Martinez said.
Martinez, who said classmates have used transphobic slurs, is not alone in reporting an uncomfortable environment at school. According to a new report by GLSEN, a national LGBTQ youth advocacy organization, progress for LGBTQ students has slowed for the first time in a decade, and trans and gender-nonconforming youth face increasingly hostile school climates.
The organization's National School Climate Survey, which began in 1999, is released every two years and documents the experiences of LGBTQ youth in schools across the country. This latest report surveyed 23,001 lesbian, gay, bisexual, transgender and queer students between the ages of 13 and 21. Respondents hailed from all 50 states, D.C. and U.S. territories.
Martinez, who participated in the survey, was not surprised by the results.
"It was a bit depressing to kind of see that written out in statistical form and understanding that this might be everyday life," Martinez said. "This is a big problem, bigger than I think of it on a day-to-day basis to be."
Among its key findings, the report found "homophobic remarks and victimization" leveled off in 2017 after years of measured improvement; 70 percent of LGBTQ students experienced verbal harassment at school based on sexual orientation; the frequency of verbal harassment based on gender expression increased from 2015 to 2017, after years of decline; and 35 percent of LGBTQ students said they missed at least one day of school in the month prior to taking the survey due to feeling unsafe at school.
GLSEN's director of research, Emily Greytak, cautioned that a hostile school environment can hinder students' mental health, causing them to become "depressed and anxious."
"They are less likely to do well in school, feel connected to their school, want to continue going," Greytak added.
According to the report's key findings, "LGBTQ students who experienced high levels of anti-LGBTQ victimization were nearly twice as likely to report they do not plan to pursue post-secondary education."
In a statement, Eliza Byard, GLSEN's executive director, said the results of this year's National School Climate Survey "should serve as an alarm bell for advocates and a call to action for anyone who cares about students' well-being."
"Fortunately, the evidence continues to show that key interventions are working to improve students' lives," Byard stated. "We must continue to push to see them implemented in more schools, and support students who are organizing to improve their communities."
Greytak said there are a number of ways schools can become safer environments for LGBTQ youth, including the implementation of a curriculum that includes LGBTQ history, more support for LGBTQ student clubs and training courses for teachers to help them deal with anti-LGBTQ harassment.
"A lot of teachers may want to take action, but they don't know how," Greytak said. "They aren't given the proper training, whether in their teacher education program or on the job."
El Martinez has taken proactive measures to make sure school is a more LGBTQ-inclusive place. At the beginning of the school year, Martinez passed out cards showing students how to properly use gender-neutral they/them pronouns.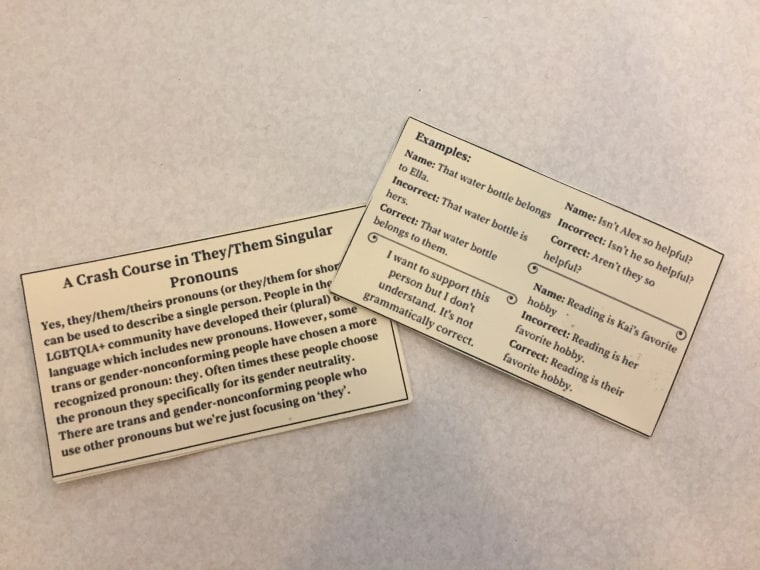 Martinez, who plans to go to college and study something within the social sciences, has less than two years left of high school. During this time, Martinez wants to focus on making their Massachusetts school district a safer environment for LGBTQ youth.
"I want to make things as good as they possibly can be and establish that for all the LGBTQ students that are coming behind me," Martinez explained. " It gives me peace of mind knowing that maybe they won't have to go through some of the things I've gone through if I make sure there are policies before I leave."