San Francisco's Castro District, the city's legendary "gayborhood," was descended upon this past weekend by thousands of members of a demographic group underrepresented in the lucrative technology industry: lesbian women.
The Bay Area's fifth annual Lesbians Who Tech summit attracted an estimated 5,000 attendees, and the international group boasts a total of more than 35,000 members dedicated to giving queer women opportunities in the fields of science, technology, engineering and math (STEM).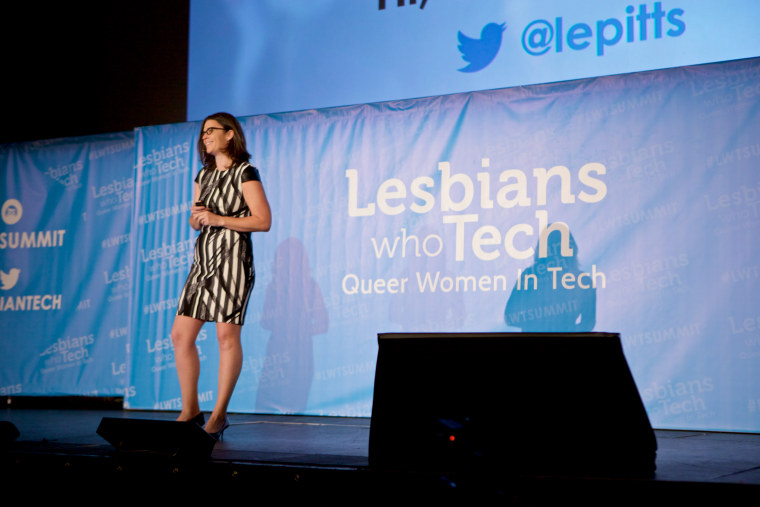 "I wanted to reclaim the space," Leanne Pittsford, an entrepreneur and the group's founder, told NBC News. She said she was inspired to create "a community centered around queer women in technology" back in 2012 after noticing the lack of lesbian representation in Silicon Valley and beyond.
"I wasn't finding my people," she added, lamenting the lack of women in both tech and the LGBTQ nonprofit sector, where she was also actively involved. "Lesbians are underrepresented in both communities, so it's harder to have a voice in either space."
While there's no hard data on lesbian representation in STEM jobs, the latest report by the Economics and Statistics Administration found women account for only 24 percent of STEM workers in the U.S. A report from nonprofit Ascend Foundation found the number of black women in the Silicon Valley tech sector actually declined 13 percent from 2007 to 2015.
"It's really important for an entrepreneur who is starting their own business to have role models and visibility," Pittsford said. "When you can't relate to someone's lived experience, hiring them feels like more of a risk. It creates friction, but often times friction is what creates the best product."
Pittsford's view that diversity is good for business and innovation is backed up by a number of recently published studies.
"It's not just about trying to be nice," Richard Warr, a finance professor at North Carolina State University, told Fast Company in an interview about his research on diversity in the workplace. "It not only helps in terms of perception. It actually produces better outcomes."
Sheryl Sandberg, the chief operating officer of Facebook, which has been among the tech companies criticized for its lack of diversity, was the keynote speaker at the Lesbians Who Tech summit. She called the lack of women in tech a "cultural" and "historical problem."
"The good news is that when it's cultural, it means that we can change it," Sandberg told the packed audience. "The way to get more women into tech is to get more women into tech, and for every young girl out there who sees this audience and hears from you, they now can see this is not only a male area."
Facebook, the eighth largest tech company in the U.S., has made gains, albeit small ones, when it comes to gender parity. According to its August 2017 diversity report, women make up 35 percent of the company's global workforce, up from 33 percent the year prior. The company is also one of the first to collect data regarding its LGBTQ employee representation. Based on a voluntary survey of its U.S. workforce, which had a 67 percent participation rate, 7 percent of employees self-identified as lesbian, gay, bisexual, queer, transgender or asexual.
In order to make sure the Lesbian Who Tech events held around the world represent a diversity of queer women, Pittsford said she enforces a quota system.
"We've had a quota very early on to make sure our community was diverse, representational and had different voices," Pittsford said, explaining how summit speakers are at least 50 percent women of color and 10 percent transgender and non-binary people.
"We were intentional about that," Pittsford added. "Ever since we've had a quota, we've hit it and used data to track it. I can one 100 percent tell you that we would have never done that without the quota or without the urgency."
Pittsford believes her organization's model when it comes to speakers could serve as a blueprint for tech companies looking to build a more representational team.
"Things just don't magically change," she said. "I'd like to see more official quotas, and I think we should push for policy that allows us to get there. People are just so afraid that it's going to lower the bar, and all it does is change the criteria and create an urgency to go and find different types of talent."
Setting quotas based on gender or ethnicity, however, is controversial and legally murky territory. YouTube, for example, was recently slapped with a lawsuit over allegedly excluding white and Asian men from some positions.
In addition to building a network for LGBTQ professionals, Lesbians Who Tech is also trying to build a pipeline of future talent. In 2016, the organization created the Edie Windsor Coding Scholarship that provides half the tuition for LGBTQ and gender non-conforming young people to attend an intensive coding program.
"I fully believe that if you can, and you're skilled, it's actually your duty to show up or else we're never going to be able to create the world that we want to live in," Pittsford said looking back on the organization she's built.