On Monday morning, an email began circulating among media outlets and national LGBTQ advocacy groups that warned of a new executive order President Trump allegedly planned to sign concerning LGBTQ Americans. The news quickly picked up, prompting the nation's largest LGBTQ advocacy nonprofit, Human Rights Campaign, to issue a statement condemning the potential new law.
A White House spokesperson, however, seemed to deny the rumors and reports in an email to NBC News around 4 p.m. EST.
"As Sean said in the briefing today – we don't want to get ahead of the EO/As [executive orders and actions] that are coming, but that isn't the plan at this time," White House Deputy Press Secretary Stephanie Grisham wrote.
At a press conference prior to Grisham's response, Press Secretary Sean Spicer gave a similar answer to the Washington Blade, D.C.'s LGBTQ newspaper, when asked if President Trump was considering any kind of "religious freedom" order that could undermine LGBTQ rights.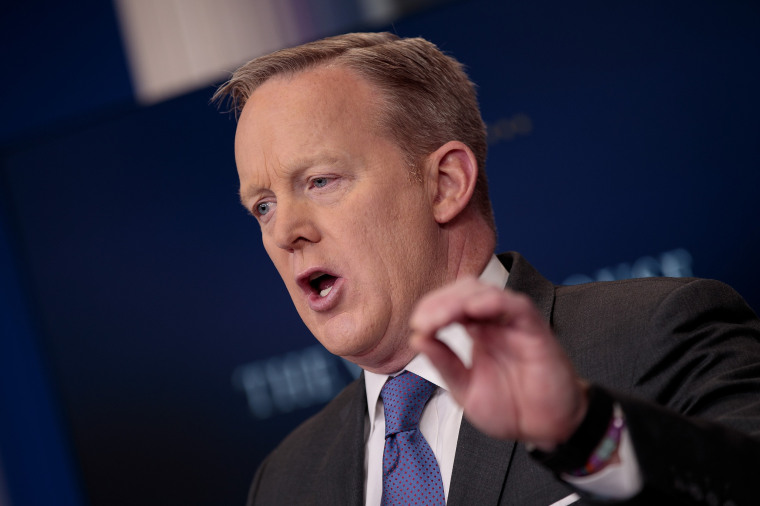 "I'm not going to get ahead of the executive orders that we may or may not issue," Spicer said. "There's a lot of executive orders, a lot of things the president has talked about and will continue to fulfill, but we have nothing on that front now."
Though the White House denied that an executive order affecting LGBTQ rights is in the works, many in the community are already bracing for the planned reintroduction of the First Amendment Defense Act (FADA) — legislation that Trump promised to sign during his campaign. That bill would prevent the government from being able to punish individuals, businesses and institutions who refuse service to LGBTQ people based on religious or moral convictions. The offices of Sen. Mike Lee and Rep. Raul Labrador both confirmed to NBC News last week that they plan to introduce FADA.
The Human Rights Campaign (HRC) issued a statement Monday in response to the rumored executive order, suggesting the group is willing to preempt even a conceptual order with a fierce fight.
"The rumors of an anti-LGBTQ executive action by President Trump are deeply troubling," said JoDee Winterhof, HRC's Senior Vice President for Policy and Political Affairs. "As the President and his team plan their next steps, we want to make one thing clear: We won't give one inch when it comes to defending equality, whether it is a full-on frontal assault or an attack under the guise of religion."